By George Vardas, Secretary, Australian Hellenic Council (NSW)
The 2022 NATO Summit is about to start in Madrid. The members of the North Atlantic Treaty Organisation will have much to discuss against a depressing backdrop of Vladimir Putin's barbaric war on Ukraine and the shattered peace in Europe which has shaken the rules-based international order.
But for some observers there is another clear and present danger emerging closer to home in the Eastern Mediterranean as an increasingly bellicose and agitated Turkey (or Turkiye as it now wants to be called) is threatening its NATO ally, Greece, over territorial rights in the Aegean.
The issue may come to a head at the summit talks as Turkey's authoritarian President, Recep Tayyip Erdogan, has signalled that he wants to add to the NATO agenda the issue of the demilitarisation of the Greek islands in the eastern Aegean, citing his nation's alleged long-standing grievances with the Greeks and once again questioning Greece's very sovereignty of those islands.
This neo-Ottoman, anti-Western rhetoric is not new. Erdogan is facing re-election in 2023. The Turkish strongman, confronted with crippling inflation in Turkey and growing dissatisfaction with an autocratic government that has injected itself into foreign wars and conflicts (such as Syria), whilst suppressing dissidents and opponents of the regime at home and imprisoning independent journalists, is simply taking a page out of the dictators' standard playbook when times get tough.
Create or reinvent a foreign distraction. And throw in some historical revisionism for good measure.
Treaty of Lausanne:
In the aftermath of the First World War, the Great Powers initially sought to redefine national borders at the cost of the Ottoman Empire which had fought on the side of the Germans. Sustained diplomacy following the Asia Minor Catastrophe and the rise of Kemal Ataturk led to the Peace Treaty of Lausanne in 1923 that formally authorised the mass exchange of Christian and Muslim populations between Greece and Turkey.
The Treaty of Lausanne also fixed major borders and relevantly confirmed that Turkey had sovereignty over the eastern Aegean Islands of Imbros, Tenedos and the Rabbit Islands, whilst Greece would enjoy sovereignty over Lemnos, Samothrace, Mytilene, Chios, Samos and Nikaria.
Article 13 of the Treaty provided that with a view to ensuring the maintenance of peace, the Greek Government undertakes not to establish a naval base and fortifications on those islands and limit Greek military forces to conscripts called up for military service and a local police force. It was also agreed on a reciprocal basis that both Greece and Turkey would forbid military aircraft flying over each other's islands.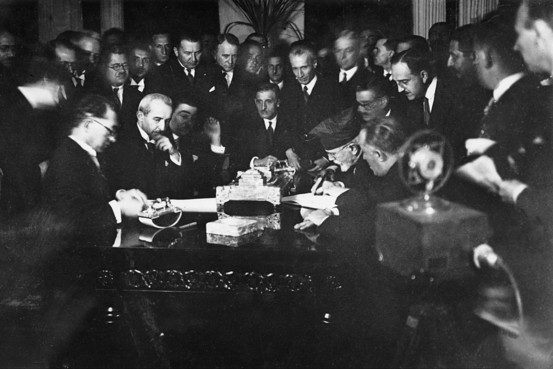 In turn, under Article 15, Turkey renounced in favour of Italy all rights and title over a number of islands including notably Astrapalia, Rhodes, Kassos, Tilos, Nisyros, Kalymnos, Leros, Patmos, Lipsos, Symi, Castellorizo (which were occupied at the time by the Italians), as well as all dependent islets of these Dodecanese Islands.
In 1936, the Montreux Convention was signed to restructure the regime governing the passage of maritime traffic through the Bosporus and Dardanelles Straits in Turkey and in so doing, abrogated the 1923 Lausanne Convention relating to the Straits along with the demilitarisation provisions concerning Lemnos and Samothrace.
Turkey itself recognised this was the case for in the same year the then-Turkish Foreign Minister, Tevfik Rüştü Aras, declared to the Turkish National Assembly that Greece was no longer under an obligation to keep those islands demilitarised.
Paris Peace Treaty, 1947:
With Italy's defeat in the Second World War, the Paris Peace Treaty of 1947 saw Italy formally cede "full sovereignty" over the Dodecanese islands to Greece. Article 14(2) of the Paris Treaty provided that these islands "shall be and shall remain demilitarised" which was defined to prohibit all naval, military and military air installations, fortifications and their armaments and the basing or the permanent or temporary stationing of military, naval and military air units.
Turkey was not a signatory to the 1947 Paris Treaty and by virtue of Article 89 of that treaty its provisions do not confer any rights or benefits on States that are not parties to it.
Despite this, according to the official Turkish position, Greece's sovereignty over all the islands was and remains dependent upon demilitarisation. In a letter sent to UN Secretary-General on 30 September 2021, Greece was accused of breaching the demilitarisation provisions of the 1923 Lausanne and the 1947 Paris Peace Treaties and added that Greece's sovereignty over the islands "was and remains dependent upon demilitarisation."
In recent times, Erdogan has openly questioned the validity of the Treaty of Lausanne, as well as Greece's sovereignty over its Aegean islands. In 2016, he declared that Turkey "gave away the islands at Lausanne that you could shout across to" despite the fact that "they were ours" and "still possess our mosques and tombs."
Demilitarisation:
Greece points out that the objective of the Peace Treaties was to establish permanent boundaries and territorial legal titles to the States concerned without making them conditional on any other obligations because, as the International Court of Justice has held, the primary objective of such treaties is to achieve stability and finality.
Greece admits that it has built military fortifications in some of the islands but insists they are purely defensive in nature and, in any event, Turkish provocations in the Aegean and a heavy military build-up following the brutal use of force in the invasion and continuing occupation of Cyprus, have meant that Turkey poses a clear and present danger to the Greek islands located so close to the Turkish mainland.   
The Fourth Army in Izmir is positioned directly opposite the Greek islands in a decidedly offensive posture. It includes the largest amphibious fleet in the Mediterranean. According to James Jeffrey, a former US Ambassador to Turkey and now a commentator (who often sides with the Erdogan regime), Turkey now boasts "NATO's most powerful non-nuclear military, combat-experienced, and increasingly expeditionary" armed forces.
And yet we are to believe that Turkey is afraid of Greeks on islands and wants to challenge Greece's sovereignty over the Dodecanese and other islands in the Aegean unless it demilitarises?
To put things into perspective, the Greek Ministry of Foreign Affairs has recently published a consolidated map highlighting the irredentist demands of the Turks as they have evolved over the last fifty years.
The Greek Response:
Greece has been very measured in its response to Turkey's crude provocations over time, particular with airspace violations by armed Turkish military aircraft.
When the Greek Prime Minister recently addressed the US Congress, he did not mince his words about the ongoing provocative conduct of Turkey in the Eastern Mediterranean. After reminding the American legislators of the "unending pain" caused by the Turkish invasion and occupation of Cyprus, Kyriakos Mitsotakis made it clear that Greece will not accept open acts of aggression that violate its sovereignty and territorial rights, including overflights over Greek islands. The Greek PM demanded that those incursions and violations of international law must stop immediately.
The Cult of Erdoganism:
Erdogan's indignant reaction was predictable when he declared that he no longer "recognises" Mitsotakis and does not want to talk to him.
In reality, Erdogan is a populist authoritarian who is as sinister as Putin and who wants to revive the "Ottoman-era" glory for Turkey by reliving Ottoman legacies and memories. The conversion of the world heritage-listed Byzantine Church (later museum) of Hagia Sophia to a mosque in 2020 is a recent reminder of these neo-Ottoman delusions, as is the strident and continuing denial of the Armenian, Assyrian and Pontian Genocides and other atrocities perpetrated by his Ottoman ancestors.
Back to NATO:
So what will happen at the NATO Summit?
At a time when NATO seeks to embrace a "new security reality" to confront the barbarism of Putin and wants to adopt a Strategic Concept centred on collective defence, crisis management and cooperative security in the years to come, it also has to contend with an Islamist populist despot in Ankara.
Sadly NATO in the past has steered away from getting involved in any Greek-Turkish bilateral disputes even though it is abundantly clear that Turkey does not behave like a true ally. I am not sure that things will change given that Erdogan's neo-Ottoman inflammatory rhetoric is not new, nor is his penchant for so-called "near abroad conflicts."
It is finally time that the West – and NATO – took a stand against the repressive Erdogan regime.
Ironically, I have friends who are currently visiting Turkey. Just the other day, whilst in Kudasi on Turkey's west coast, they remarked how nice it was and marvelled that the Greek island of Samos is "only a swim away." I hope the day never comes when that dreamy image is replaced by landing craft.