Turkish President, Recep Tayyip Erdogan, said on Monday he has no intention of ever meeting with Greek Prime Minister, Kyriakos Mitsotakis, again, Ekathimerini reports.
In a televised address following a Cabinet meeting, Erdogan accused Mitsotakis of recommending to US officials that Washington not sell F-16 fighter jets to Turkey during a recent visit to the United States.
Erdogan also accused Greece of harbouring followers of US-based Muslim cleric Fethullah Gulen, who Turkey says was behind a 2016 failed coup attempt, and of establishing military bases against Turkey. Gulen has long denied the Turkish allegation.
READ MORE: Greek Prime Minister meets with US President in Washington on official visit.
"For me, there is no Mitsotakis. I will never agree to meet with him. We will continue our way with honourable politicians," the Turkish President is reported as saying.
Responding to Erdogan's comments on Monday, Greek government spokesman Yiannis Economou said Athens "will not get into a confrontation of statements with Turkey's leadership."
"Greek foreign policy is strongly founded on history, international law and our alliances, however much that may annoy some," he said.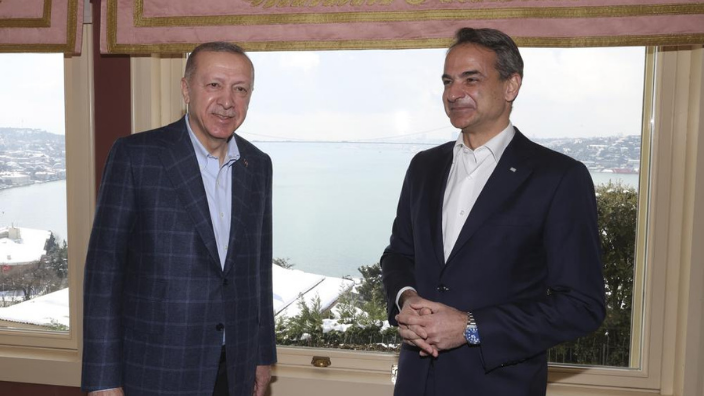 READ MORE: Mitsotakis and Erdogan agree to improve ties during meeting in Istanbul.
Turkey and Greece, both NATO allies, have long been at odds over a host of issues such as maritime boundaries, the extent of their continental shelves, airspace, and ethnically split Cyprus.
Officials from both countries resumed exploratory talks in 2021 after a five-year pause to lay the groundwork for formal negotiations to begin, but haven't made much progress.
READ MORE: Exploratory talks between Greece and Turkey conclude amid renewed maritime dispute.
Source: AP News and Ekathimerini.