Nearly 100 attended a video conference organised by the Australian Chamber of Commerce and Industry (ACCI) and held on Tuesday evening with guest speaker Institute for Management Development's (IMD) World Competitiveness Centre's Chief Economist, Christos Cabolis and hosted by the Director of the Business Leaders Council of ACCI, Paul Nicolaou.
During the video conference, Mr Cabolis outlined the main points from the recently released IMD World Competitiveness Yearbook for 2021 in which Australia appears to have fallen four places to 22nd in a global ranking of the competitiveness of 64 nations, Australia's worst result in 25 years. 
The IMD World Competitiveness Yearbook (WCY) is the leading annual report on the competitiveness of countries and has been published by IMD since 1989. It benchmarks the performance of 64 economies based on more than 330 criteria measuring different facets of competitiveness.
Nola Watson: Australia has become 'inward looking'
In her opening speech Nola Watson, Deputy President of ACCI, CEO of Business NSW and Chairman of International Chamber of Commerce (Australia) welcomed Mr Cabolis and said that "it's hard when we see that Australia has slid backwards in ratings."
Ms Watson highlighted that "declines in productivity have been alarming for at least a decade."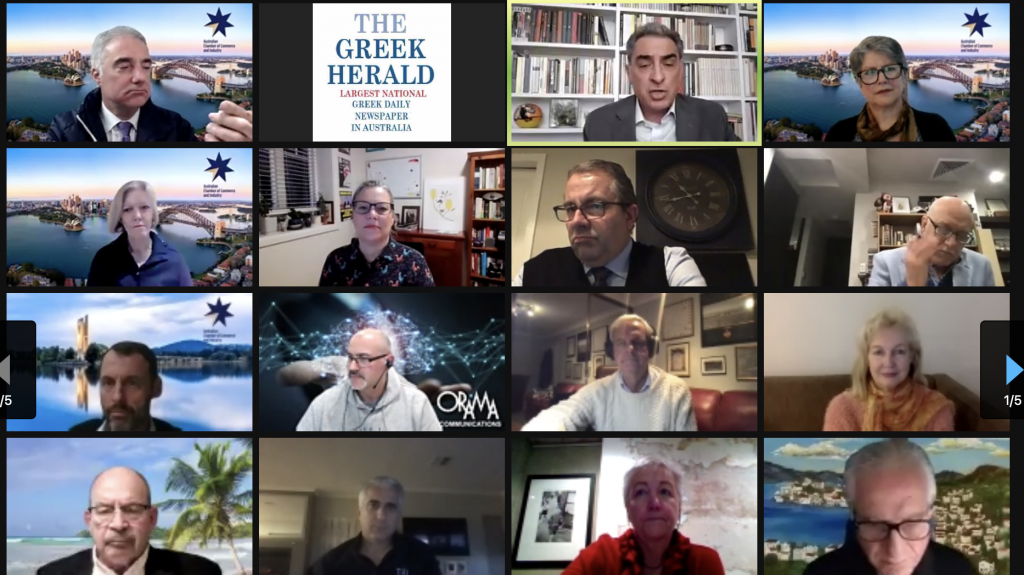 "We've seen that the governments rely heavily on traditional levers of monetary and fiscal policies that aren't going to address these bigger structural issues that are operating in our economy and we have been calling -from a policy point of view- for a greater emphasis on innovation, structural reform and areas that will drive better business activity in the economy," Ms Watson said.
"We haven't just closed our borders but in some ways, Australia has become more 'inward looking'. The lack of migrants and people coming into this country and bringing new ideas brought up some weaknesses within our constitutional arrangements -state and federally- that affect the economy."
Is Australia in a terrible situation?
Despite the fact that Australia appears to have fallen in the global ranking Mr Cambolis remains optimistic although acknowledges that business sentiment in the country has deteriorated due to COVID.
"Are there things that Australian economy can change? Absolutely. Is Australia in a terrible situation? I will argue, absolutely not. What we see, is that the overall trend is pretty much the same as it was five years ago," he said. 
However, he acknowledged that Australia's business community has "major doubts" about the economy as well as deteriorating attitudes towards globalisation, exacerbated by the pandemic.
"The way executives see the economy; they are not convinced it will work out," he said.
According to IMD, Australia's strongest attributes, were its health and environment, business legislation and international investment.
The country's successful economic response to the COVID-19 pandemic also helped its economic performance ranking climb.
The yearbook identifies several challenges for Australia, including laying the groundwork for the safe reopening of international borders, maintaining health and safety through the vaccination rollout, and driving private sector-led growth and investment.
So how can Australia and Greece improve their competitiveness rankings according to the Chief Economist?
It's about setting sustainable mid- and long-term goals, enhancing small and medium enterprises, attracting talent through the creation of innovative ecosystems, supportive regulation, inclusiveness and Green Economy.