Picture this: It's the launch night of the Kytherian Association of Australia's (KAA) centenary celebrations and there's a live auction of the first three 100-year Collector's Edition Medallions, which were designed by Zoe Sophios and produced by The Royal Australian Mint.
Bids are flying back and forth between a number of proud members of the KAA before eventually, the first medallion was claimed by none other than Peter Maneas from My Greek Odyssey for $20,000.
Next up was John Sophios, who bought the second medallion for $6,000, and rounding out the bidders was the President of the KAA, Emmanuel Alfieris, who bought the third medallion for $10,000.
READ MORE: Kytherian Association of Australia successfully launches its centenary celebrations.
To celebrate these successful bids, we just had to find out what made these three proud Kytherians want the medallion in the first place. This is what they had to say:
First Medallion: Peter Maneas for $20,000
Peter Maneas' instant response to the question of why he bid on the medallion was: "I would do anything to help the Kytherian Association of Australia."
"They've been going for 100 years and we want them to go for another 100 years," the host of My Greek Odyssey added.
"My family goes back, recorded anyway, 15 generations to Kythera. I live in Australia, it's 15,000 kilometres away, and we just want to keep our history and culture alive as much as we can and for as long as we can."
And now that he has the medallion and a piece of Kytherian history in his possession, what does he plan on doing with it?
"The medallion is sitting on my desk in my office, overlooking the window. So when I'm working it will always be there with a couple of other little bits and pieces that I've collected over time," Maneas says.
Second Medallion: John Sophios for $6,000
John Sophios tells The Greek Herald he decided to bid on the medallion as it is "a unique and succinct physical representation of the long history of Kytherians in Australia and a testament to the successful connection Australian-Kytherian diaspora have maintained with our island over the last 100 years."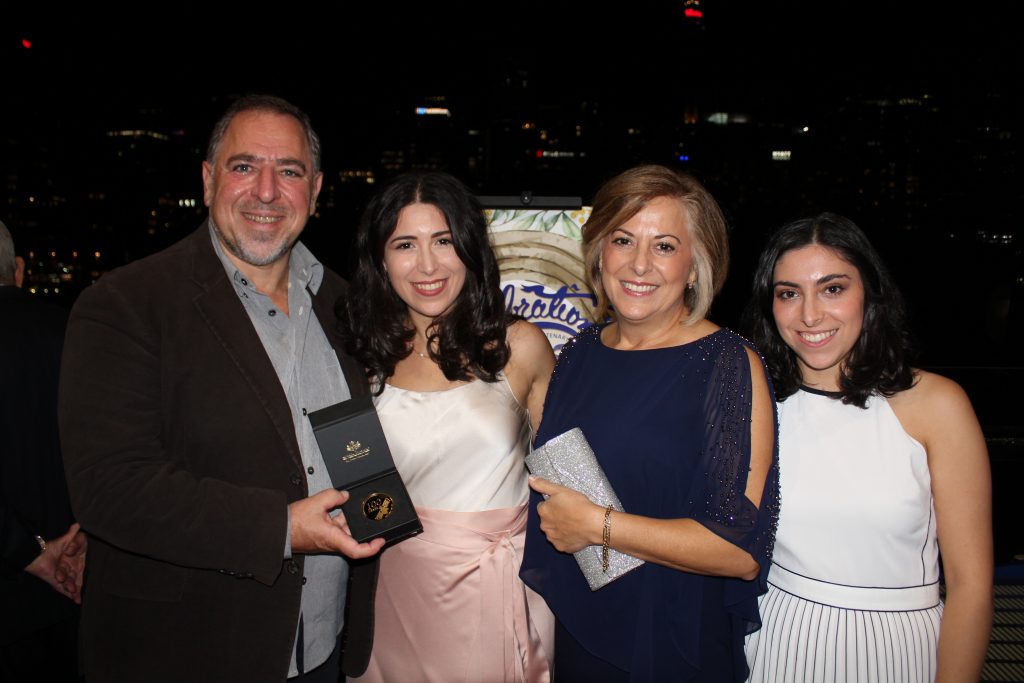 "It serves as a reminder of our ties to our ancestors and ancestry, and it embodies the love we have for the island of Kythera as its descendants," Mr Sophios says.
"Moreover, I feel it commemorates the contribution made to the KAA by thousands of members who supported initiatives and volunteered their time and work over the 100 years to create the success of the Association.
READ MORE: Zoe Sophios designs the official medallion for the Kytherian Association of Australia's centenary.
"My family and I moved to Sydney from country NSW in the mid 1970's and the KAA was instrumental in helping us make new friends and settling into our new environment.
"Our association with the Kytherian community has been long standing and strong and I feel very privileged to have served as president of both the youth committee and the board. In essence, I bid for the coin because of this personal connection."
What does Mr Sophios plan on doing with the medallion now?
"I am tossing up between donating it to the Kytherian Museum in Hora or the Powerhouse Museum here in Sydney," he concludes.
Third Medallion: Emmanuel Alfieris for $10,000
The President of the KAA, Emmanuel Alfieris, claimed the third medallion on the night and he tells The Greek Herald he made a bid because "it's an impressive artefact that is a piece of our history."
"I'm going to bid for more coins so that I can give one to each of my children," Mr Alfieris continues.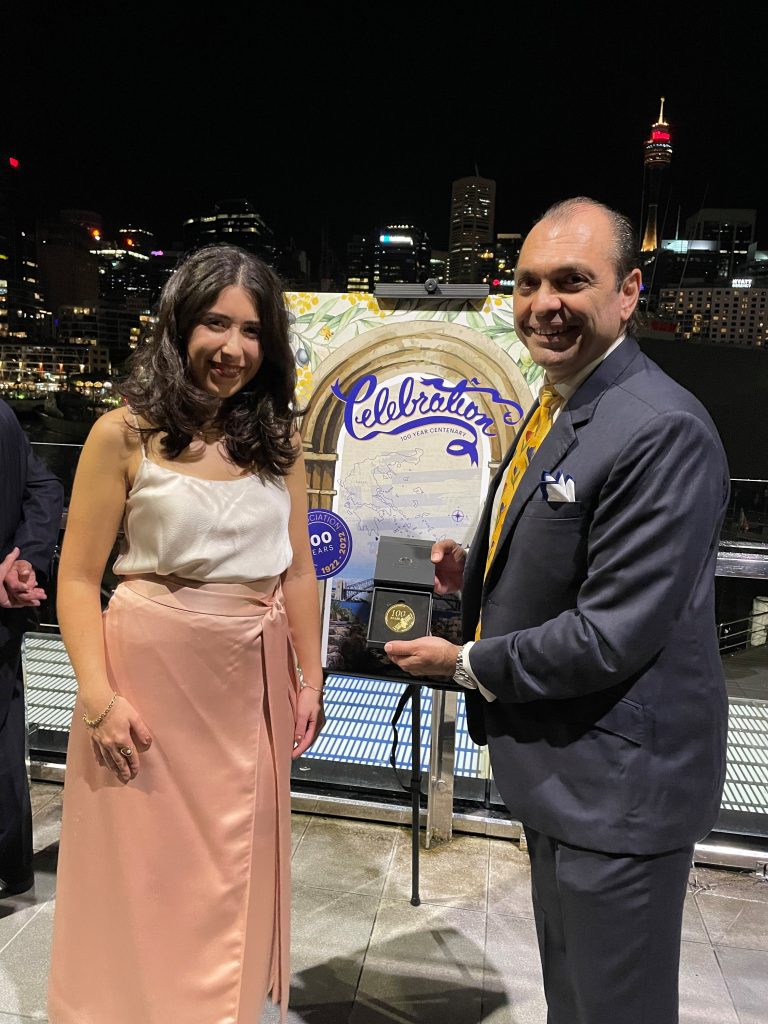 "For someone like me where my grandfather, father, uncles, brother, cousins and myself have all been contributors to the Association, I feel it's important for my children to have this memento in their homes.
"Throughout their lives, it will catch their eyes, or a guest will ask "what's that," and they'll reflect upon what their predecessors did and remind them of their own community obligation.
"It's an artefact that will remain in Kytherian households for generations."
Mr Alfieris adds that the fact the medallion was designed by a young Kytherian and minted by the Royal Australian Mint also played a part in his bid.
"For us Australian Kytherians, there's amazing poetry in the fact that the Royal Australian Mint has minted a coin with the map of Kythera on one side and Aphrodite on the other. This is a rare privilege to have a coin minted by the Mint," the KAA President says.
"There's quite a refined process to get approval, including having the Mint's Board agree that it is consistent with their historic purpose. I'm proud of the fact that they felt the KAA's Centenary year fits within their mission.
"I [also] get a buzz that the coin was designed by a young Kytherian, Zoe Sophios. Zoe is only 20 something and she spent endless volunteer hours designing this amazing artefact.
"That makes me confident that the Kytherian Association of Australia remains vibrant and still retains a promising future."
READ MORE: Australian National Maritime Museum unveils 1,281 new names on Monument to Migration.