The Kytherian Association of Australia (KAA) is celebrating its centenary anniversary this year and already they've announced some exciting initiatives to mark the occasion.
One in particular which has caught the attention of many is the release of an official commemorative medallion. The limited-edition medallion has been released by the Royal Australian Mint, with only 100 gold-plated units to be produced.
To tell us more about the initiative, The Greek Herald spoke with young Greek Australian and proud Kytherian, Zoe Sophios. Her creative coin design will feature on the medallion after she was named the winner of the 'Coin / Medallion Division' of the KAA's Centenary Logo Competition.
Zoe says she was initially inspired to enter the logo competition after reading about it in the KAA's newsletter, but then her design took a different path.
"I was sitting at home, it was lockdown and I thought, 'this will be an inspiring project.' I started thinking about a logo and when I was doing research, I came across the euro one cent," Zoe tells The Greek Herald.
"It really inspired me and led my design concept. I pretty much appropriated that design but subverted it from a one cent item into a 100 year's symbol."
After Zoe had decided that her design was going to have a strong "coin aesthetic and symbolism," the next step in her process was to create something which was specific to the KAA.
"I wanted to include particular symbols… that are relevant to Kythera, but then also the Kytherian Association within Australia and then Australia. Because I believe the whole symbolism that we're celebrating is not Kythera and it's not Australia. It's about that bond and connection between them, which transcends seas and borders," Zoe says.
And if you take one look at the medallion, it's clear that Zoe has portrayed this connection perfectly. She's not only superimposed the outlines of Kythera, Australia and the Australian flag within the design, but she's also included important symbolic motifs such as ocean waves, olive branches, myrtle branches and seashells.
"The seashells are important because they are a symbol of not only the sea, but also Aphrodite. Aphrodite is a key figure in this design not only because her face is on the obverse side, but also because in Greek mythology, Aphrodite was born on the coast of Kythera," Zoe explains.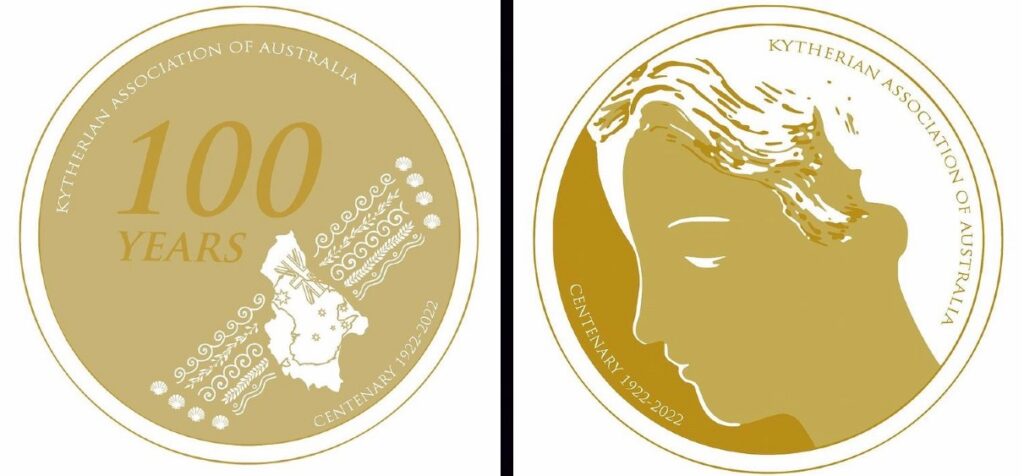 "She's the epitome of love and beauty, but she's also a role model or figure for the Association because it's her symbolism of love which inspires us to nurture sociality and connections."
With such a powerful message, it's no surprise that Zoe's design was selected to be on the KAA's commemorative medallion. In fact, Zoe says she was excited when her design was chosen because it meant she would be contributing to the Association's centenary celebrations in some way.
"I mean, I wouldn't have even been able to create all the technical elements of the design if it wasn't for not only my Kytherian heritage, but also my Greek heritage," Zoe says.
"So it was exciting [to win] because it wasn't just the design that was selected, it was the whole concept and the whole object itself."
And we're just as excited to get our hands on the medallion once its officially released in 2022!
*Please Note: This Collector's Edition Medallion is set to be auctioned at the Kytherian Association of Australia's official launch of its 100th anniversary celebrations on Saturday, March 26 at the Australian National Maritime Museum in Darling Harbour.
Event Details:
What: Launch Party
When: Saturday, March 26, 2022
Where: Australian National Maritime Museum, Ben Lexcen Terrace, 2 Murray Street, Sydney
Dress Code: Cocktail
Price: $160
Notes: Discounted Validated Parking, $15 at the Harbourside Car Park (100 Murray Street, Pyrmont)
READ MORE: Kytherian Association of Australia set to officially launch their centenary celebrations.