The Australian National Maritime Museum unveiled a further 1,281 names on the National Monument to Migration during three heart-warming ceremonies on Sunday, March 20.
The National Monument, which is a bronze-panelled wall that faces Sydney's Darling Harbour and Pyrmont Bay, honours the thousands of migrants who have made Australia home.
This year, names from Afghanistan, Gabon, Sierra Leone and Somalia were inscribed on the wall, including an additional 91 from Greece.
This was all announced at one of the unveiling ceremonies attended by The Greek Herald.
The event began with emcee and SBS Presenter, Virginia Langeberg, welcoming Craig Madden to the stage for the traditional Welcome to Country. Chantal Sneddon sang the Australian National Anthem.
Later, five keynote speakers addressed the audience and shared their personal stories and connection to the theme of migration.
They were: the President of the Kytherian Association of Australia (KAA), Emmanuel Alfieris; Museum Representative, Stephen Coutts; Multicultural Australia CEO, Christine Castley; National Monument to Migration donor, Madilina Tresca; and the first Afghan migrant to feature on the Monument, Mahboba Rawi OAM.
During his speech, Mr Alfieris shared the 'boomeranging' migration story of his father, George, who's name is inscribed on the Monument and was seen getting emotional during the event. Mr Alfieris also encouraged others to think about inscribing their own parents or grandparents' name on the wall.
READ MORE: Kytherian George Alfieris: 'Boomeranging' between Greece and Australia for over a century.
"I think we need to reflect on the sacrifices that all those 30,000 names on that wall made to get us here. To come to a country where there's peace and prosperity, and that has let us stand on their shoulders," he said.
"So I encourage all of you who don't have your family names yet on the wall, please make the effort. Mark them for prosperity."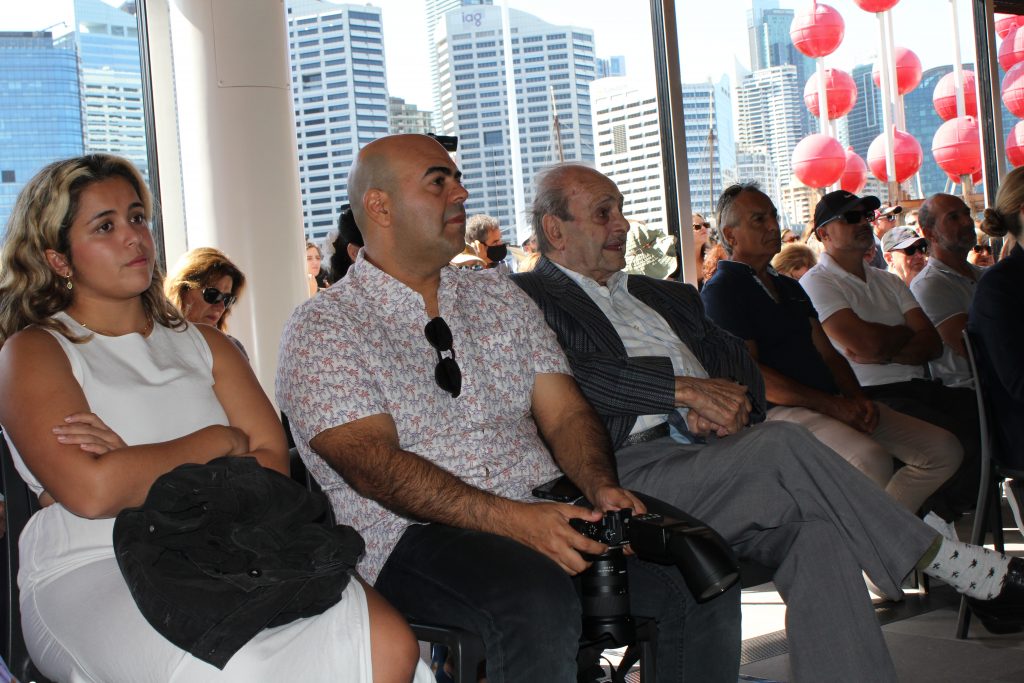 The KAA President then went on to conclude his speech by announcing that there will be "a special monument" for Kytherian migrants on the wall.
Following the conclusion of these speeches, which were enjoyed by all in attendance including the Greek Consul General in Sydney Christos Karras, attendees walked together to the Monument for the customary press photos.
Afterwards, another two unveiling ceremonies were held including one featuring the CEO of Settlement Services International, Violet Roumeliotis, and Effie Alexakis on behalf of Father Nektarios, who's name was one of those added to the Monument.
Note: The Museum has worked closely with the Greek community on a special fundraiser to commemorate the 200th anniversary of the Greek War of Independence and to honour the contribution of Greek Australians in building our nation. You can find out more about it here.