Maria Grazia Chiuri's 2022 Cruise collection for Dior has marvelled spectators at the Panathenaic Stadium in Athens.
The French fashion house's creative director Maria Grazia Chiuri launched the inter-season, all Greek-inspired gowns and athletic wear runway show for Dior at the Panathenaic Stadium in Athens.
"The idea to show inside the stadium was my obsession, because I think it speaks about the relationship that the clothes have with the body — a body that is a performing body," Chiuri said of the historic venue. 
The event in Athens "(blends) the power of heritage and contemporary inventiveness," Dior says, using the peplos as a "key inspiration" for the collection.
"The peplos also is an element that allows the body to move freely, that evokes women in movement, and no one more than an athlete moves their body in a really active way. So my idea was to culminate all these elements inside the show."
The 2022 Cruise collection was supported with the help of local artists, including tailor Arts Tzernovakis and the designs of artist Christiana Soul.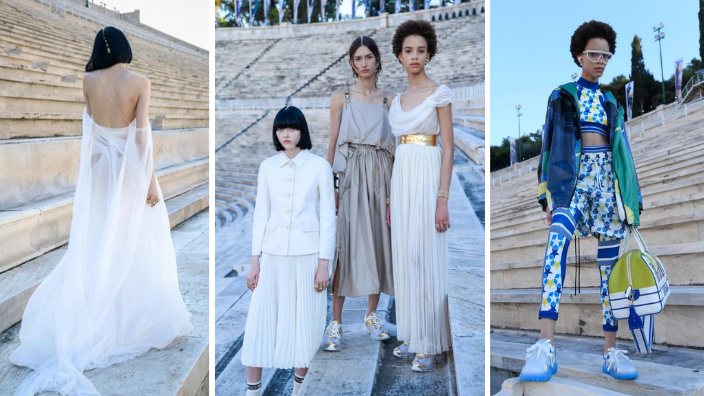 The Panathenaic Stadium in Athens hosted a show on Thursday atypical to the type it's used to, true to a popular and recycled trend of holding fashion shows at Greece's ancient and historical sites.
The Central Archaeological Council has granted Dior prior access to shoot at the Odeon of Herodes Atticus, the Ancient Agora, the Temple of Poseidon in Sounio, and the Temple of Zeus in Nemea.
It follows mounting criticism over the way the Greek Government manages and preserves the country's archaeological sites.
Dior also plans to shoot at the Acropolis as a 70-year anniversary tribute to Christian Dior's haute couture collection.
Source: WWD