Three days after the "Greek Fest Food at the Hunter" event and the disappointment felt by a large number of attendees due to the long food queues and the concerns raised about hygiene and accessibility issues, the community still wonders who is responsible for the situation that sparked widespread outrage on social media.
With a Facebook post, the Greek Festival of Sydney thanked the attendees and apologised to those who "left disappointed," blaming the lack of food to the main food vendor who "withdrew a week before the event."
On Tuesday morning, Peter Sinadinos, the owner of Big Fat Greek who was meant to be the festival's major food sponsor, issued a statement explaining the reasons for withdrawing from the event.
READ MORE: Opinion: Festival of Calamities.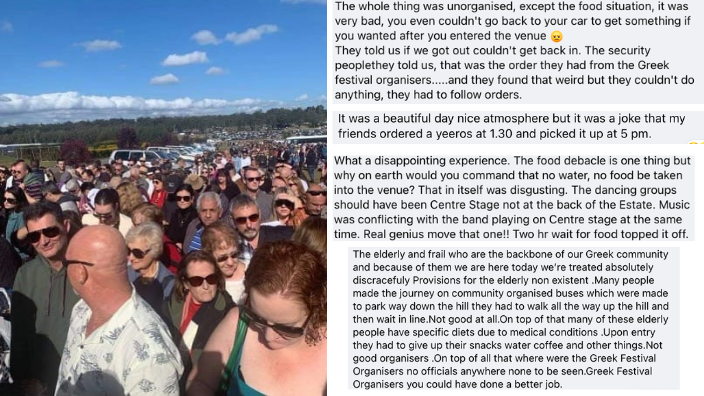 Read the full statement below:
With all the recent misinformation on social media platforms and other media regarding my withdrawal from the Greek Festival of Sydney's "Greek Fest on the Hunter", I wish to clarify the series of unfortunate events that ultimately lead to that difficult decision, as I'm sure it was also difficult for the sponsors before me who withdrew.
From the offset, I was approached by the organisers of Greek Festival of Sydney to provide DEFI II's band and singers as a support act for Dimitrios Basis at the "Greek Fest at the Hunter", which I offered free of charge as a donation to the Greek Orthodox Community of NSW. Additionally, our conversation raised the prospects of a fundraising ticket-event for the Greek Orthodox Community of NSW's Aged Care Facility at Earlwood, towards the purchase a bus, and we subsequently offered DEFI II's venue, band, singers, security staff, light and sound engineers, chefs and kitchen-hands, as well as food as our donation to this wonderful cause. Incidentally, the fundraiser, on Sunday May 16th, was a great success and sell out raising tens of thousands of dollars and all patrons enjoyed this memorable event.
With my relationship with the Greek Festival of Sydney strengthening and growing, I was then offered four stalls at the "Greek Fest at the Hunter" on the Hope Estate, to which I was honoured to be part of this event. At this point, the crowd projection was anticipated to be approximately 2,000 people.
Over many weeks, my team sent many emails to the Greek Festival of Sydney to provide me with important information and infrastructure about how this operation was to be set up as there were many rules and regulations- from councils to health and food regulators- that we had to comply with. Furthermore, there were also Hope Estate's strict guidelines- with regards to access and set up times to consider with such a major logistical operation, on a site that was two-and-a-half hours from Sydney.
As our business, Big Fat Greek, is not simply a food truck and we promote our business model based on high-quality and fresh products prepared and served efficiently and promptly, our organisation and preparation leading up to the event was continually hampered by several changes- such as power supply, gas supply, projected attendance numbers, number of stalls we needed to operate and access times to set up and test all the equipment (only on Friday, May 21st from 12- 5pm).
When I raised concerns about the uncertainty and confusion surrounding our preparations, I was told words to the effect of, "You stand to make $100,000 in six hours, what is your problem? And if you don't like it, don't do it," to which I replied, "My brand and I are not for sale."
Power supply for all our equipment included: ten gyros rotisseries, ten hot and cold food displays, eight fryers, food-grade floors, and fridges and freezers, chargrilled machines, and was finally confirmed in conversation to include power. Eight days before the event, I was sent another email, informing me I would need to supply my own generators for power supply, and it should be emphasised the massive size of the generators that would be needed to supply our stalls ran on diesel which was not permitted to be refilled on Hope Estate.
With the organisers of the Greek Festival of Sydney, our paperwork said one thing, our discussions were different, and then our emails different again. Although we fully understand the stresses in organising such a big event as "Greek Fest at the Hunter" and how changes may occur, I was extremely uncomfortable with so much uncertainty and confusion surrounding our preparations and organisation that I could not provide adequate information to the network of businesses and staff I had engaged to ensure a smooth operation for the three stalls which were eventually requested of me from the original agreement of 4.
We were truly looking forward to being part of "Greek Fest on the Hunter" and confident we could service the crowd- on our shop prices, not inflated festival prices- as we are an established brand with multiple prospective locations across Sydney, and appreciate the stresses the community have faced in the past year. It was unfortunate, and not easy, that I had to come to this difficult decision to withdraw from "Greek Feast at the Hunter".
I would like to wish all the very best to the Greek Festival of Sydney in their future endeavours. I wish to highlight that my businesses are always open and available to support such important events, when organised and structured properly, in our community, and look forward to doing so in the future.  
Greek Festival of Sydney responds:
The Greek Herald reached out to the Greek Festival of Sydney organising committee for a comment after obtaining the above statement from Mr Sinadinos and this is what a spokesperson had to say:
The Greek Festival of Sydney maintained frequent communication with Mr & Mrs Sinadinos in the leadup to Greek Fest in the Hunter, supplying them with all the relevant documents and instructions they would require to operate stalls at the event.
The vendor documents and agreements were prepared by Hope Estate and detailed all inclusions for stallholders (including power). Mr Sinadinos signed the vendor application, acknowledging that he had read and fully understood the terms and conditions of the application.
Mr Sinadinos had assured us that he would not have any difficulty in transporting food to the venue from Sydney as his family also operates a truck company. As the attendance numbers grew, the Greek Festival of Sydney sent ticketing updates to Mrs Sinadinos to ensure that they would be able to meet the demands of a crowd of 5000 people. Mrs Sinadinos expressed complete confidence in being able to service all of our patrons.
Despite our support of Big Fat Greek, Hope Estate insisted on adding more food vendors. This was communicated to Mr & Mrs Sinadinos on Thursday 13 May. We received an email from Mr Sinadinos withdrawing from the event on Friday 14 May.
Catering to a crowd of 5000 people is a big undertaking and we can understand it may have been overwhelming for a vendor who had not previously operated in a festival setting. The Greek Orthodox Community of NSW is disappointed that Big Fat Greek were unable to join us at the event, however, we are incredibly grateful to Mr & Mrs Sinadinos for their generosity in hosting a fundraiser which raised money for the purchase of a bus for elderly residents of the Greek Orthodox Community Home for the Aged.
Greek Orthodox Community of NSW