Australian Ambassador to the United States, Arthur Sinodinos AO, has today discussed the Biden administration's first 100 days in office, during a special digital conference hosted by the Australian Chamber of Commerce and Industry.
Mr Sinodinos began the talk by saying that although he never imagined he'd be in the United States in the middle of a pandemic, the race riots and a derisive election, he still believed President Biden has "hit the ground running" with his economic, public health and environmental policies.
"The priority of the Biden administration from day one was to get COVID under control because they know that if COVID is not under control, they couldn't consolidate the economic recovery and be able to realise all their other plans," Mr Sinodinos said during the conference, before discussing the current fiscal and monetary policies in the US.
Climate change:
From there, Mr Sinodinos discussed the Biden administration's environmental policies, stressing how they have announced a "climate infrastructure package" which sets ambitious climate change targets.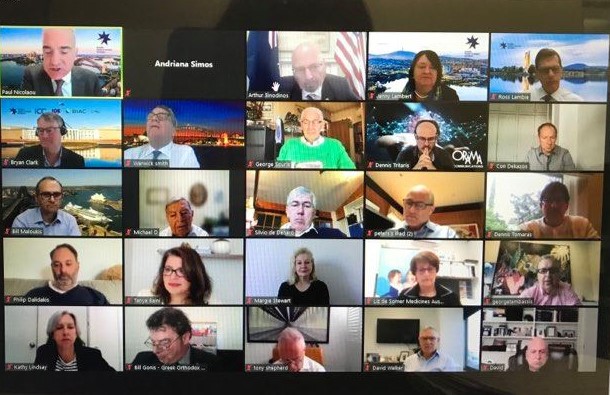 "Climate change is a whole of government priority in the US. The US government across the board is very joined up on this and what that means is they're committed to ambitious targets," the Ambassador said.
"They announced at the Climate Summit, 50-55% reduction in emissions by 2030. They're committed to net zero by 2050, they want to decarbonise the power sector by 2035. They've got a big package to promote electric vehicles. So they're really going to go hard."
The critical and emerging technologies sector:
Mr Sinodinos then went on to talk about the Quadrilateral Security Dialogue (QUAD), which is an informal strategic dialogue between the United States, Japan, Australia and India. Within this dialogue, there are a number of current working groups on vaccines, climate change and critical and emerging technologies.
The Ambassador focused on the 'critical and emerging technologies' sector in particular and described how Australia can play an important role in the area in the US.
"This sector covers areas like critical minerals, which are becoming very important in electric vehicles, in providing batteries and magnets for renewable energies… that's an area where Australia can play a major role with the US because we have alot of the rarest minerals which are necessary for that purpose," Mr Sinodinos said.
"The challenge for the West, for countries like Australia, is to work together and invest in those areas and to set the rules and standards. Because he or she who sets the rules and standards in these industries of tomorrow is likely to dominate those sectors."
This strong opinion sparked debate between the over 100 people who attended the digital conference, with many asking questions after Mr Sinodinos' keynote speech. In the end, it was an insightful event enjoyed by all.