A perfect treat for your friends and family, baklava satisfies your sweet and savoury craving by combining filo pastry with honey, nuts and in this special recipe, chocolate and ice cream.
In this delightful version, the creamy chocolate-hazelnut spread adds a rich, decadent flavour to the nutty, crowd-pleasing pastry. Because filo sheets are thin and delicate, it is important to handle them with care so you won't tear the sheets.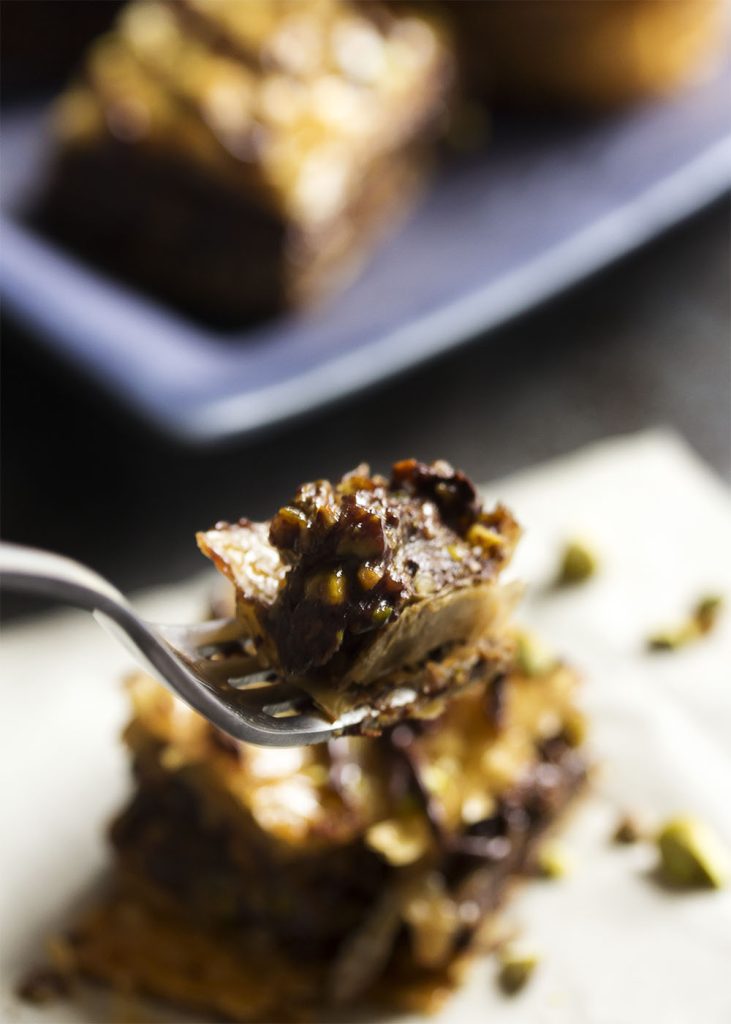 Ingredients
3/4 cup honey
1/2 cup water
1 (3-inch) cinnamon stick
1 cup hazelnut-chocolate spread (such as Nutella)
1/2 cup toasted hazelnuts, coarsely chopped
1/2 cup roasted pistachios, coarsely chopped
1/3 cup blanched toasted almonds, coarsely chopped
1/3 cup toasted walnuts, coarsely chopped
1/2 teaspoon ground cinnamon
1/8 teaspoon salt
Cooking spray
24 (14 x 9-inch) sheets frozen filo dough, thawed
1/2 cup butter, melted
Method
1. Combine the honey, water and cinnamon stick in a medium saucepan over low heat; stir until honey dissolves. Increase heat to medium; cook, without stirring, until a candy thermometer registers 110°C (about 10 minutes). Remove from heat; keep warm. Discard cinnamon stick.
2. Preheat oven to 180°C.
3. Place hazelnut-chocolate spread in a microwave-safe bowl; microwave at HIGH for 30 seconds or until melted. Combine hazelnuts and next 5 ingredients (through salt).
4. Lightly coat a 13 x 9-inch glass or ceramic baking dish with cooking spray. Working with 1 filo sheet at a time (cover remaining dough to prevent drying), place 1 filo sheet lengthwise in bottom of prepared pan, allowing ends of sheet to extend over edges of dish; lightly brush with butter. Repeat procedure with 5 filo sheets and butter.
5. Drizzle about 1/3 cup melted hazelnut -chocolate spread over filo. Sprinkle evenly with one-third of nut mixture (about 1/2 cup). Repeat procedure twice with filo, butter, hazelnut-chocolate spread, and nut mixture. Top last layer of nut mixture with remaining 6 sheets filo, each lightly brushed with butter. Press gently into pan.
6. Make 3 lengthwise cuts and 5 crosswise cuts to form 24 portions using a sharp knife. Bake at 180°C for 35 minutes or until filo is golden. Remove from oven. Drizzle honey mixture over baklava. Cool in pan on a wire rack. Cover; store at room temperature.
Share and Enjoy!