The successful New Ways in Modern Greek Studies Conference in Sydney concluded with the presentation of the annual Hellenic Studies Awards. The afternoon was in honour of the achievements of students and educators from primary school and beyond.
The youngest recipients were ten years old, with the most senior having served Hellenic education for decades. It is a truly unique celebration of academic achievement.
The Hellenic Studies Awards would not have been possible without the educators who cultivate pathos for Hellenic studies amongst their students, and the families who support educators and students alike.
With the active support of the Awards – the Major Sponsor being AHEPA NSW INC and Sponsors DA Painting and Decorating, and CT Translation Services – a program was presented showcasing the broad spectrum of Hellenic Studies: language, literature, history, culture.
Ayios Kosmas o Aitolos Awards:
The highest honour of the Australian Hellenic Educators' Association (AHEA) – the Ayios Kosmas o Aitolos Awards for dedicated service to Hellenic Studies – are named for an 18th century Orthodox wandering priest who urged the faithful to build schools at every opportunity.
These awards honour educators and administrators involved with Hellenic education across the spectrum of providers and levels.
Mrs Aliki Ellis worked for many years for the Greek afternoon schools in the parish of St Nicholas, Marrickville, where her past students think of her fondly. In fact, it was one of her former students who nominated her for the award.
Mrs Andrea Makis has worked in the public education system for 40 years, most recently teaching Modern Greek at Gardener's Road Public School in Sydney's inner south.
Mrs Evia Kyriacou has over 26 years of teaching experience in Modern Greek and French. She is currently the Languages Advisor with Languages and Culture of the NSW Department of Education, and the Curriculum Coordinator with the Secondary College of Languages at the Smith's Hill Campus in Wollongong.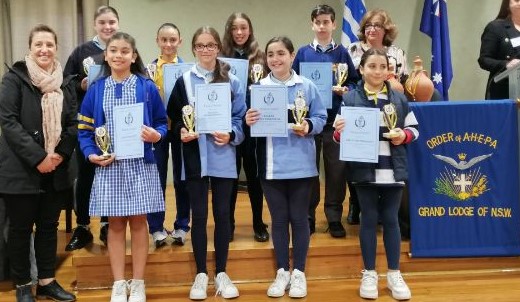 Phoevos Awards:
These are presented to students in recognition of their achievements in Hellenic Studies at the primary level. Almost every public school in NSW that offers Modern Greek courses was represented. Each year, one parish of the more than over 40 Archdiocese Parishes in Sydney is selected to nominate students from its afternoon schools.
Bald Face Public School, Blakehurst: CHRISTINA PSIROUKIS and ANTHONY TARANTILIS.
Brighton Le Sands Public School: RAPHAELA CHRISANTHOPOULOS and ELENI HATZIMARKOS.
Carlton Public School: CHLOE SPATIOTIS and PAMELA CONOMOS.
Clemton Public School: VASILIKI NIKOLAKOPOULOU and BILLIE FILIPPOPOULOS.
Connell's Point Public School: ANNABELLE GESOURAS and NIKITA SCHAFER.
Dulwich Hill Public School: ALEXANDRA TSOUTSAS and ATTICUS BRISEBOIS.
Earlwood Public School: ALEXANDROS DANIIL and MELINA NIKOLAROS.
Gardener's Road Public School: ORIELLE SAVAGE and DANIELA MANTHOPOULOS.
Kingsgrove Public School: JOHN GIOKARIS and SAM TSILIBERDIS.
McCallum's Hill Public School: OLIVIA LYGDAS and VIVIANA VASSILOPOULOS.
Sans Souci Public School: THEOFILOS GARDELIS and ETHAN MILIONIS.
Stanmore Public School: PETER MICHAEL and JAMIE APOIFIS.
St Spyridon College – Junior School, Kingsford: ELIAS APOSTOLIDIS and CHRISTOPHER SKOUTERIS.
St Euphemia College, Bankstown: HANEY ZEIDAN and MARIA ANGELA SFIKAS.
All Saints Parish Belmore Greek Afternoon School: ARTHUR FTERNIATIS and GABRIELLA PAPANTONIOU.