By Argyro Vourdoumpa and Andriana Simos.
More than 4,000 people have signed so far the online petition and numerous others, including federal and state politicians and the Archdiocese, have sent emails of support in an effort to keep the only Greek tertiary education program in Victoria alive, before the consultation period ends on Wednesday, November 25.
Last Friday, a Greek delegation consisting of representatives from the Greek community met with La Trobe University's Acting Vice-Chancellor Professor Susan Dodds, the Head of the School of Humanities Professor Simon Evans and two other leading academics to discuss viable solutions for the continuation of the program.
READ MORE: Urgent meeting held to discuss future of Modern Greek Studies at La Trobe University.
Present were also the Consul General of Greece in Melbourne, Dimitrios Michalopoulos, and the deputy Consul who is in charge of education.
"We want to work diligently and sincerely with the university," President of the Greek Community of Melbourne, Bill Papastergiadis, tells The Greek Herald.
The program has seen an increase in student numbers the last past three years, from 28 in March 2018 to 48 in 2020, however these enrolments do not seem to be sufficient.
READ MORE: Modern Greek Studies at La Trobe University at risk of being discontinued.
"The university said that the number of students needs to triple for the program to be sustainable and it became apparent that its discontinuation is more about the strategic direction of the university itself," Mr Papastergiadis says.
The committee requested an extension to the consultation period or an opportunity of two more years to "encourage more students to learn the language."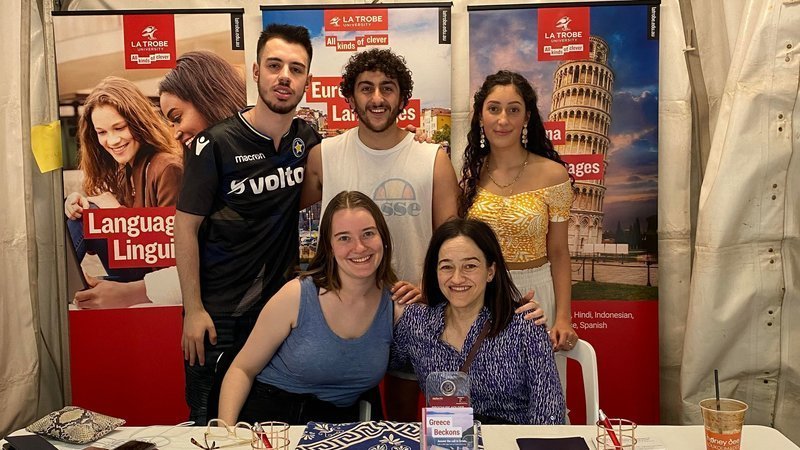 "They said they hear us loud and clear but no promises were made," Papastergiadis said.
READ MORE: Archbishop Makarios urges La Trobe to reconsider intention to terminate Greek Studies Program.
In a statement to The Greek Herald this afternoon, La Trobe University wrote:
"La Trobe was pleased to meet with members of the Greek community in Victoria last Friday to discuss the change proposal and hear their concerns. It is clear there is a strong desire from members of the community for La Trobe's Greek Studies program to continue.
We discussed the significant financial impacts to the University as a consequence of the COVID-19 pandemic, our subsequent Strategic Plan, and the fact that student demand for the program would need to increase substantially before the program could be financially viable. La Trobe will carefully consider the outcomes of staff consultation, as well as representations made from members of the community, regarding the future of the program before making any decision."
READ MORE: Federal MPs express disappointment over La Trobe's proposal to cut Greek Studies.
* You can sign the petition here to save Modern Greek Studies at La Trobe University.
How you can help save the Modern Greek Studies Program:
In addition to signing the petition, writing letters of support, making phone calls and using the hashtag on social media (#SaveModernGreekAtLaTrobe), teachers, students, parents and all community members are being asked to do the following:
1. Handwritten messages – All school-age students learning Greek are encouraged to submit handwritten answers with the message: "I would like to learn Greek at University because…"
Messages can be scanned or photographed and sent to mgta.vic@gmail.com. Make sure that the students' messages remain anonymous as they will be presented to the University.
2. Video messages – All school-age students learning Greek are encouraged to create posters using phrases such as "Save Greek @ La Trobe" and video themselves explaining one or all of the following:
why Greek is important to them.
why they would want to study Greek at University.
what the closure of the program would mean for them.
Videos should be short in length and should range from 20-60 seconds per student. As the students will be visible in the video, parent/guardian consent will be required. Copy and paste the template below in an email to mgta.vic@gmail.com and fill out the appropriate sections.
I _________________________ give consent for my child ____________________________ to take part in the Save Greek @ La Trobe Video Message Campaign.
I understand that my child's name will remain anonymous, but that their video will be presented to La Trobe University, the Mass Media and on Social Media in an effort to support and maintain the Modern Greek Studies program at the University.
Parents/Guardians, please make sure your child's video is labelled with your child's name.
3. Year 12 students – Promote enrolling in a Greek subject to your Year 12 students for when they begin university. Regardless of the university students study at, they are able to undertake Greek at La Trobe as part of their course. Increased enrolments in 2021 will strongly support our case.
4. Parents' Associations – Please encourage your school's parent associations to also send letters of support to the appropriate university team.