The 2023 Greek Book Fair (GRBF) is approaching and will take place at the Greek Centre for Contemporary Culture on the weekend of November 25-26 from 11am to 5pm.
The Greek Book Fair is organised by the Greek Community of Melbourne, in collaboration with the Greek-Australian Cultural League, and the Hellenic Writers Association of Australia.
The aim of the 2023 Greek Book Fair is to allow Greek Australian writers, bookshops and publishers to present, promote and sell their books. The program includes casual talks, book launches, book signings, literature awards and more.
Free and open to the public, the 2023 Greek Book Fair will feature over thirty exhibitors including authors, publishers, bookshops and organisations.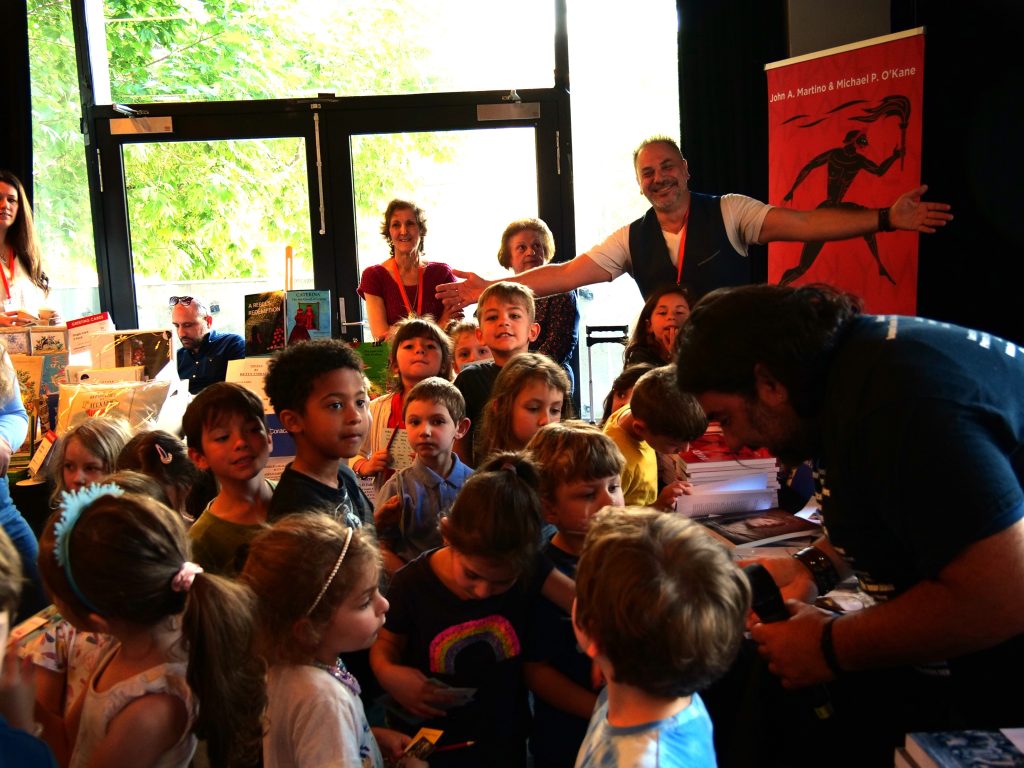 The official opening of the 2023 Greek Book Fair by Professor Nikos Papastergiadis and the Consul General of Greece in Melbourne, Emmanuel Kakavelakis, will take place on Saturday, November 25 at 11.30 am.
Visit the Greek Book Fair on Saturday, 25 and Sunday 26 November and pick up the perfect gift for Christmas!
Event Details:
When: 25-26 November 2023.
Opening Hours: 11 am – 5 pm.
Where: The Greek Centre (Mezzanine, 168 Lonsdale Street, Melbourne).
Entry: FREE
More information about the Exhibitors and the Book Fair Program can be found here: greekcommunity.com.au/events/series/bookfair2023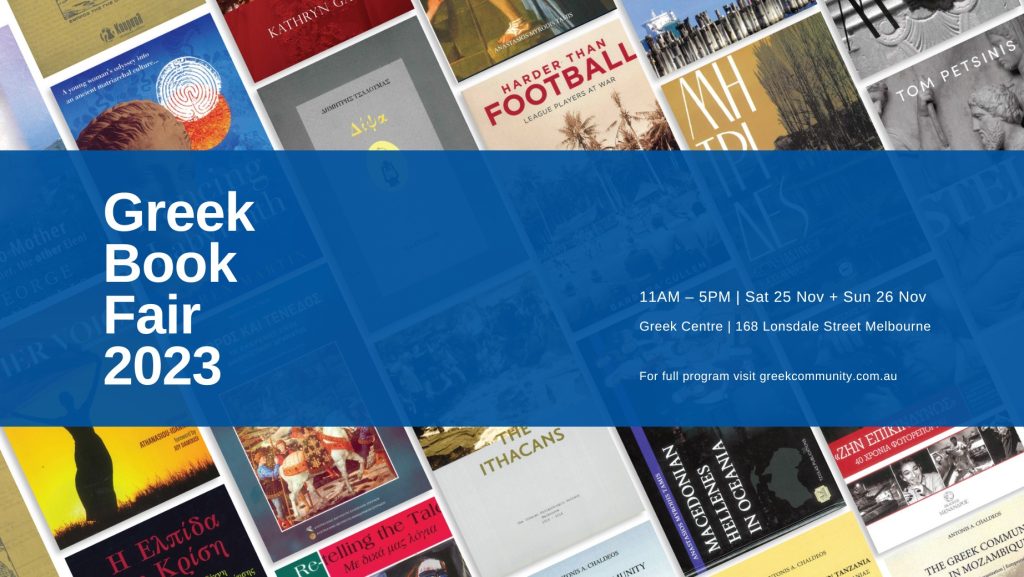 The program of the 2023 Greek Book Fair includes:
Book launches:
Jim Claven
Korally Dimitriadis
Ioannis Sidiropoulos
Meet the Author:
Konstantinos Kalymnios
Syrmo Kapoutsi
John Martino
Billy Cotsis
Karen Martin
George & Monica Athanasiou
Danae Konidaris
Varvara Athanasiou-Ioannou
Olympia Panagiotopoulos
Literary Competition Awards: On Saturday, November 25, the Greek-Australian Cultural League will announce the winners of the GACL Literary Competition awards.
Book signings: Book signings will take place during the weekend.
Exhibitors:
Athena Connock
Christos Linou – Linou Press
Christos Nicholas Fifis
Danae Konidaris
Dimitris Troaditis
Dr. John A. Martino
Ekaterini Tsitouridis
Ella Mittas
GCM Bookshop
George Athanasiou
Greek Australian Cultural League
Hellenic Writer's Association of Australia
Ioannis Sidiropoulos
Jillia Symons – Language International Bookshop
Jim Claven
Karen Martin – KazJoyPress
Kathryn Gauci
Kiri Tsitouridis
Koraly Dimitriadis
Kostas Kalymnios
Marianne Kontossis – i2kids
Michael Yiannoudes
Monika Athanasiou
Nick Trakakis
Olympia Panagiotopoulos
Socrates Tsourdalakis
Stavros Messinis
Syrmo Kapoutsi
Varvara Athanasiou-Ioannou
Vivian Vass
Accessibility:
Parents: please be aware aisles may get crowded and it may be difficult to navigate with a stroller. Take note that we do not censor or label our exhibitors' work or our programming, and you may not consider some content suitable for children – please use your best judgment.
Ways to pay:
Support our writers, publishers, and bookshops. The GRBF and all its programs are free to enter but it is a vendor-based event. We run on love, but our authors live off sales.
It is up to individual exhibitors as to how they will accept payments, but most will be able to accept credit and debit cards via mobile payment technology. If paying cash, ATMs are plentiful near the Greek Centre, but please try to come prepared with small bills.