A recent documentary feature has explored how Australia's Greek migrant community stamped their mark on football.
The star-studded special features Nick Giannopoulos, Ange Postecoglou, George Donikian, Chris Nikou, and Con Boutsianis as they chronicle the impact of football on their lives and community.
"Football was a church. You went to church, but the real church was afterwards," media personality George Donikian says in the special.
The 'Football Belongs' feature-length special encapsulates the Greek community's history in Australia and impact on Australian culture through sport.
It details how the seemingly unwelcomed Greek migrant community found refuge in Melbourne's Lonsdale Street and the South Melbourne football club.
"My most vivid memories of those Middle Park days is the pasatembo guy, because he had the loudest voice of anyone I'd ever heard," Nick Giannopoulos says about watching South Melbourne play.
Football clubs became 'second homes' for Greek migrants.
"There was a feeling amongst us all that we belonged to this tribe. It allowed us to find our voice, to express ourselves," says Nick Giannopoulos.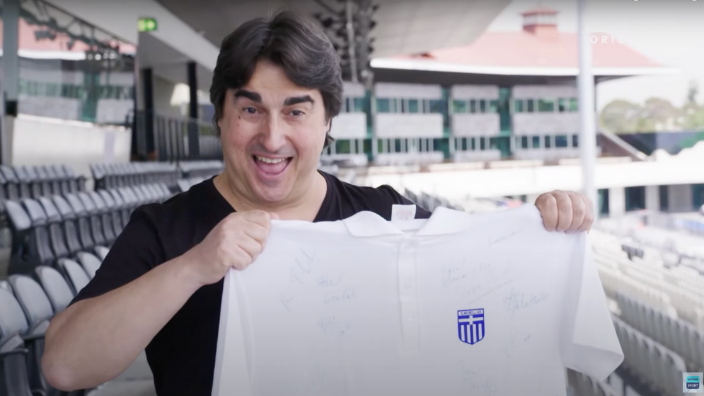 The Greek community are passionate about celebrating their culture and community in their own unique way, former South Melbourne player Con Boutsianis added in the feature.
"South Melbourne was tough because if you didn't perform the crowd were on your back. We used to get cans thrown at us. Used to get spat on sometimes. I'm not saying it's great, but you know, we were a tough breed," he says.
"They loved their soccer and anyone that played soccer and did well for Sydney Olympic? Well let me tell you, he was god," attests former Socceroo's player Peter Katholos.
'Football Belongs' is a celebration of immigration stories and tradition and charts the cultural threats of Australian society through the lens of football.
Football Belong's second season airs every on Optus Sport. Its hosts are David Davutovic and John Didulica.