By Andrew Paschalidis – Heartbeat of Football Founder
I first met John Economos in 1983 in the Foreign Language Publication offices at Glebe in Sydney. It felt like a tornado had swept the room as John flew in regaling us all about the next scoop story he wanted on the front page of the popular publication Australian Soccer Weekly.
John started there in 1980. I followed him in 1983 as I started my media journey as a cadet journalist with ASW. Legendary journalist Michael Mystakidis interviewed me for the job and I was given the green light by owner Theo Skalkos.
John gave Theo the nickname "earthquake" in reference to his booming voice and no frills approach to his business. In fact, John gave countless nicknames to so many in his beloved game of football.
Ironically it would be Lee Sterrey the former National Soccer League player and coach who gave John his nickname -"scoop". This was a fitting description about the proud Greek-Australian whose bloodlines are from the idyllic Greek island of Kythera. John loved the fact that we were almost "Greek neighbours" given that my mother is from Neapolis on the southern tip of the Peloponnese where one could see Kythera in the distance.
John took great pride in working for ASW in two key roles as a writer as well as securing much needed advertising for the publication which was the staple diet and bible for thousands of football fans around Australia. Remember this was in the days before the internet.
Pretty much the regular routine would be for John to come storming in the office late on Monday night with another front page scoop. It meant changing the front page and altering the final production of the paper. Yes it did cause issues but John always got his way.
Typically John would wait for ASW to go into print late on Monday night where it would then be in newsagents first thing Tuesday morning. The normal routine for the first journalist to be inducted in to the Football Australia Hall of Fame was to personally deliver copies of ASW to many different friends well into the night.
It was a part of the job John loved the most – hand delivering a fresh copy of the weekly staple diet of the football fan.
There was one occasion when John was working with us late on a Sunday night as we wrote our match reports with St George and Sydney Olympic FC his favourite clubs although he took great joy in forging close ties with Marconi Fairfield and APIA Leichhardt as well as countless other NSL clubs, players, officials and fans.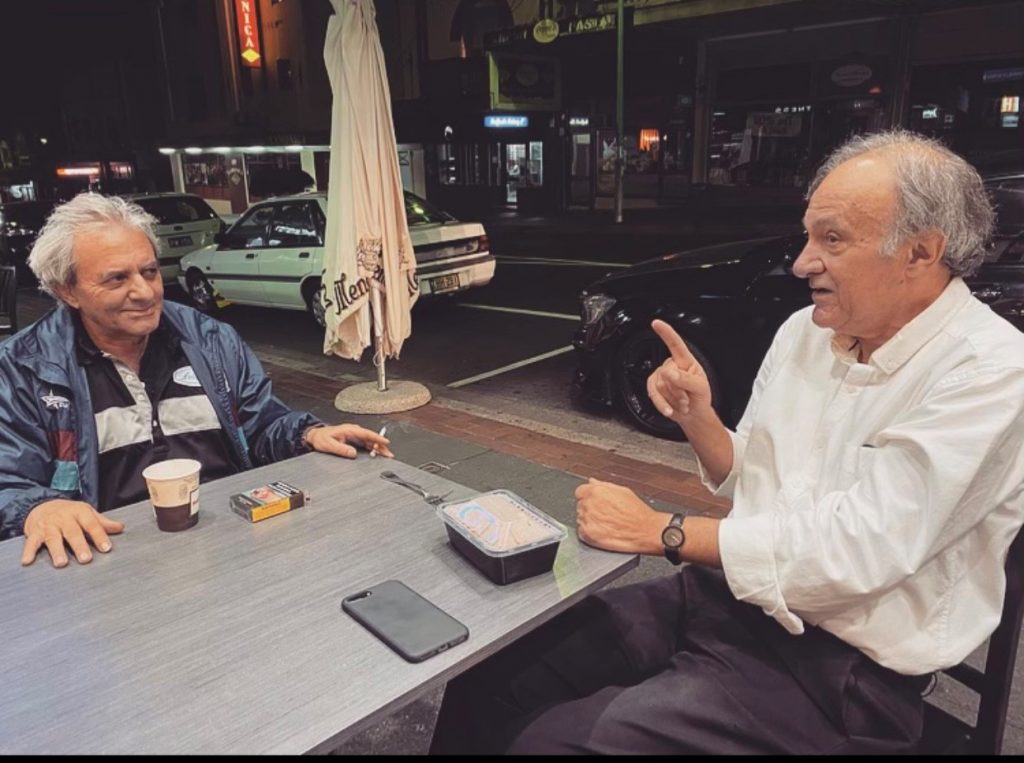 But let's get back to this one Sunday night. We had finished working around midnight and made our way out of the office onto Glebe Point Road and John was stunned to find that his old Datsun car was not in the place he had parked it. It was found across the road in the man made lake at Sydney University.
John didn't worry about the car but was more upset about the bundle of ASW papers as well as other notes which were in that flooded car!!!
There is no doubt John's passion for football escalated from the time he met Socceroos legend Johnny Warren at Cleveland Boys High School in Sydney's inner west. It was a lifetime friendship enhanced during John's playing days with the famous St George Budapest FC which delivered many outstanding players into the National team highlighted by the 1974 World Cup.
Jim Fraser was another one of the St George players who would wear the green and gold of Australia and become a lifetime friend.
"You know I think back to 2004 when Johnny Warren passed away," Fraser said: "It really felt like a part of John died when his best friend left this earth.
"I first met John in 1970. He always gave me positive write ups and served many roles with the club including team manager."
The last social occasion I spent with John was a couple of years ago at an Asian Restaurant in Burwood not far from where John lived. Former Sydney Olympic FC captain and coach Peter Raskopoulos organised it. John, Peter, Jim and I attended. Lunch could have quite conceivably turned into dinner.
That's how it was with John. What would start off as a short conversation would end hours later. He was a football encyclopaedia with an amazing knowledge of the game recalling key events and dates with ease.
That shouldn't surprise when you reflect on the the caliber of football people he has interviewed like Pele, Best, Shearer, Capello, Venabkes, Venglos, Arok, Docherty, Beckenbauer., Dellas. The list is endless.
The tribute continue to pour in. He impacted so many in the world game
"John will be very sadly missed by so many people," said former Sydney Olympic FC player Gary Phillips.
"He was very unique and touched so many people in his own special way. He lived an amazing life and will be missed by so many people who will remember the many incredible stories he would tell in his own amazing style.
"I trust the game he loved will pay a special tribute in some way.."
RIP John Economos. You were part of a golden generation of the game.