A fundraising page set up to help Natalie Tsokas buy a headstone for her eight-year-old son, Oliver Tiainen, after his grave was cleared by a Queensland council, has been inundated with donations from across the country.
Just yesterday, the final $8000 portion of the fundraising goal was donated by an "anonymous veteran" and Ms Tsokas told ABC News she will now finally be able to give Ollie the memorial he deserves.
'I'm just so overwhelmed':
The anonymous veteran told ABC News that "no member of the Australian community should be made to suffer as Ms Tsokas has."
"As a veteran, (myself) and other ADF ex and serving members sacrifice their time and sometimes their lives to protect the Australian community," he told the media outlet.
"No member of the Australian community should be made to suffer as Ms Tsokas has, and mental health and well-being is just as important for the civilian community as it is in defence.
"Trauma such as losing a son is enough without being further punished by a government agency when you are just trying to mourn their passing and heal your pain."
The anonymous veteran said he hoped the donation and resulting permanent head stone would allow Ms Tsokas and the community to "mourn and grieve in peace."
Hearing the news, Ms Tsokas said her family were shocked and overjoyed at the veteran and wider community's generosity.
"It's just amazing, I just jumped up and down with my whole family… I had no idea it was happening, my friend just said someone has just donated the rest of the funds. I'm just so overwhelmed, it's been such a rollercoaster," Ms Tsokas told ABC News.
So far the fundraising page has raised over $15,000 in total, which Ms Tsokas said would cover the cost of the headstone and grave cover.
"I wanted to be able to afford this for my son, and give him the best I could, the best possible resting place… I didn't want to ask anyone, but the truth is I really did need it," she concluded.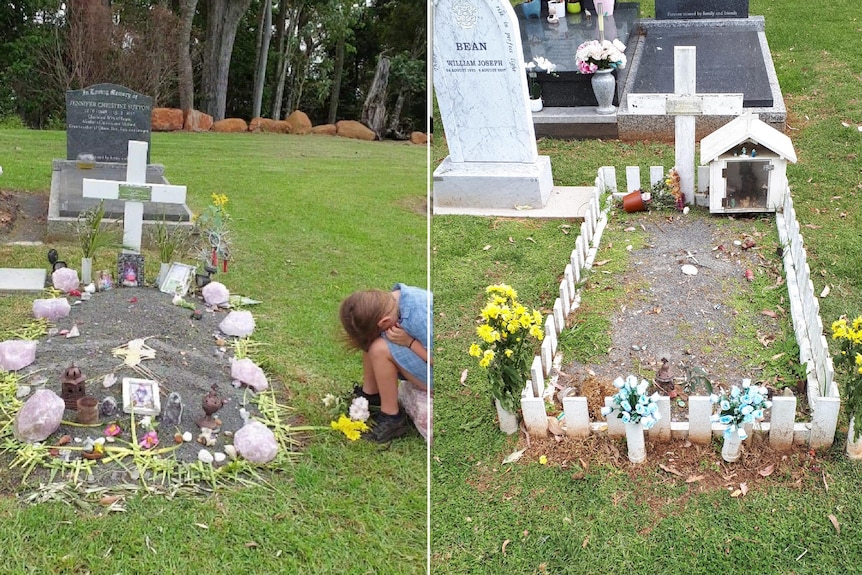 Council, family dispute:
Last week, Ollie's grave was stripped bare by the Scenic Rim Regional Council, who removed everything including a border, candle and his name-bearing cross.
According to ABC News, the council said items at the grave were unauthorised and left it as just gravel and dirt, devastating Ms Tsokas, who said it had been all she could afford to honour her son's memory.
READ MORE: Queensland mother Natalie Tsokas furious with actions of local Council.
The Council also said Ollie's grave was stripped of items only after being in "regular contact" with Ms Tsokas. She denies this claim, saying while they had been communicating about the issue, she felt she had completed what was asked of her.
"Everything they asked me to do, I did it, but they just kept changing their minds about what they needed me to do," she told ABC News.
"September last year was our last correspondence … after that a person in the community contacted them telling them to leave me alone as I was grieving and also in isolation so couldn't attend the grave.
"I mean, this is all within months, in my mind, my time has stood still, my son just died."
When questioned about whether it would consider reviewing its cemetery policies, following public backlash to Ms Tsokas' experience, Scenic Rim Regional Council said it would "in due course."
Source: ABC News.