Sydney based photographer, Melissa Gamvros has been documenting her life and the people in it from a young age.
Aiming to encourage the individuals she photographs to express themselves authentically and highlight their uniqueness, Melissa recently launched her own photography portrait business named 'Woven Pictures'.
What motivates her and why it is now more important than ever to empower and motivate each other? The Greek Australian photographer sat down with The Greek Herald to discuss.
TGH: Melissa, talk to us about your Greek heritage
My Greek heritage was instilled throughout my childhood attributed to my close relationship with my grandparents. They would communicate to me in Greek, and have left a positive impact that will not be forgotten. I have many fond memories spent at their house where they would spoil me with food, and more food, to which I could never refuse.
My other tie to my Greek heritage is to the island of Samos, where my father was born. I have been fortunate enough to visit and spend time there as a second home. When I am there, I feel its vibrancy and warmth and instantly feel connected to the ocean and friendly hospitality, captivated by its beauty.
TGH: How did your career in photography begin?
My career began landing my first job in a small portrait studio in Sydney. I then fell into the ecommerce fashion world working for The Iconic and then relocated abroad following my dreams all the way to London photographing for luxury retailer Net-A-Porter.
TGH: What inspired you to start the 'Woven Pictures' project and what makes it unique?
I was inspired to translate my skills of photography into creating a meaningful and valuable experience. The intention behind 'Woven Pictures' was born out of this desire to set up an environment where individuals and I felt comfortable enough to properly connect and feel able to express ourselves authentically.
I suppose what makes Woven Pictures unique is the process the client and I go through together. Woven is about pushing boundaries, with no limits or rule books. It can be as rebellious as one wants to highlight their uniqueness. I love bringing these ideas to life in the portraits I take and sharing these experiences with them.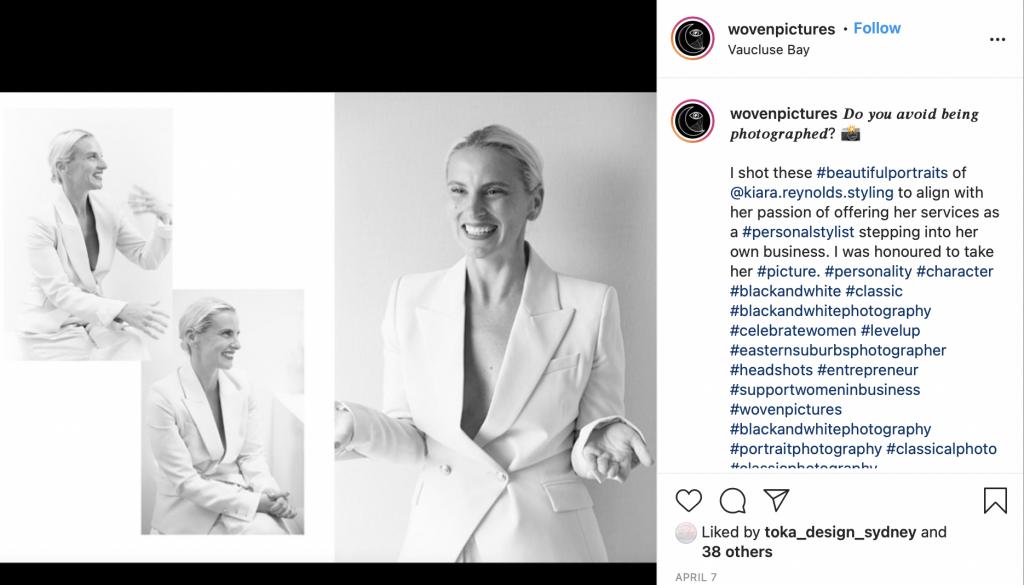 TGH: Your intention is to help women be seen and heard through your photography. Why is this important?
Old paradigms of women's roles are being challenged and it is important to showcase them.
The opportunity to connect with these women and hear their stories is an honour and meaningful work. The intention of helping women be seen and heard is tied into the name, of Woven Pictures.
The message is that we are all connected and interwoven in a large web. We can all inspire, empower and encourage each other, whether it be in a new business venture or purely just to document a time in your life. I feel compelled to help tell their story and convey it through my photographs.
TGH: Image plays a big role in how people perceive us. Can a photograph, capture who someone really is?
I believe a photograph can, if approached delicately and respectfully, capture the essence of a person. The result of this is dependent however upon the synergy between the subject and the photographer. My aim is to help clarify my clients' purpose to help them discover how they want to present themselves to the world.
TGH: How does your photography impact the way a woman feels empowered? Would you like to share a story with us?
An experience with one of my clients' springs to mind who I was fortunate enough to meet. Caroline Heslop (featured in the photograph below) approached me, when she was going through a transformative time in her life. She is the successful founder of marketing agency Sketch.
Her hope was to achieve portraits that would reflect her rebranding to mirror her inner strengths and hard work she had put in over many years. She absolutely blew me away! She expressed to me how comfortable she had felt to be herself and this buzz of empowerment she was left with, leaving me feeling the same and grateful for the experience.
TGH: What motivates you to continue?
Focusing on the artistic expression of photography is what motivates me most, the shapes, the lines, the light. I can find beauty amongst everyday life's mundanities and make use of my camera as a creative outlet.
TGH: What is a quote you live by?
I remind myself of The Four Agreements by Don Miguel Ruiz. They help me to stay grounded if I find myself off balance. They read:
Be impeccable with your word.
Don't take anything personally.
Don't make assumptions.
Always do your best.
TGH: Is there a message you would like to share with aspiring photographers who may be reading this interview?
Believe in yourself and do not seek external validation. Be brave and go out and capture the world. For every set back, there lies a new opportunity. There is no failure, only growth, keep at it and focus on the joy it brings you, leave the rest.