More than 50 people, members of the Australian Greek community, current and former La Trobe students and representatives from community organisations attended the online information session held on Wednesday afternoon by the National Union of Greek Australian Students (NUGAS Victoria) and hosted by students of La Trobe University's Modern Greek Studies Program, Anthea Banousis and Meg Smith.
The purpose of this session was to discuss the university's current proposal to discontinue the Greek Studies Program and to detail ways in which the public can support the continuation of the only Greek tertiary education program in Victoria.
Anthea Banousis: 'I want to use Greek in my profession'
Anthea Banousis, the student ambassador for the Modern Greek studies program, discussed the university's current proposal and spoke about her experiences as a La Trobe University student majoring in Greek Studies.
"A decision has not been made yet. This week is really critical to show our support," Ms Banousis said and went on explaining the reasons that motivated her to take up Greek studies.
"I'm currently studying a double degree, a bachelor of law and bachelor of arts and although law is what I want to practice, I chose La Trobe specifically for the Greek Program.
"I stopped learning Greek at a very young age and even though I speak Greek at home my reading and writing skills needed improvement….I studied Greek because I wanted to use it in my profession and communicate with clients in Greek about legal matters," Banousis said.
"I believe Greek is a really important language. It connects us to who we are."
READ MORE: Federal MPs express disappointment over La Trobe's proposal to cut Greek Studies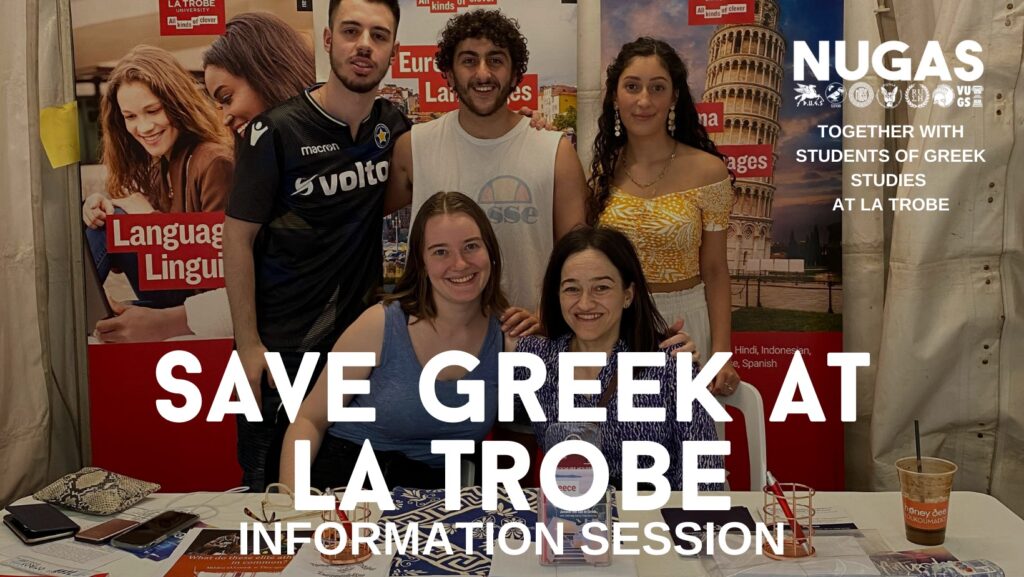 Meg Smith: 'Through the program I learnt about my identity'
Meg Smith, has been studying Greek for three years and she started as a beginner.
"Through this program I've learned about my identity, about my culture and about my family and I'm disappointed from La Trobe's decision to discontinue this program.
"As a third-generation Greek woman, I only had one Greek parent at home and never learnt how to speak Greek as a kid. That's why I chose La Trobe. Because I found it as my only opportunity to learn Greek," Meg Smith said.
"I strongly believe that cutting this program will rob other people of the same opportunities that I am so thankful for."
Ms Smith urged the Greek community to raise their voices to the university's proposal by signing the online petition, by sending letters to La Trobe and by contacting their local Members of Parliament (MPs).
The information session, concluded with questions from the attendees and the organisers thanking the community for their support.
Earlier this week, during an urgent meeting chaired by the President of the Greek Community of Melbourne Bill Papastergiadis, a committee was created to look into different ways and coordinate the efforts in order to reverse La Trobe's proposal to discontinue the Greek Studies Program in 2022.
READ MORE: Urgent meeting held to discuss future of Modern Greek Studies at La Trobe University
* You too can sign the petition to save Modern Greek Studies at La Trobe University here