In Greece's largest-ever evacuation, some 30,000 people fled Rhodes on the weekend from the wildfires that have rampantly burned through the island.
Thousands of holidaymakers are among those who have fled Rhodes, Corfu and other regions in Greece, with tourists struggling to get home on evacuation flights.
On the island of Rhodes, travellers left villages and resorts to find safety, with some returning home to their country of residence whilst others remained on the island.
Three Greek Australians have shared details of the horrific scenes as fires ripped through the forest, and ash covered houses on the island of Rhodes.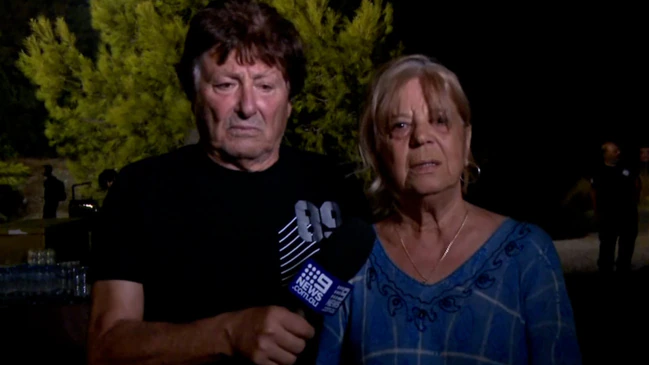 South Australian couple, Steve Toumbas and Gianna Spanos, were holidaying on Rhodes when wildfires tore across the island.
Steve, who was born on the island of Rhodes, said he was deeply saddened to see his home island overtaken with wildfires.
"Unfortunately, 70 percent of this beautiful green island has been burned," he told Nine News.
The fire was only two kilometres from the village where Steve was born, and to escape the fires and find safety the couple fled to the next village 5 kilometres away.
"The community has stuck together and are doing the right thing; trying to put the fires out. They have been extremely hospitable, helping all the tourists, like me," Steve said.
"All the people from the village[s] volunteer to help, and supply water, food, pizzas, to give people energy. They try to give us updates too."
Partner, Gianna, was also born on the island and last week, they spent the week touring Rhodes.
"We toured the island a week ago with Steve," Gianna said. "Everything was green last week."
"And today everything is burned, ashes everywhere."
As Steve and Gianna are faced with the deep sadness of seeing their hometown overrun with flames, another Greek Australian on Rhodes is attempting to "take people away from their struggles" with her performances.
Greek Australian singer and performer, Brooke Kotsos, from Melbourne, and fellow Australian singer, Hannah Gutierrez Cañon, were set to perform this month at the five-star Lindos Imperial Resort and Spa, which was burned down.
While Canon returned to Australia for personal reasons shortly before the fires lost control, Kotsos has remained on the island to see out the season and continue performing on the island, rather than return to Australia.
According to an interview with 9News, Kotsos' decision to perform amid the wildfires is to help people "forget about all these problems."
There were talks of cancelling the shows, but while performing on stage on Tuesday night, Kotsos said: "I'm here on stage to, you know, transform you and to move you to another world."
Living in Faliraki, 45 minutes from where the fires first broke out, Kotsos is confident of her safety, remaining prepared with her passport and essentials at all times.