Turkey has issued another navigational telex, or NAVTEX, for the continuation of survey activities of the Oruc Reis vessel in the Eastern Mediterranean through to November 29.
The NAVTEX, which was released on Saturday by the Antalya station, reserves an area extending just beyond six nautical miles south of the island of Kastellorizo.
The Oruc Reis will continue its activity along with two other ships, the Ataman and Cengiz Han, the NAVTEX said.
The Oruc Reis had been expected to finish its work by November 23.
Greece issues counter-Navtex:
In response, Greece has issued a counter-NAVTEX to the advisory published by Turkey.
The NAVTEX, issued by the Iraklio station in Crete, said that an "unauthorised station" had broadcast a NAVTEX message in the Greek NAVTEX service area, referring to "illegal activity in an area including Greek territorial sea."
It added that the area designated by the Turkish advisory overlaps Greece's continental shelf.
READ MORE: Pompeo condemns Turkey's unilateral actions in East Med in letter to Greek counterpart.
Greece's Foreign Ministry also responsed on Saturday, saying in a statement that the Turkish NAVTEX had reserved an area overlapping Greece's continental shelf in violation of the international law of the sea.
Turkey's moves, the Ministry said, undermine peace, security and stability in the region.
The Ministry warned that Turkey was once again disregarding calls by the international community and the European Council to refrain from illegal actions that fuel tensions in the region.
Erdogan calls on EU for dialogue: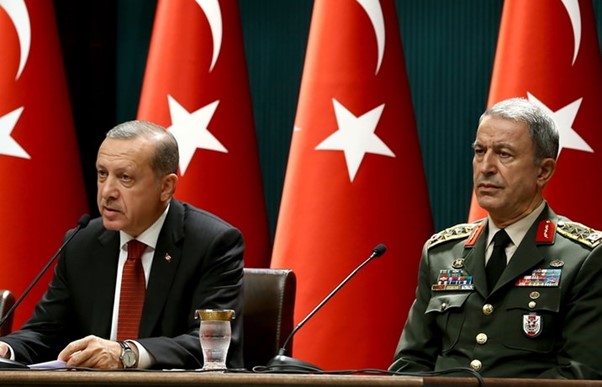 Hours before Turkey issued their illegal NAVTEX, the country's President, Recep Tayyip Erdogan, called on the European Union for dialogue, warning the bloc not to become a "tool for enmities" during escalating tensions over the Eastern Mediterranean.
"We expect the EU to keep its promises, not to discriminate against us or at least not to become a tool to open enmities targeting our country," Erdogan said in a video address to his ruling party congress on Saturday.
READ MORE: Turkey-Greece feud escalates as Turkey plays military games in East Med.
"We don't see ourselves elsewhere but in Europe," he added. "We envisage building our future together with Europe."
These comments came in the face of statements by Turkey's Defense Minister, Hulusi Akara, who again raised the issue of "gray zones" in the Aegean, claiming that there are islands the sovereignty of which was never given to Greece.
"We are researching openly, it is obvious. We are not hiding anything. We do scientific and technical work. Our ships continue their work. It is immoral to present these tasks as provocation or as raising tension," the Turkish Defense Minister said, according to Ekathimerini.
"This is not about ethics. They ignore moves and actions which they carry out around islands, which are by no means under Greek sovereignty."
EU leaders are to decide in a December summit whether to impose further sanctions over Turkey's recent activity.