From the small NSW country town of Bowral to the glistening blue waters of the Greek island of Crete, Harriet Lawless has a connection to both and captures their beautiful sceneries through her artworks.
The Australian has been travelling full time this year and spent eight weeks painting and travelling in Chania, Crete.
In an interview with The Greek Herald, Harriet shares why her visit to the Greek island was important, and also describes where else her painting has taken her.
Tell us about yourself and your art.
I grew up in Bowral, a town in NSW, and moved to London in 2015 to travel and pursue a career in architecture. I had always wanted to be an artist and the pandemic gave me the perspective and motivation to finally take that risk to chase my dream.
This year I have been travelling full-time in Europe and painting the beautiful places I visit. 
Tell us about the inspiration behind your pieces.
After so long in lockdown and working from home over the past few years, I think we've all grown to appreciate the importance of the space around us and how it makes us feel.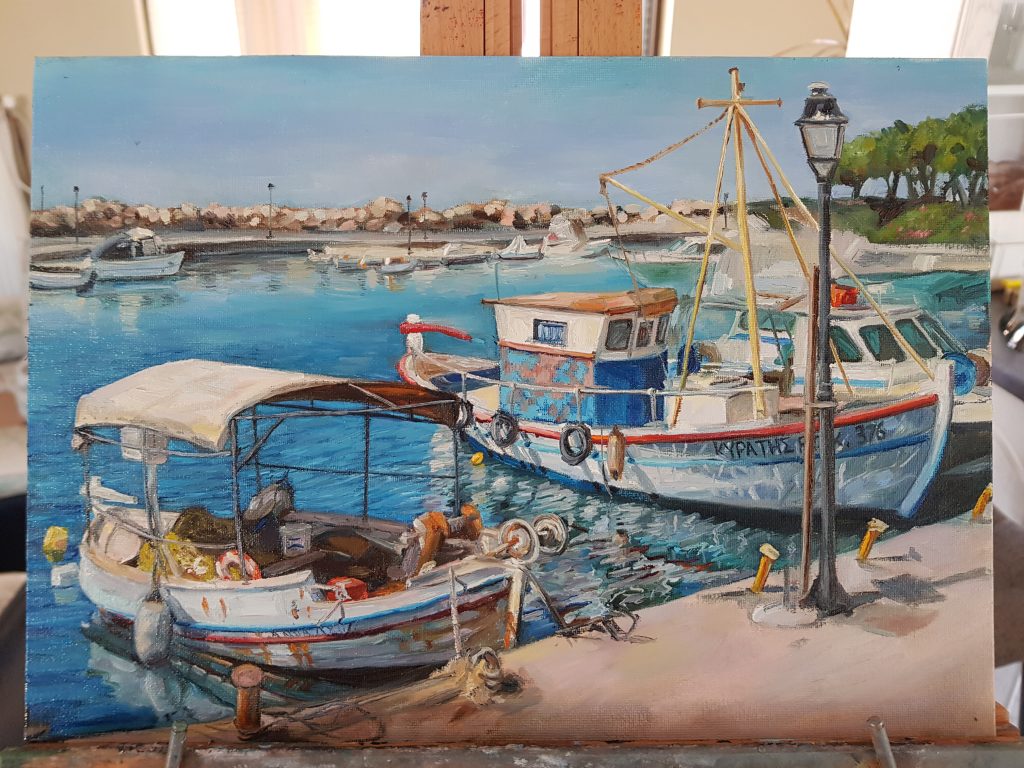 I want my art to be an integral part of that – uplifting your mood and brightening your home, encouraging conversations with loved ones and reflecting the passions and interests of the people living in your home.
I want my paintings to bring joy, add beauty, and provide a connection to the places I've painted. I aim to create beautiful paintings that make people happy; it's as simple as that!
Why was it important for you to travel to Chania, Greece, to paint?
I was lucky to live and paint in Crete for 8 weeks this year, which was magical. I tried to capture the island's beauty, sparkling light and vibrant colours in my paintings to highlight what makes Greece so special and unique.
Crete holds an important place in Australian history, and I was honoured to pay my respects at the war cemetery in Suda Bay on ANZAC Day this year. It was beautiful to witness Crete transition from winter, with the snow-capped Lefka Ori mountains, to summer, with its glittering beaches.
Crete provided endless inspiration, and I have many unforgettable memories and photos I will use for future paintings!
What was it about Greece that drew you?
In 2021 I went on a long-postponed fantastic holiday to Santorini, Milos, Sifnos and Athens and loved everything about it. So, as soon as I had the opportunity to travel and paint full-time, Greece was a top priority.
Greece has everything a painter could want – beautiful landscapes, vibrant colours and sparkly light, plus fantastic food, wine and raki, of course! I'm also very grateful for the kindness and hospitality extended to me by the local Greek people that I was lucky to meet.
What is next for you?
I'm excited to be back in Australia for three months over Christmas, as it will be my first visit home in over three years! While I'm home, I'll be painting as much of Australia as possible and completing two new commissions.
Next year I'll be back painting in Europe, and Greece is top of my list for another long painting trip. I would love to spend time on the Greek mainland and the Dodecanese islands, and I want to learn to sail. I can't wait to return and see what artwork I can create!