By Mary Sinanidis
The first step which Greek Australian architect Angelo Candalepas took when he created his winning design for NGV Contemporary, known as "The Fox", was just that – a "step", or rather, many steps around the streets of Southbank.
As he explored the densely populated boulevards and laneways, just south of Melbourne's CBD, he pondered the relationship which his design for a once-in-a-generation cultural landmark would have with the rest of Melbourne's arts precinct.
Beyond considerations about the work itself, Mr Candalepas also considered the surrounds where millions of people are drawn each year to attend the Art Centre's concerts, the Crown casino, cruises down the Yarra or to just sip a coffee at one of the waterfront cafes. Then there are the 18,709 residents who call it 'home', a figure that is constantly rising.
"Streets are what make cities worthwhile," Mr Candalepas told The Greek Herald. "Whenever you go, for instance, to a great city, it is the street that is the conduit that takes you places; and on the street, if there is joy of that experience, then there is something that can speak to you about what this place is about, what these people's intentions are, what their aspirations are, what they want to offer the unborn children of the future, how the past has offered its generosity to us through the efforts that have been placed there, on the streets. And that gives you a sense of the place."
To get a sense of Southbank, you need to consider its evolution. The swamplands before European settlement gave way to an industrial/warehouse zone snubbed by the other side of the Yarra, before transitioning to Melbourne's cultural Mecca following the opening of the National Gallery of Victoria in 1968, the first purpose-built art gallery constructed in Australia.
"When I look at this particular site, there's a marriage of that which has been offered in the past, which is the most beautiful offering of Roy Grounds' National Gallery of Victoria," Mr Candalepas said. "It showed enormous promise and aspiration and optimism for the future, and we are living in that future for which the optimism was offered.
"And I think, if we are going to propose something that is adjacent something which had these aspirations, we should think that is the catapulting point, that is the springboard of which we must work in which to create something which is equal dimension. Perhaps with the knowledge of it, it has greater dimension towards its future, greater aspirations for the people that will live there and, more importantly, it connects with the past which is palpable and known.
"When Roy Grounds was creating something, there was, let's say nothing cultural there. Now we have the making of a place… and a bit like those ancient places right through to today. Wherever there's a building of a cultural dimension on a site, it directs the spawning of other things around it."
READ MORE: Candalepas wins design for 55-storey landmark tower in Sydney CBD.
A modern gallery with Ancient Greek roots
Mr Candalepas likens the arts precinct to a "marketplace of culture and we're creating this amazing agora".
It will be housed in a new 30,000-square metre landmark filled with exhibition galleries, a breath-taking rooftop terrace with expansive vistas. Inside, visitors will be greeted by an arresting omphalos (Ancient Greek Word for the centre of the world by which Delphi was known).
He tells the tale of the Delphic Oracle, where Pythia would chew laurel leaves, and offer dizzied glimpses into the future.
"They would go there in a way, because of the geography that caused it to be the 'centre of the universe', but it ended up being the centre of thinking, the centre of sports, the centre of opportunities that were social and cultural," he said, adding that "today, art, has the freedom for the first time in the history of art to comment and be critical of politics in the world, and that's what Ancient Delphi was. It's not an art gallery in the conventional sense because it was an oracle which had to do with questioning the world."
The new gallery will be as much about life as it is about art. "It's a place for philosophers. It's a place for predictors. It's a place for people that are talking about art in the sense of climate change. They're predicting and there's science to it as well. Art has become this beautiful big melting pot of everything again."
He refers to Pythagoras, Euclid and Cartesian geometry when explaining the specifics of the space. "Πυθαγόρας (Pythagoras)," he states, when asked to give details about the odd triangular shape of the block where "The Fox" will be constructed, surrounded by Southbank Boulevard, Kavanagh Street and Sturt Street.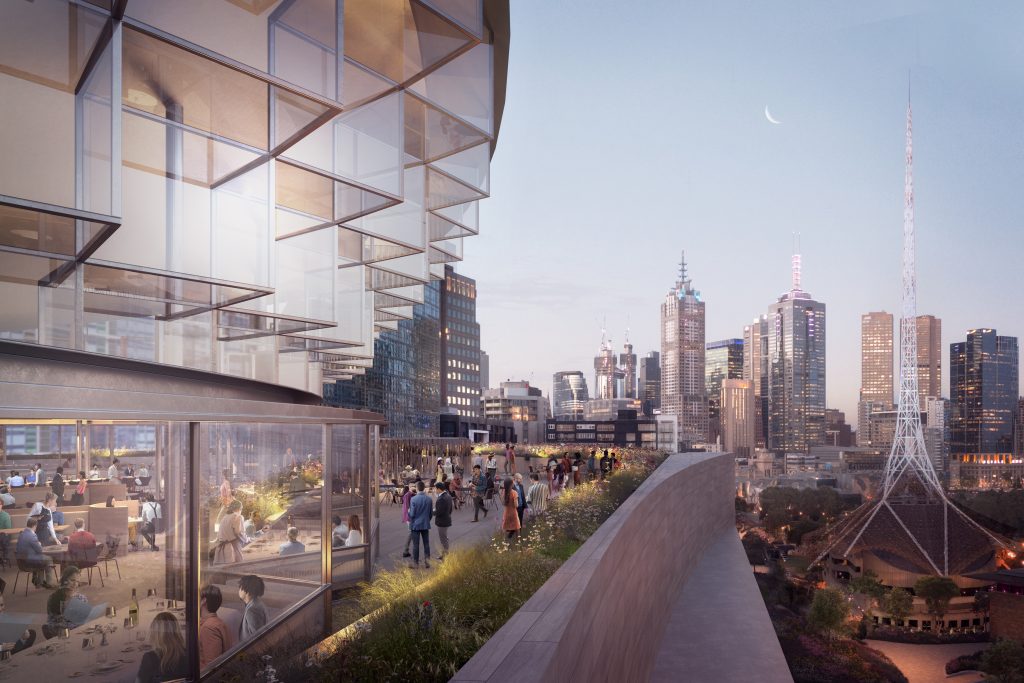 "If I weren't of Greek background, I would still be doing it," he said, "because, actually, it has something to do with universal values."
We can't know for certain if that would have been the case, because as the son of migrants from Tripoli, Mr Candalepas had Greek values instilled in him from a young age. He lived in a house with two yiayiades and two pappoudes, in Stanmore and Campsie, and grew up with a love and yearning of Greece.
Mr Candalepas said he always thinks of "ancient things".
"I think it is very interesting that people want to be so contemporary, but architects deal with history in a different way," he said. "We're actually looking at works which are able to be relevant today."
When creating works, Mr Candalepas is very aware of the legacy which his works will leave for future generations. He contemplates how works will be viewed hundreds of years from now, just as we view architecture from the past.
READ MORE: Greek Orthodox Archdiocese site in Redfern to undergo historical refurbishments.
"If we're going to have three million people a year coming through this building, then that is a significant public offering," he said. "Three million people a year […] for a hundred years, that's a lot of people. And hopefully it will grow and grow. And what it means is that for every decision that is being made, that sense of connecting with the universal and the substantive in terms of matter and spirit is even more important, and what I want to do is develop through this work a kind of better understanding of the human condition than I already have."
Mr Candalepas said that the "enormous reach and a potential for many people being affected spiritually and intellectually by this project is very high".
Unphased by the fierce competition
The chance to design "The Fox" sparked the fancy of acclaimed Australian architects who submitted plans for the new gallery's design. These included Fender Katsalidis, the architectural firm responsible for the design of MoNA in Hobart. Its Athens-born director, Nonda Katsalidis, a Southbank local for a time, will have to make do with his Australia 108 building, the tallest in the southern hemisphere, casting its long shadow over the new design.
Asked what he thought of the other projects, Mr Candalepas said, "I actually asked not to see them."
Not yet.
"To look at other people's work is often troubled with a kind of anxiety about what I should do as well, so I've asked not to see them, and I don't want to see them," he said. "And that's not because I don't respect them, I do want to see them eventually."
For the moment, Mr Candalepas wants to focus on his own vision. "Why would I worry about what others have done when I have my own standards? And I need to deal with them in a way which means that even the competition was not even close to what I want to offer. I want to offer something more than can be made in 12 weeks in the competition process."
Since securing the project, the $1.7-billion project received an additional $100 million cash splash from longstanding NGV supporters Lindsay Fox AC, Paula Fox AO and their family. "This gives me the confidence that they see something worthwhile in what we're doing," he said, adding that it has affected him in a "significant way".
'Rivalling the Tate and Met'
The work is quite the talk of the town, dominating social media posts on Southbank groups with reactions veering between excitement and concern that views may be affected. Residents from the Triptych Apartments across the road will have their views obstructed by a blank wall, whereas the top of Sturt Street will stop being a public access road.
On finding out that I live across the road from the new landmark, Mr Candalepas advises me to hold onto this property despite the inconvenience which will be caused when the current six-storey commercial office building purchased from Carlton and United Breweries in 2018 is demolished at the start of 2023.
This is a view backed by Michael Parry, director of Melbourne Arts Precinct Corporation, who told the Yarra River Business Association forum that the new NGV will be a "game changer". "We are rivalling the Tate, we are rivalling the Met – it's going to be a significant shift on the global playing field, and we couldn't be more excited about the opportunity."
The new gallery will open to the public in 2028.