*The following recipe for galaktoboureko (Greek milk custard pie) is an extract from Helena and Vikki Moursellas' new cookbook, PEINÁO: A Greek Feast For All. It serves 12.
We have made this Greek milk custard pie countless times for dinner parties, Sunday family lunch, hygge with the girls and nights with Mum. A milk-based custard pie, with buttery layers of filo pastry and dredged in an orange syrup, we call this a big hug on a plate. It's best served at room temperature, preferably on the day it is made. A fun game to play with your guests is to have everyone try and pronounce 'galaktoboureko.'
The candied orange syrup can be replaced with Greek orange marmalade, available from Greek supermarkets.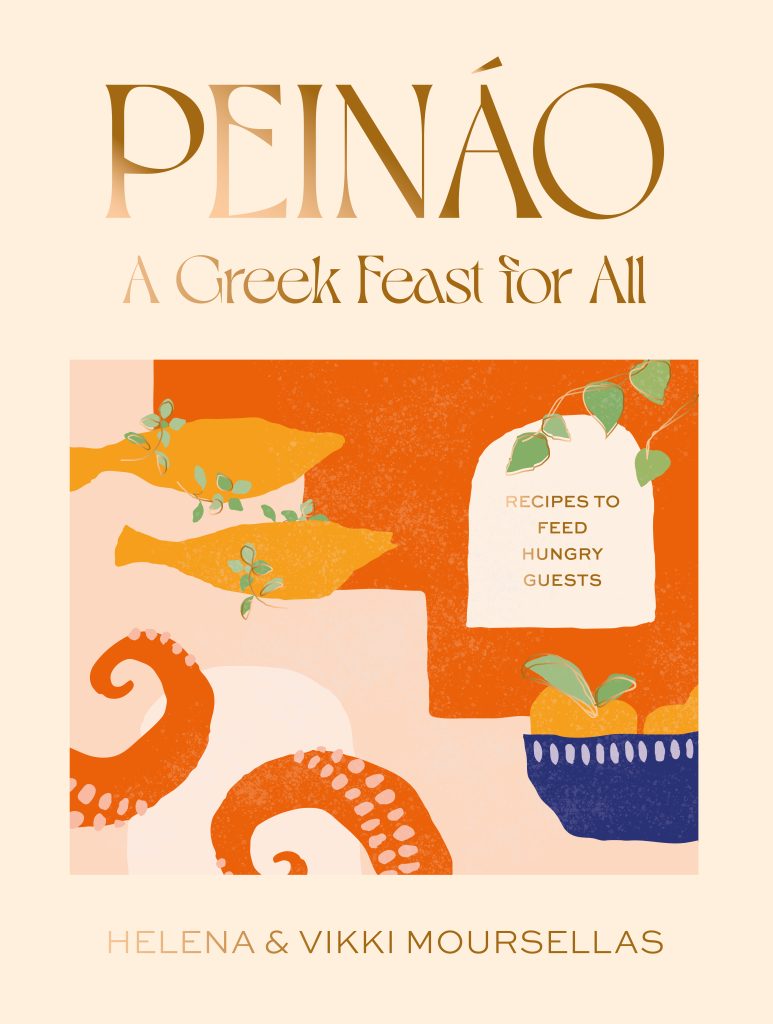 Ingredients:
1.5 litres (51 fl oz) full-cream (whole) milk
115 g (½ cup) caster (superfine) sugar
1 vanilla bean, split lengthways
180 g (6½ oz) fine semolina
4 eggs, lightly beaten
150 g (5½ oz) unsalted butter, melted
375 g (13 oz) filo pastry
CANDIED ORANGE SYRUP
230 g (1 cup) caster (superfine) sugar
2 tablespoons candied orange in syrup, finely chopped
Method:
Place the milk, sugar and vanilla bean in a saucepan over medium heat and bring to a simmer. Remove the vanilla bean and add the semolina in a steady stream while whisking. Continuing to whisk, slowly pour in the beaten egg, then reduce the heat to medium–low and whisk for about 20 minutes, until you have a thick custard that coats the back of a spoon. Remove the pan from the heat and allow to cool slightly, then cover the surface of the custard with plastic wrap (to prevent a skin forming) and set aside.
Preheat the oven to 180°C (350°F).
Brush the base of a 28 cm × 34 cm × 6 cm (11 in × 13½ in × 2½ in) baking dish with a little of the melted butter and top with one sheet of filo pastry. Top with another nine pastry sheets, alternating them lengthways and crossways, and brushing each layer with butter. Pour the custard over the layered pastry and leave to cool for 10 minutes. Repeat the layering and buttering with the remaining six pastry sheets. (Any leftover filo pastry can be wrapped tightly and stored in the fridge for another use).
Using a sharp knife, carefully score the top of the pastry into 12 squares and tuck in any overhanging pastry. Transfer to the oven and bake for 50 minutes or until the pastry is golden and crisp.
Meanwhile, to make the candied orange syrup, place the sugar, candied orange and 250 ml (1 cup) of water in a small saucepan over medium–high heat and bring to the boil. Reduce the heat to medium–low and simmer for 10 minutes or until you have a thick syrup.
Pour the orange syrup over the hot galaktoboureko and allow to stand for 15 minutes. Serve warm or at room temperature.
PEINÁO by Helena Moursellas & Vikki Moursellas is published by Smith Street Books and distributed by Thames & Hudson Australia. You can purchase your copy at: https://bit.ly/3PFwDBZ.