They're the identical twins from Adelaide, South Australia, who became household names in 2014 thanks to their time on television cooking show, My Kitchen Rules (MKR). Flash-forward nine years and Helena and Vikki Moursellas have made sure their names remain on Australia's food map with their latest cookbook, PEINÁO: A Greek Feast For All.
PEINÁO, which translates to 'I'm hungry' in Greek, has it all. Whether you're cooking for a dinner party, breakfast for family or a mezze for friends, there's plenty of soulful Greek dishes with a twist to enjoy.
When I ask Vikki what the inspiration behind these recipes were, her answer was simple: the Greek grandparents who helped raise her and her sister after their dad passed away when they were only 12 years old.
"Having yiayia and pappou there every day, that's where we really embraced our Greek culture. They spoke to us in Greek and talked about their history and how they grew up," Vikki explains.
"Mum would be working five days a week and yiayia would come over and she would cook us all these beautiful and delicious Greek recipes."
When Vikki and Helena were 24 years old, they made the move to Melbourne and started their journey on MKR. They used what their yiayia had taught them in the kitchen to become fan-favourites on the show and later released their first-ever cookbook Taking You Home.
"Without MKR we wouldn't be where we are today. That opportunity opened a million other opportunities for Helena and I, and we are forever grateful," Vikki says.
"From that point on we thought, 'okay great, this is our career now.' So we moved from Melbourne to Sydney, we did our cookbook and got into publishing."
Working in publishing brought the girls new challenges, but they never gave up on their hopes to release a second cookbook. So after about five years of contemplation, Vikki and Helena decided to take a chance and launched PEINÁO in August this year.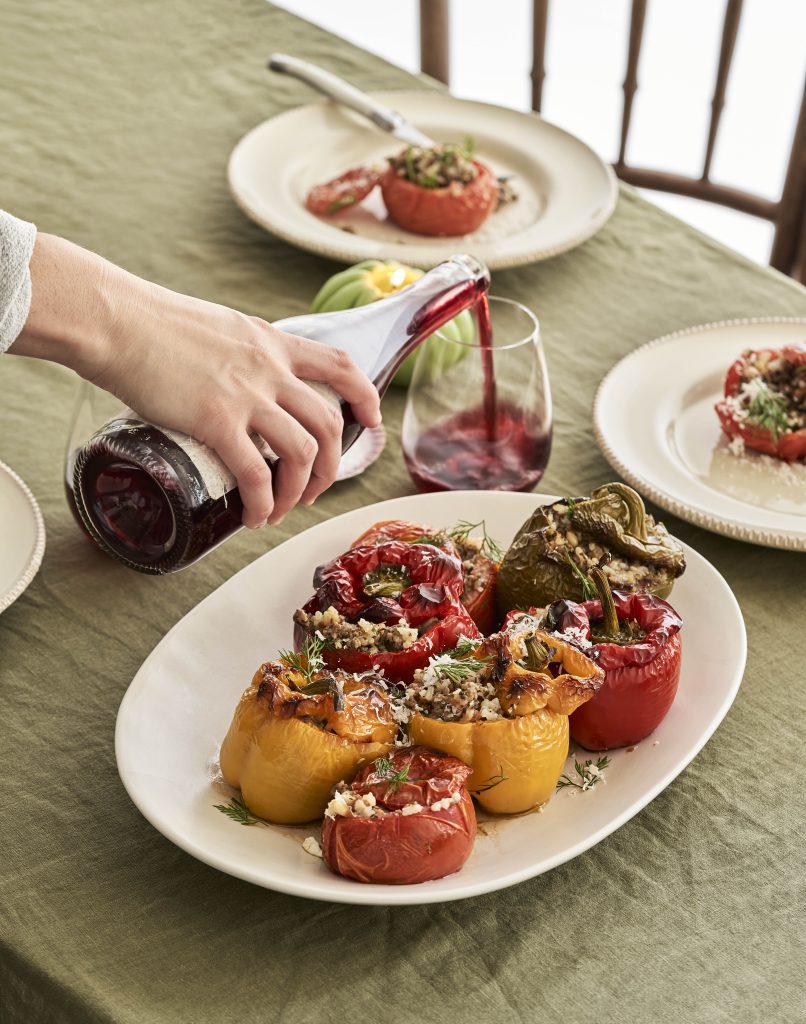 Vikki says she's incredibly proud of the final book, which includes recipes such as 'kalimera' rizogalo, oregano yoghurt pita breads and even yemista (stuffed vegetables).
"PEINÁO is a book full of beautiful recipes that you can use to entertain in the morning, at lunch, dinner and for dessert. They're really simple recipes. We just wanted to make the traditional Greek taverna recipes a little bit modern," she stresses.
"So if you love entertaining and you love feeding your favourite people, PEINÁO is going to be your next best cookbook."
PEINÁO by Helena Moursellas & Vikki Moursellas is published by Smith Street Books and distributed by Thames & Hudson Australia. You can purchase your copy at: https://bit.ly/3PFwDBZ.