'Freedom or death' rang out over the Agia Lavra Monastery in the Peloponnese on March 25, 1821. Thousands attended, but there was one figure in particular who led the charge that day. His name was Bishop Germanos III of Old Patras. The Greek Herald discusses why Bishop Germanos was one of the most important figures in the Greek Revolution.
Early life
Georgios Gozias, known today as Bishop Germanos III of Old Patras, was born on March 25, 1771, in Dimitsana, Arcadia, in the Peloponnese.
His mother was Kanela Koukouzi and his father, Ionnis Gozias, was a goldsmith and farmer. A few uncertainties shroud his lineage. Historian Minas Hamoudopoulos wrote in 1880 that Gozias was "a Cypriot in his homeland". The Gozias' were a lower-class family whose real surnames and heritage are speculated.
Gozias went to school in his hometown but furthered his studies with his teacher Agapio Leonardo at the School of Dimitsana, Argos, and later the School of Smyrna.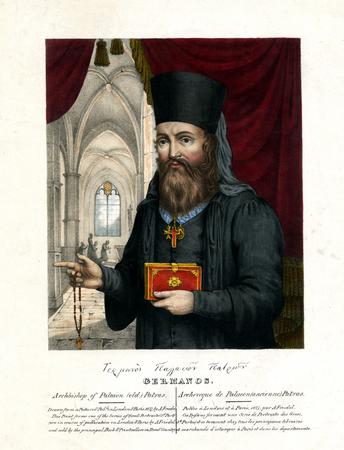 It is said that his intelligence attracted the attention of the Bishop of Argos and Nafplio, Iakovos, who took on Gozias as his secretary, named him a monk, gave him the name 'Germanos' and ordained him as a deacon.
Bishop-hood
He arrived in Smyrna in 1797 to serve as priest and protosyncellus, alongisde his uncle Bishop Gregory V. Gregory V, the son of Archdeacon Iliodos, was his close compatriot. They travelled to monasteries in Constantinople and Mount Athos together, the former as Ecumenical Patriach. Gregory V would consecrate Germanos as Bishop of Patras in May 1806, succeeding Makarios of Patras.
Germanos was a Synod in the Patriarchal Synod of Constantinope in Patras in 1815-17 when he first learned of the Filiki Eteria. He was initiated into the group by Antonios Pelopidas in November, 1818, and took on a leading role in the revolution.
Germanos begins pioneering the Greek Revolution
Plans for a revolt against the Ottoman Empire began 400 years after they laid seige on Constantinople (present-day Instanbul, Turkey).
The Bishops, or 'primates', of the Peloponnesus were torn on the idea of a revolt. After all, they held positions of power and connections with the Empire. They had the most at stake when it came to a revolt. They were called to Tripolis by Kemal Bey, Turkish governor, to help plot a defense against the simmering revolt.
Bishop Germanos had other plans. Germanos had been appointed to the Pampeloponnesian Society and had been preparing an uprising as early as January, 1821, but the time to fight back had arrived and he began leading a delegation on 18 March, 1821. At least 5,000 Greeks had rallied in a matter of weeks. Here, twenty-four priests together held liturgies.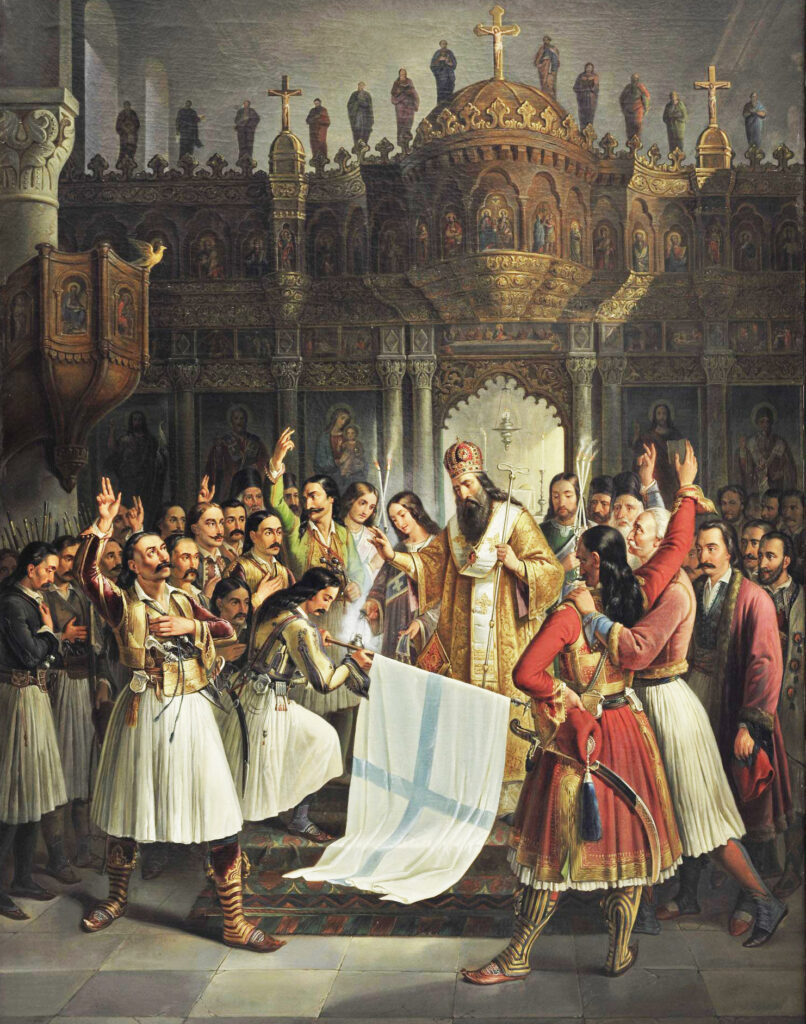 "Never was a solemn service of the Orthodox Church celebrated with greater fervor, never did hearts overflow with sincerer devotion to Heaven, nor with warmer gratitute to their church and their God".
They reached the battered Agia Lávra ("Holy Lávra") monastery at the foothills of Mount Velia/Chelmos, which was then used as a retreat by priests, chiefs, and clergy. Agia Lávra was built in 961 AD and is considered the birthplace of modern Greece.
It was here that Germanos famously blessed the Greek revolutionaries and proclaimed the national uprising against the Ottoman Empire by raising the flag of the revolution over the monastery; on March 22 and March 25, 1821, respectively. March 25 is now commemorated as Greek Independence Day.
The delegation gave rise to Christians throughout Greece to join the revolution. He attended the first National Assemblies and began touring Italy in 1822 to garner support for Greece's crippling economic situation.
Later life
He pioneered the Greek Revolution and exerted great influence over the Peloponnese. While Germanos' lifting of the flag isn't substantiated by any evidence, Germanos undoubtedly advanced the Philhellenism movement in Europe.
He is known today as a prominent figure and eminent clergyman.
He lived out his days in the Peloponnese, including Nafplio and Gastouni, from 1818 until his death on May 30, 1826. He was fifty-five years old when he died.
The vestments of Germanos, as well as other sacred and historic items, are preserved in the Agia Lávra's museum in Patras. A monument of Greek Revolution heroes sits across the museum.