Karolos Koun was a Greek theater director. His real name was Karolos Koen and he was born in Bursa in 1908.
He completed his secondary education at Robert College in Istanbul and later studied aesthetics at University of Sorbonne. In 1929, he became a professor of English language at the College of Athens.
Along with his students at the college, he staged many works of Aristophanes (including The Birds, The Frogs, Cyclops and Plutus) and Shakespeare (A Midsummer's Night Dream). He founded the People's Theatre in 1934 and collaborated with various troupes.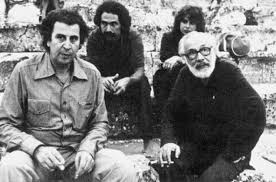 In 1942, he founded the Art Theatre, where he staged works by Ibsen, George Bernard Shaw, Pirandello, and for the first time in Greece after the liberation from the German Occupation, Lorca, Tennessee Willilams, Arthur Miller, etc. In the same year, he also founded the Drama School at his theatre, in which studied some of the most important directors and actors of the post-war Greek generation.
Due to financial difficulties, the Art Theatre had to close down in 1949, and reopened in 1954 in the form of a theatre in the round.
Between 1950 and 1953, Koun collaborated with the National Theatre, directing works by Anton Chekhov (Uncle Vanya, The Three Sisters), Pirandello (Henry IV), etc.
After the reopening of the Art Theatre, Koun also decided to introduce the new trends of the foreign post-war theatre to the Greek audience, including Brecht, Ionesco, Beckett, Pinter and Dario Fo. He also staged the work of Greek authors, like Kampanellis, Kechaedes, Skourti, Anagnostakis and Efthimiadis, as well as the classic works of the Ancient Greek tragedians and Aristophanes.
In 1959, he staged Aristophanes' The Birds at his theatre, causing a lot of controversy due to the progressive form in which it was presented. He later staged ancient drama in various festivals, such as in Athens and Epidavros, and later participated in the "Theatre of Nations", staging plays in Paris, London, Zurich, Munich, Moscow, Leningrad, Warsaw, and Venice.
In 1984, the Greek government offered a lot in Plaka, in order to inaugurate the Karolos Koun Theatre.
He received various awards, including the Phoenix, the Silver Award of the Academy of Athens, and the Award of the Theatre of Nations.
Koun died at the age of 78 on February 14, 1987.
In his will, he bequeathed the title Art Theatre to three of his colleagues, asking them to continue their collaboration at the Karolos Koun Art Theatre.