Claire Lloyd's affinity with Greece started 17 years ago when she first visited the small island of Lesvos and its capital city Mytilene, instantly falling in love with all it had to offer.
In 2005, during what she described as a 'crisis of creativity,' Claire and her husband Matthew made the bold decision to purchase an old priest's home and breathe new life into it. During these renovations, she documented the journey of refurbishing the home in her book, My Greek Island Home.
In an interview with The Greek Herald, Claire details the thrilling journey of falling in love halfway around the world and the how she feels in her new hometown of Mytilene.
As an Australian, what would you say was the first feeling of 'home' in Greece?
There are definitely some similarities between Greece and Australia – the big open skies, the bright sunshine, the rawness of the landscape and even some of the plant life. But Greece definitely has its own unique vibe.
Greece has a real feeling of ancient history and a deep authenticity.
How do you find the community in Greece has embraced you? How have you tried to embrace them?
We have been overwhelmed by the warmth and love of our village friends. From the moment we arrived here in the village we were welcomed with open arms.
We would often find bags of fresh produce hanging on our front gate in the morning, having no idea of who to thank for them. Drinks were sent to our table when we visited our local taverna. There have been delicious welcome home meals delivered to our door. We receive many gifts, cakes, flowers, freshly picked herbs or delicious season fruit, gifts when we leave, gifts when we return.
One of my favourite things are the big smiles and welcomes from our Greek friends when we return at the end of the winter. It feels like we have truly been missed. We are included in family weddings, baptisms, parties, school functions, pretty much everything really.
We try hard to reciprocate but there is nothing more difficult than trying to be more generous than a Greek. I have Greek lessons and try to speak as much as I can, although I feel constantly frustrated by my limitations. I have learnt though that you can communicate rather well even without language.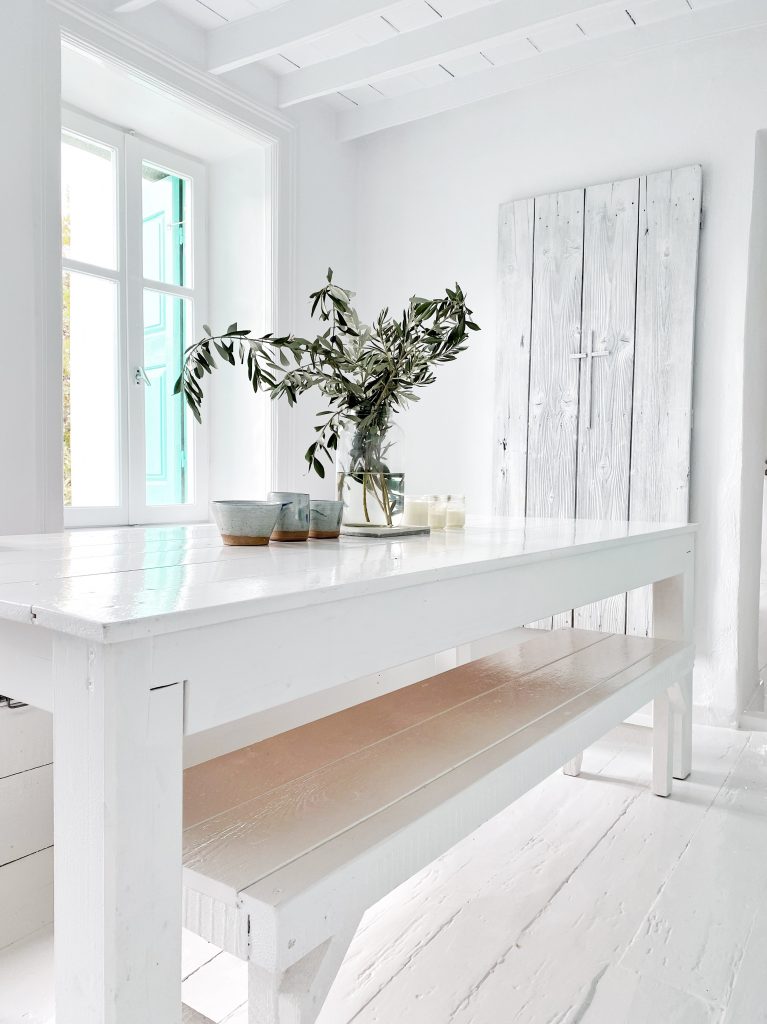 How did the concept for your renovations come to be? What was your main source of inspiration?
Light and simplicity are always key elements in my work and always my starting point, so the house was taken back to basics and these elements were the starting point. The house was old so alterations needed to be made, an inside bathroom and a working kitchen were both necessary.
For me, it was important that we kept the house as authentic as possible and we did this by keeping various pieces.
Matthew, my artist husband, made furniture in a rustic way to fit with the house. He also found old pieces on the tip that he lovingly restored, they look beautiful in the house. My signature colour is white so it fits perfectly in Greece, and I also chose turquoise for the shutters and various doors, a lovely colour originally used in a part of the house.
Your book 'My Greek Island Home' has become wildly popular around the world. What do you think resonates with people the most about it?
I think a lot of people are living in big cities where life is hectic and they feel disconnected. Disconnected to nature and to a community.
My documentation of life in a Greek village gives a peak into another way of life and maybe it provides a little bit of escapism and hopefully inspiration.
What would you like people to know about life on a Greek island, that you think they don't already know?
Living life simply in an authentic Greek village surrounded by nature and warm-hearted people is enormously rewarding and is a privilege.