By Ilektra Takuridu.
Laskarina Bouboulina was a Greek naval officer, the first female admiral in the Imperial Russian Navy and a protagonist of the Greek War of Independence in 1821.
Her contribution to the Greek Revolution was enormous for that time. She gave away all her property and belongings to maintain and equip the Greek fleet, as she was also the captain of one of her ships, named Agamemnon.
Laskarina will always be remembered as a symbol for the nation, both the Struggle and the Freedom. In a purely male-dominated world, the "Great Lady of Spetses" was a source of inspiration for the Greek nation, especially for women.
READ MORE: 'A phenomenon': Pavlos Demertzis-Bouboulis on his ancestor naval commander Bouboulina.
Until today, she still remains an inspiration for many Greeks, due to her heroic nature, she was a widow, a lonely mother and a philanthropist.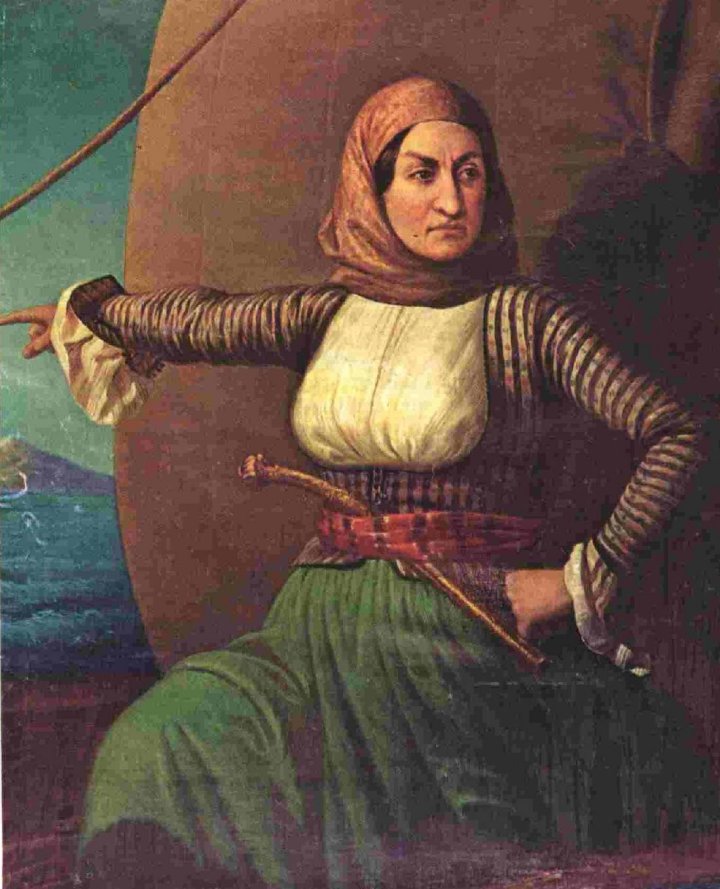 Early Life:
Laskarina was born in the prisons of Constantinople during her mother's visit to her imprisoned father on May 11, 1771.
She was originally from Hydra, and her real last name was Pinotsi. After her mother's second wedding to Dimitris Lazarou-Orloff, Laskarina had eight half-siblings, and they moved together to the island of Spetses.
She married twice, first to Dimitrios Yiannouzas and then to the wealthy shipowner and captain Dimitrios Bouboulis, and she adopted the surname. Both of her marriages were tragic.
Laskarina married her first husband, Dimitrios Yiannouzas, at the age of 17, and from this marriage, she had three children. But at the age of only 26, she became a widow after her husband was killed in a clash with Algerian pirates.
READ MORE: Dr Panayota Nazou on the unsung heroines of the Greek War of Independence.
Her second husband, Bouboulis, suffered the same fate as her first. In 1811, Bouboulis was killed in a fight with Algerian pirates.
Laskarina Bouboulina, who was 40 at the time, took over his fortune and trade company. She herself had four more ships constructed at her own expense, including the massive warship Agamemnon.
Support of the Greek independence movement:
Laskarina is said to have joined the Filiki Etaireia, an underground organisation planning and preparing Greece for a revolution against Ottoman rule.
She purchased weapons and ammunition at her own expense and secretly transported them to Spetses in her ships. Laskarina was one of the only females in the organisation but had a major impact on the movement.
Taking part in sieges, blockages and providing supplies for soldiers of the revolution are just some of the amazing things Laskarina did to support Greece's independence.
READ MORE: Three heroines who dedicated their lives to the 1821 Greek Revolution.
Death and Legacy: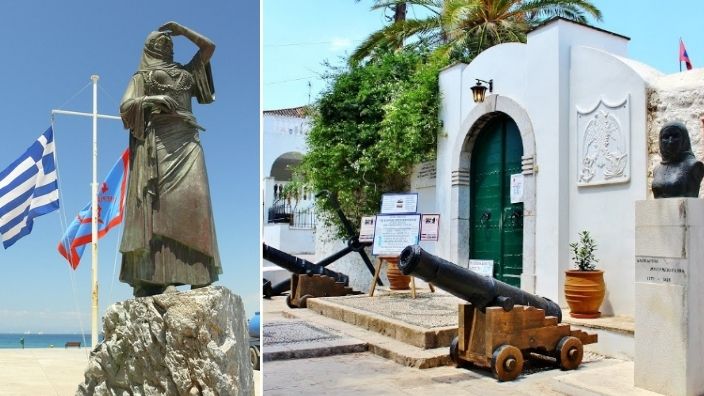 Laskarina Bouboulina was assassinated in Spetses in 1825 as result of a family dispute. The dispute was between the Koutsis family and Laskarina.
It began because the daughter of Christodoulou Koutsis and Bouboulina's son, Georgios Yiannouzas, had run away together in secret to get married. Christodoulos Koutsis went to Laskarina's house with armed members of his family in search of her.
When Laskarina heard of this, she was enraged and approached them from the balcony. Someone fired at her as she was arguing with Christodoulos Koutsis. The shot was to the head and killed her instantly; the attacker was never found.
After her death, Tsar Alexander I of Russia awarded the honorary rank of Admiral of the Russian Navy to Laskarina, making her the first woman in world naval history to hold this position.