By Billy Patramanis.
Nikos Kazantzakis is remembered as one of the most pivotal figures of Greek literature and philosophy. His most famous published works were his novel, Zorba the Greek, his poem, Odyssey: A modern sequel, and his philosophical book, Askitiki.
Kazantzakis was born on February 18, 1883 in Heraklion, Crete. At the time, Crete was under Ottoman rule. During the Cretan revolution against the Ottoman Empire (1866-1869), Kazantzakis' family left the island of Crete and moved to the island of Naxos.
By 1902, Kazantzakis began studying law at the University of Athens. He would later go on to study philosophy with famous French philosopher, Henri Bergson, in Paris between 1907-1909.
During the Balkan Wars (1912-1913), Kazantzakis voluntarily fought for the Greek army.
After his time in war, Kazantzakis would travel to countries across the world, including Spain, England, Russia, Egypt, Palestine and Japan.
During this time in his life, Kazantzakis was fascinated by the work of his philosophy teacher Bergson, and took a real interest into the philosophies behind Christianity, Marxism and Buddhism.
While on his journey across the world, Kazantzakis wrote his philosophical work and in 1927, he published his main philosophical work, Askitiki.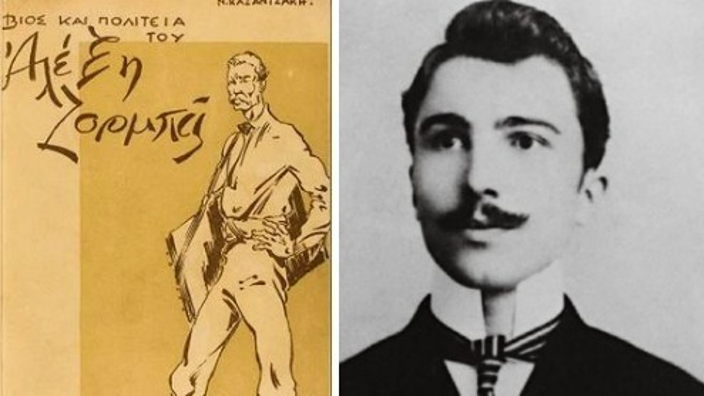 After his philosophical work was completed, Kazantzakis would reside in Aegina and begin his main literature work. By 1938, Kazantzakis published his poem, Odyssey: a modern sequel. The poem continues on from where Homer left off in Odysseus' story. While being in the form of a poem, Kazantzakis' philosophical brilliance was on full display.
However, Kazantzakis would gain major fame for his novel writing. His most notable work, Zorba the Greek, was published in 1946 and is about a young philosopher's journey away from his dull life, with the help of the larger than life character, Alexis Zorba.
Kazantzakis' other notable work included The Last Temptation of Christ (1952) and Freedom and Death (1953).
While working on his famous literature, Kazantzakis was also a minister in the Greek Government in 1945, and worked for UNESCO between 1947-1948.
In 1956, Kazantzakis was awarded the International Peace Award in Vienna, Austria.
On this day in 1957, Kazantzakis passed away in Germany. The Historical Museum of Crete has a section dedicated to Kazantzakis, with his desk and even manuscripts of some of his work on display. There is also the Nikos Kazantzakis Museum, located in his birthplace of Heraklion, Crete.
Kazantzakis is a well-known and well-respected Greek writer and philosopher, and his work remains as some of the best literary and philosophical work ever produced.