A son of Greek migrant milk bar owners was yet to feature as the protagonist of an outback noir novel.
Until now.
Peter Papathanasiou's crime fiction debut The Stoning shatters this glass ceiling.
It follows Detective Sergeant Georgios Manolis as he attempts to investigate the murder of a schoolteacher in the outback town of Cobb.
Manolis instead uncovers the secrets, trauma, and prejudice of a 'town gone to hell' in a 'dark' and 'gritty' yet honest way.
Greek migrants were central to the development of outback Australia, but The Stoning captures a time when that wasn't part of the public attitude.
Papathanasiou explains to The Greek Herald why it's important to stay true to this historical context, why Greek representation is important, and how it helps us feel "more human."
Q&A with Peter Papathanasiou
Q. Tell us about the "late nights, weekends, sacrifices, joys, and anguish" that went into writing The Stoning.
It doesn't need to be said that it takes a long time to write a book. And you need to find that time… somehow. Given I've a growing family with three energetic little boys and still work a full-time day job, time for writing usually gets pushed to the periphery: late nights and weekends. I'm pretty sure almost all of The Stoning was written after midnight when it was nice and quiet; the words checked that the coast was clear of all distraction, and then gradually crept onto the page. But I'm getting better at multitasking now given that there appears to be even less time for writing, and my sons are probably now used to seeing me perched behind my laptop in different locations around the house.
The sacrifices were in foregoing other things I might've been doing when I was instead sitting and writing: going out, socialising, exercising, holidays, and also family time when I needed to focus on a particular chapter. The joy came in seeing each chapter finished, the sense of pride I felt, and of course when the book finally came together as a whole and found publishers. And the anguish was in overcoming writer's block and also finding the right publisher. But there is now even further joy in seeing such positive reviews, and also in developing a screen adaptation, which is already in the works.
Q. Your second book marks a departure from the nonfiction writing we know you for – what got you into outback noir?
For my Bachelor of Laws (LLB) degree from The Australian National University (ANU), I wrote my thesis in criminal law, so I've always been interested in exploring the darker side of life, the motivations that people have for committing crimes, the nature of events and investigations and evidence. I've also previously worked in criminal intelligence, which was perhaps the most interesting job I've had.
Crime writing is also a very popular and marketable genre, both as books and on the screen (TV and films), so the readership is strong. A crime exposes what happens in society, it allows a writer to explore many subjects and themes through the prism of a bad event.
In The Stoning, major themes that I explore include immigration, culture, race, religion, identity, assimilation, masculinity, sexuality, addiction, history, colonisation and nationalism. And when you pair my LLB with my Master of Arts (MA) in Creative Writing from City, University of London, you get a crime writer!
I've generally found the outback to be a far more evocative setting to tell a story and create interesting new characters than an urban location, and is particularly amenable to a crime story given how treacherous the environment can be. All the Australian literature I read growing up seemed to be set in the country, so that likely influenced me too.
Q. "Dark" and "gritty" have been used to define The Stoning. How would you define the book?
Dark and gritty are pretty accurate descriptions for The Stoning. I would also describe the book as disruptive, disturbing, confronting, raw, divisive, human and necessary.
Q. How does the story's setting stay true and accurate to the historical context of outback Australia?
It was difficult to give much more than a flavour of the outback's history in my novel; the focus stayed more firmly on the crime and current-day story. During the 1950s, local Aboriginal communities were loaded onto tractors, taken from their ancestral lands, and moved to rural communities; many died due to such forced migrations.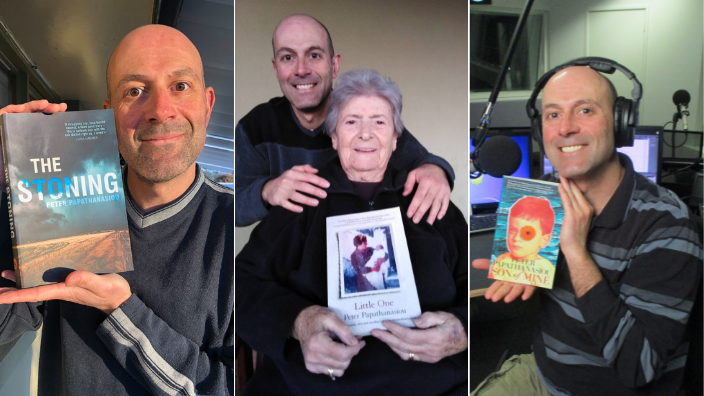 Another significant feature of country Australia was the tradition of Greek milk bars and cafés that were the centrepiece of many small towns from the 1930s to 1970s. The businesses gave Greek migrants an economic and social foothold in their new homeland, and the ability to maintain family culture and catering traditions within a shared workplace. More recently, immigration detention centres have been established in remote outback locations to stimulate struggling rural economies.
Q. How does The Stoning portray the prejudice and racism Greeks experience(d) in outback Australia? Georgios Manolis, the book's protagonist, is the son of a Greek migrant to Australia and milk bar owner. Is this a deliberately realist approach to Greek Australian representation? Why is representation important?
The character of Georgios Manolis draws some characteristics from my brothers in Greece, but I wanted to ground his backstory in that of typical Greek immigrants to Australia post-WWII. It was not uncommon for them to set up businesses in Australia, with milk bars very popular in outback towns. On the one hand, these businesses were very profitable and popular. But on the other, there is always a level of suspicion and prejudice that came with the introduction of an unfamiliar entity; they didn't even serve Greek food!
The topic of racism in Australia goes well beyond the scope of this interview, but Europeans faced their fair share of such experiences during this time as the "new Australians." These unpalatable experiences have now been largely transferred to other ethnic minorities, which is something I always find a little funny because the true original Australian inhabitants were Indigenous Australians; everyone else is technically a "foreigner."
This was also why it was so important for me to have the voice of an Indigenous Australian character in my novel, and why I created Constable Andrew "Sparrow" Smith, who is the main secondary character alongside Manolis. "It doesn't matter where you came from," says Sparrow dryly in The Stoning. "You're all bloody invaders." Using both the migrant perspective of Manolis and the indigenous perspective of Sparrow, I knew I could more fully and accurately explore the themes of culture, race, and migration in my book.
Q. Does your work generally aim to destigmatise or confront issues, especially in the Greek community? Whether towards topics like adoption, infertility, and even – as you wrote recently in the ABC – left-handedness?
I had a writing mentor who once told me they liked that I wrote about "important things". It was said simply, almost in passing, but I think reflected the fact they read a lot of things that didn't attempt to take on confronting issues, and that my writing wasn't like that. By writing about such topics and sharing our experiences, I think we make more connections, feel more human and less alone in the world, and can hopefully even overcome some of the challenges in our lives. If I can do anything to help that process, and at the same time entertain, it is a very satisfying outcome for a writer.
Q. What can we expect from The Stoning's successor? Are you currently working on it?
Yes, I am currently working on it! It will see Detective Sergeant Georgios Manolis return for another investigation. Crime novels tend to be amenable to the series format, which is then readily adaptable for the screen, but I am also seeing more standalone crime novels these days.
Q. I know you've said before that Little One might not hit our screens for a few years but is there any update you can give us?
Along with my creative team, I have been working hard on the screen adaptation of my debut book, a 2019 memoir about my international adoption called Little One. The project is being directed by acclaimed Greek-Australian filmmaker, Peter Andrikidis, who fell in love with the story. We have prepared a detailed breakdown of the project according to scenes and characters, tone and style, audience and themes, and are now preparing to write the script. 
Little One showcases the strength of the Greek culture and the massive contribution to Australian society. The story of the Greeks' arrival in Australia as post-WWII migrants has never before been seen on screen as drama. Little One is a working-class story about the growth of the labour force in Australia as powered by migrants. It is the story of one family, but it is also the story of the Greeks in Australia and how they helped build the country.
If the Greek generational community do not step up to tell our stories, nobody else will and the Greek immigration story will fade from memory. The story of Greek immigration to Australia has not yet been fully realised; Little One represents a great opportunity to ensure the record is accurate. The project will increase awareness of the contribution of a diversity of cultures to modern Australia by underscoring the significant contribution of migrants to the growth of our society, and reinforce the strong connection between Greece and Australia. We hope the Greek community of Australia can get behind this project and show their support.
READ MORE: Canberra author Peter Papathanasiou announces new book to be published in October.