Peter Papathanasiou, author of the memoir 'Little One' which was greenlighted late last year to be adapted as a TV drama series, announced he will be releasing a new book, in October 2021.
"It's a crime novel. The detective is Greek Australian. It explores themes like culture, race and migration," Papathanasiou revealed of his new book titled 'The Stoning' during an interview with Canberra's ABC Book Club show on Thursday.
"Chris Hammer, another well-known crime story writer will be launching my book in late September in Sydney and it will then be published in October. It's also been picked up by a publisher in the UK," said Papathanasiou also revealing that the series might not be reaching the small screen until 2024-25 dur to covid restrictions.
About the author's first book:
'Little One' is the story of Peter's discovery that he was adopted. But it is not a stock-standard adoption story.
Peter was 24, and about to embark on a PhD in genetics at the Australian National University when his mum Elizabeth sat him down and revealed an extraordinary secret that she and her husband Bill had been keeping from Peter all his life: they weren't his parents at all, and were actually his aunt and uncle.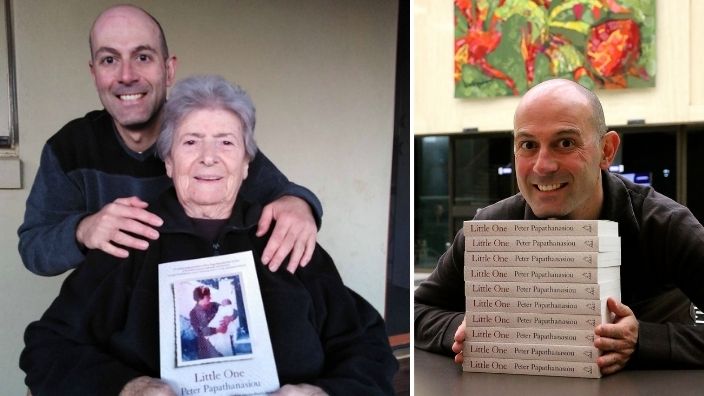 As it turned out, Elizabeth's brother Savvas and his wife Anna, who lived in a small town in northern Greece, had given Peter to Elizabeth and Bill when he was just a baby in 1974—a gift because the couple were unable to conceive, which was a huge sorrow (and shame) for them among both Australia's Greek community and their own family.
Peter began the book in 2008, with the writing process taking four years. After a few major revisions the book was published by Allen & Unwin in 2019.
Only a year later, it was green-lighted for development funding by Screen Canberra as a major TV drama series adaptation and was picked up by award-winning Greek Australian film and television director and producer Peter Andrikidis.
"The story also has a strong Canberra flavour," said the author.
"There's a whole history that hasn't really been explored about how Canberra was built and grew up, and the role that migrants had after WWII in building the city."