Georgia (Juliana) Charpantidou's book on the history of the Greek Community of Melbourne (GCM) was officially launched in Sydney at the Greek Community Club on Sunday, April 30 at 3pm.
The Sydney launch of the book titled, The Embodiment of a Distant Homeland: the history of the GOCMV from its founding to 1972, was organised as part of the Greek Festival of Sydney and was supported by the Greek Orthodox Community of New South Wales (GOCNSW).
The GCM is the oldest institutional representative of a Greek community in Australia. Ms Charpantidou's book follows its historical course as it emerged from the late nineteenth century until the early 1970s.
The research for this book is based on primary sources – the Minutes and Archives of the GCM, the National Archives of Australia, the Dardalis Archives of the Hellenic Diaspora at Latrobe University, and Greek and English language newspapers of the time in Australia.
On the day of the book launch, there were a number of official guests in attendance including the Press Councillor of the Consulate General of Greece in Sydney, Konstantinos Yiannakodimos; the President of GOCNSW, Harry Danalis; the Chair of the Greek Festival of Sydney, Nia Karteris; Secretary of GOCNSW, Michael Tsilimos; Board Member of the GCM, Dr Nick Dallas; the Sir Nicholas Laurantus Chair in Modern Greek and Byzantine Studies at the University of Sydney, Professor Vrasidas Karalis; Dr Panayota Nazou; and the author, Ms Charpantidou; among many others.
The emcee, Artemis Theodoris, started official proceedings by welcoming everyone to the event and giving a small history of Ms Charpantidou's book.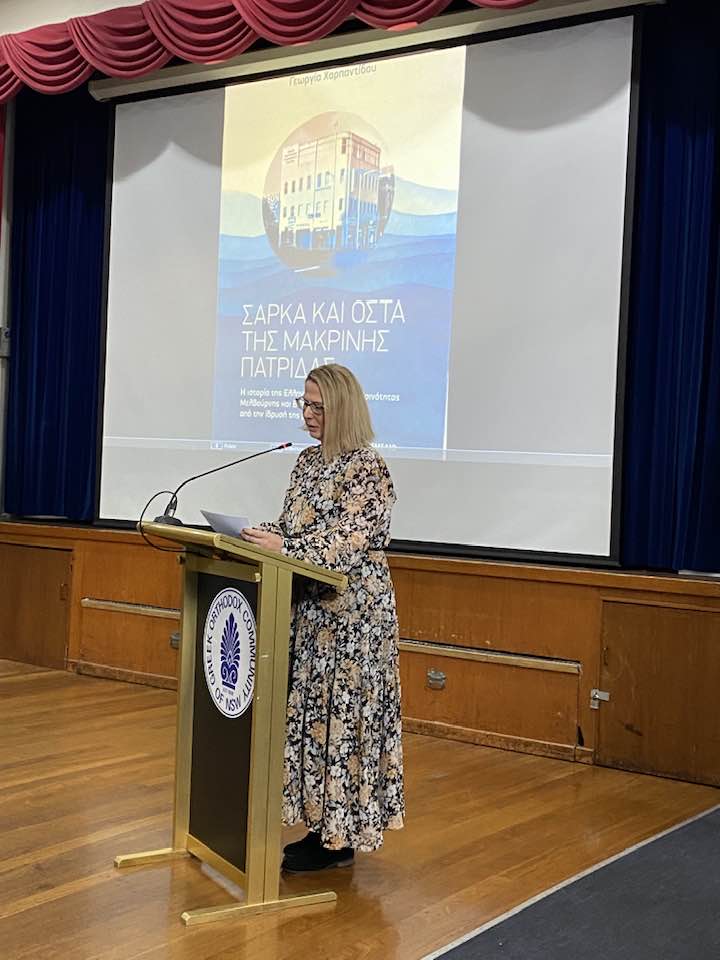 Mr Danalis then gave a brief speech before the four official speakers addressed the crowd – Dr Dallas, Dr Nazou, Professor Karalis and Ms Charpantidou.
After the speakers, there was a Q&A section followed by refreshments and an opportunity for people to purchase the book.