By Andriana Simos and Giorgos Psomiadis.
The Turkish invasion of Cyprus began at dawn on July 20, 1974. It was a day that changed Cyprus forever and will be ingrained in the mind of every Cypriot for hundreds of years.
To mark the 49th anniversary of the invasion today, The Greek Herald asked young Australians with Cypriot heritage what their thoughts are on the Cyprus problem.
Andreas Alexandrou, 16, ACT:
I was born and raised in Australia from Greek Cypriot-born parents. Although I have spent most of my life here, I have been christened in Cyprus and have been there six times. Both my parents were in second grade primary when the Turks invaded. My dad and his family moved to Melbourne, Victoria after four years of combatting the economic effects of the war. However, mum moved to Canberra as an adult.
I grew up in a house where my parents would talk about the invasion and how they woke up to the distress of overhead war planes, gunfire and bombs. My parents were fortunate enough not to lose their homes or properties, although 37 per cent of their country was taken. The invasion not only affected the Greek population of Cyprus, but all ethnicities living in the small country.
Mum has been involved in Canberra's Cypriot Community for almost 30 years and is the President of the Pan-Australian Justice for Cyprus (PASEKA). I have held the Cypriot flag many times and dressed in my traditional costume for National Day events and the July anniversary. I attended many memorial services and talks about the Cyprus problem.
Places like the sea of Morphou, where my mum would always go as a kid, are now restricted. The feeling of needing permission and to show my passport just to visit my own country is a sad thing to comprehend. For as long as Cyprus is under occupation, I will continue to show my support and fight for a free Cyprus from foreign troops. Justice For Cyprus.
Andreas Panayi, 20, South Australia: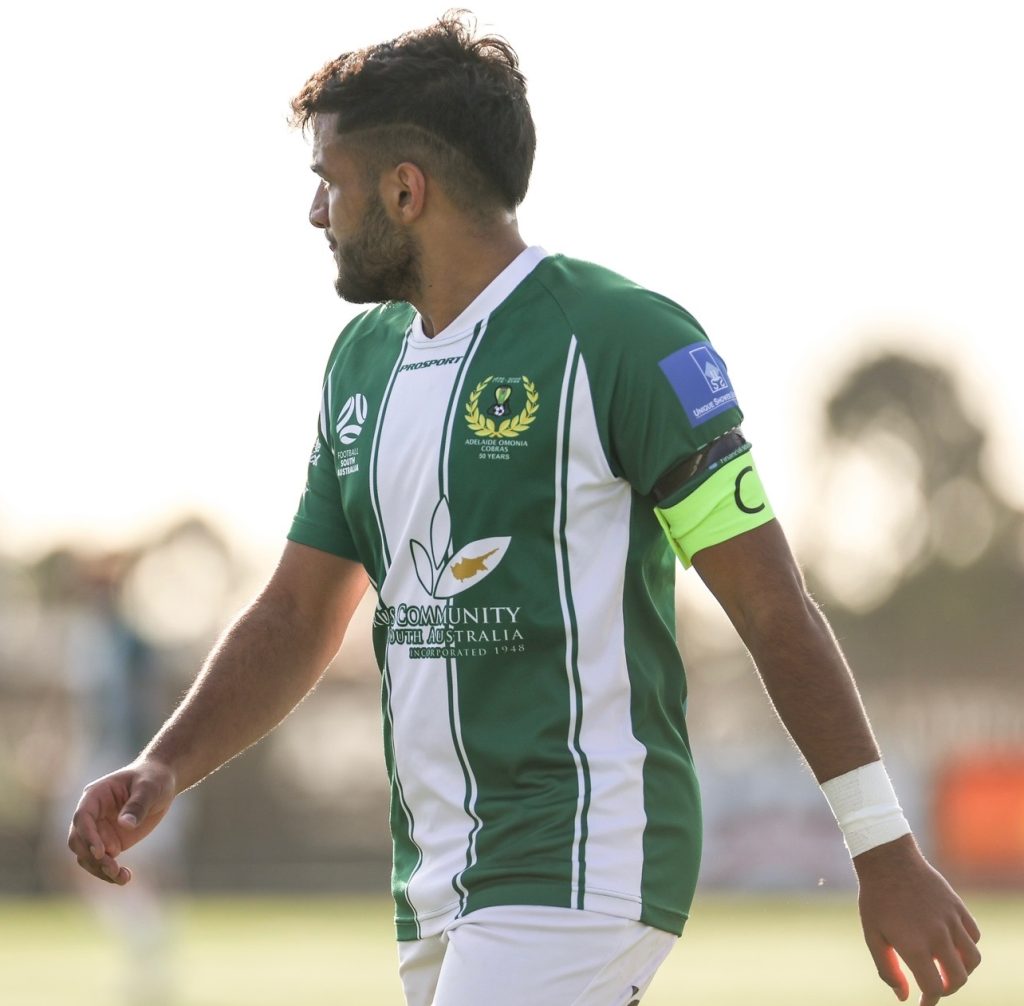 Cypriot culture is at the core of my very being. This way of life has been passed down through many generations down my heritage line.
As a young boy, my pappou and yiayia, over a game of tavli, told me a story of how on July 20 in 1974, Turkey violated all rules of international law, including the Charter of the United Nations and invaded Cyprus. This invasion day of infamy resulted in the death of many, changed history forever and divided the island of Cyprus, resulting in many Cypriots becoming refugees in their own homeland. During this invasion, my grandparents, along with many others, immigrated to Australia.
I listened with fascination and then a few years later, as a 9-year-old boy, went to Cyprus with my grandparents and father and was stunned to see a Turkish flag displayed on a mountain with flashing night lights as a mocking signal to Cypriots, reminding them daily of the invasion.
As I visited family, I realised villages had been given Turkish names, churches, cemeteries and archaeological sites had been desecrated and destroyed by the Turkish. What was so sacredly held by many Cypriots, was no more. My heart was saddened, my head dropped and I realised the severity of the situation my grandparents had described.
Peace and stability were no more in their homeplace. Families had lost their homes and precious lives had been lost defending legality and democracy with heroic symbolism. Yet Turkey continued to occupy Cyprus, what an injustice was this?
Every year, I lay a wreath at the Cypriot Community Centre in SA to commemorate the invasion of Cyprus. Not a day goes by where I don't wonder why we cannot reverse this situation. We need to continue to push to hold Turkey accountable, we need to return proper settlement to the rightful Cypriot owners. We need to stand united and never forget the people who lost their life, the culture, freedom and their heritage to this injustice.
Whilst acknowledging this injustice, I also bow my head as a sign of respect to the contribution of our Cypriot Community to Australian society, their perseverance to keep our culture and language alive and their proud determination to harmonise their culture within a multicultural Australia. Justice for Cyprus.
Ellise Papanikolas, 26, New South Wales:
I've been asked and I'm honoured to write my thoughts about Cyprus and the Cyprus issue. But how can you put on a piece of paper the emotions and the journey when you are a child growing in a family of such a history?
My grandmother's uncle was killed at 33-years-old in the 1964 Turkish atrocities, leaving behind an indelible scar on my mother's family. Both my uncles, my mothers' brothers, were soldiers in the 1974 invasion of Cyprus by Turkey. One was missing for a few days but thankfully both survived the war. Many from my mother's village, Kythrea, now under Turkish occupation, did not survive.
All these years I have seen many attempts by the Cyprus government through negotiations and talks with the Turkish side but with no result. I grew up listening to the stories, watching their tears flow, but also seeing the hope for a solution. The hope that their island can be reunited and that one day we will return to what is rightfully ours.
In 2004 we visited Kythrea. I remember her face when she looked at her house in disbelief, the anguish, the sorrow. She touched her 'lemon trees' and said 'they can feel that I'm here.'
The northern occupied part of Cyprus remains unchanged, 33 per cent of the island is still under Turkish occupation. Precious religious and archaeological treasures have been looted and destroyed. More than 550 churches have been desecrated. They continue to violate all United Nations General Assembly and Security Council Resolutions and in addition, they continue to overturn new ones. 
Turkey proceeded with the creation of a new state of affairs and further illegal actions in Varosha – a fenced off area in Famagusta. These actions were condemned by the Security Council and Turkey was called to immediately withdraw and transfer Varosha to the administration of the UN. That was on July 23, 2021. It still hasn't been done.
It is our duty as the young generation of Greek Cypriots to continue the journey that our parents and grandparents have started, to fight for freedom and justice for our beloved little island.
Dimitra Sienna Karatzas, 10, Victoria
Last night, I saw my grandmother pick up a book and look at it. Every year around this time, she does this. For the first time I decided to look at it myself. The title read 'Days of Rage – Cyprus.' I felt curious and opened it to see what book it was.
The book had lots of pictures. I sat and looked through them. I felt my heart break. I saw small children crying in fear in their mother's arms. Elderly crying in pain. I asked my grandparents to talk to me about the photos.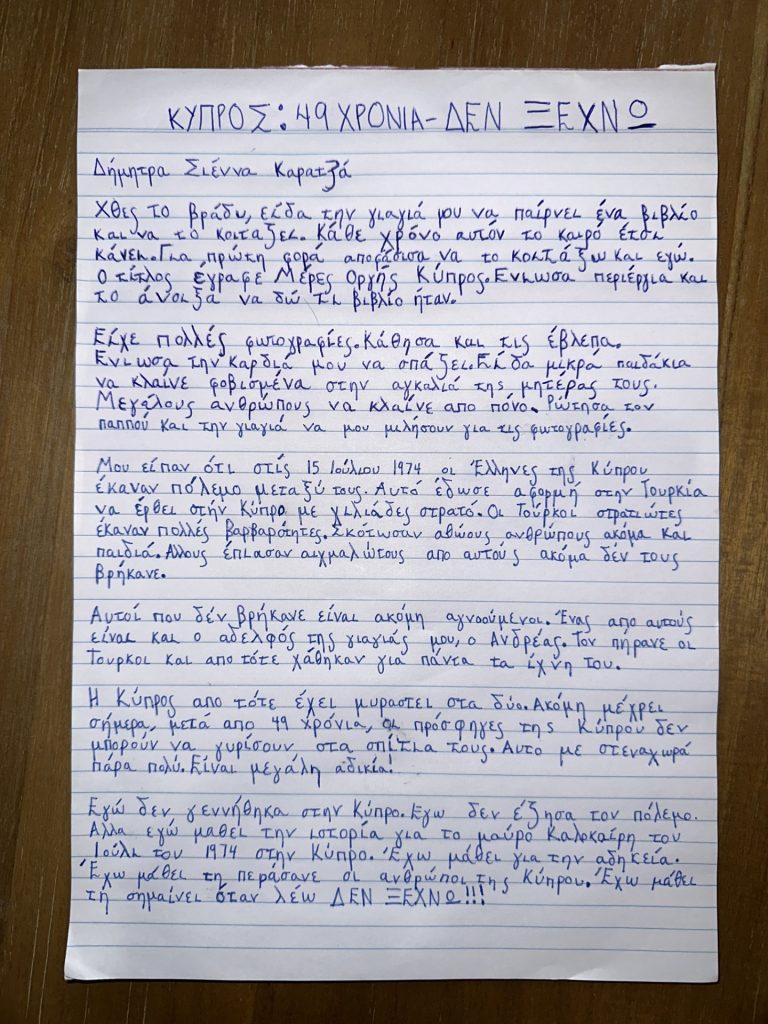 I was told that on July 15, 1974, the Greeks of Cyprus went to war with each other. This led to Turkey invading Cyprus on July 20 with thousands of troops. Turkish soldiers committed many atrocities. They killed innocent people, even children.
Others were captured, of whom many have not yet been found. One of them is my grandmother's brother, Andreas. The Turks took him and since then he has disappeared without a trace.
Cyprus has since been divided into two. Even to this day, after 49 years, the refugees of Cyprus cannot return to their homes. This makes me very sad. It is a great injustice.
I was not born in Cyprus. I didn't live through the war. But I have learned the story about the black summer of July 1974 in Cyprus. I have learned about injustice. I have learned what the people of Cyprus went through. I've learned to mean it when I say: I DO NOT FORGET!!!