The official launch of the «CRETE IN 1821» exhibition was held yesterday at the Victorian Parliament House as part of the annual commemorative events held in the state to mark one of the most important battles of World War Two.
Organised by the Cretan Federation of Australia & New Zealand and the Hellenic Women's Cultural Association Estia, with the support of the Historical Museum of Crete & the Region of Crete, the exhibition was launched by the Victorian Opposition Leader Mathew Guy MP and the Governor of Crete Mr. Stavros Arnaoutakis.
Attending the event were a number of distinguished guests and community leaders among them the Consul General of Greece in Melbourne Emmanouel Kakavelakis, Bishop of Kerasounta Evmenios, Vice Governors of the Region of Crete Maria Lioni and Kostas Fasoulakis, President of the Cretan Federation of Australia and New Zealand Tony Tsourdalakis, President of the World Council of Cretans John Nikolakakis, the Director of the Historical Museum of Crete Agisilaos Kaloutsakis, Victorian Labor MP Lee Tarlamis, Deputy Chief of the Hellenic National Defence Force Vice Admiral Ioannis Drymousis, Head of the Public Relations Directorate Squadron Colonel Miltiadis Militsis and the military attaché from Canberra Colonel Ioannis Fassianos.
In his speech, the Consul General referred to the importance of the Battle of Crete while Mr Tsourdalakis thanked the delegation from Crete for their attendance and for joining the commemorations.
The Cretan delegation have also attended events in Sydney and Canberra.
"Cretans won, now let's see if we will win," said the Leader of the state Opposition, who is of Ukrainian background, making a reference to the Russian invasion in his home country.
Following the launch of the exhibition, Mr Guy pledged $40,000 annually if his Party gets elected at the upcoming state election in November, in order for the Cretan Federation to be able to keep hosting events for the Battle of Crete.
The evening concluded with exchange of presents and the Cretan delegation inviting the attendees to the Greek island.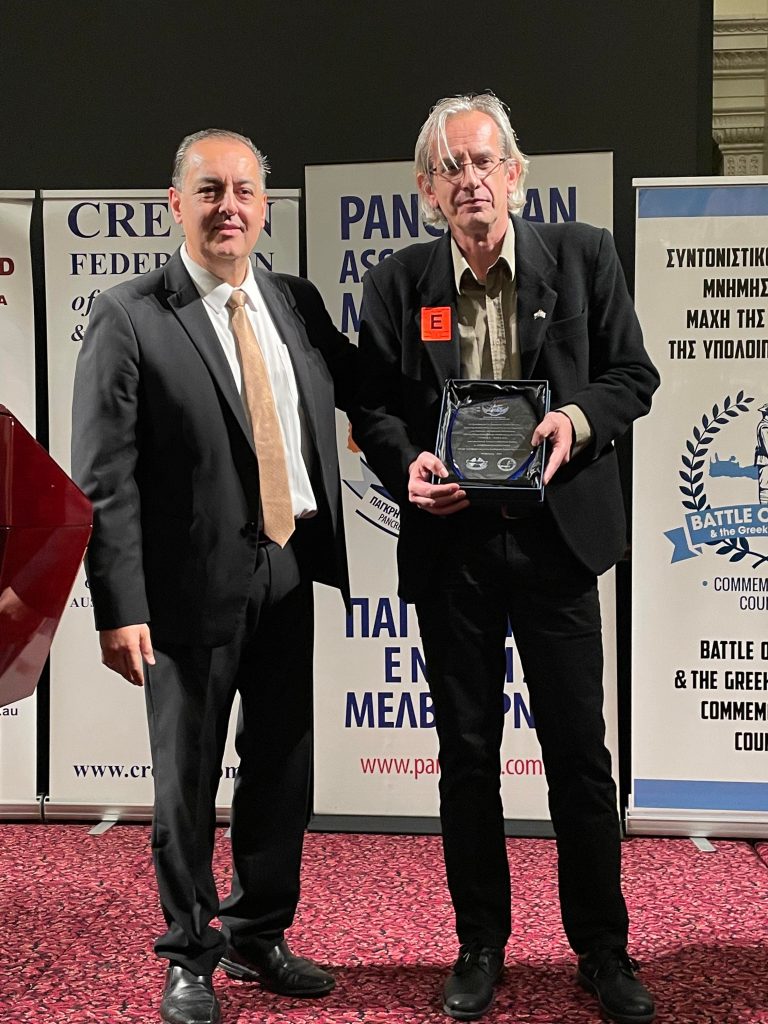 *All photos: The Greek Herald / Argyro Vourdoumpa.