Theo Maras, one of South Australia's most experienced and well-credentialed business and community leaders, was the guest speaker of the 'Breakfast at the Next Level' monthly business event organised by SOL Results and held on Wednesday morning, at the Hilton Hotel in Adelaide.
"Today is all about wisdom," said host and SOL Results Co-founder, Stan Kontos, before he called Theo Maras on stage to share his life and business experience through his 40-year involvement in Adelaide's property investment and development market.
Maras' early years in Australia
Starting from the early years and his migration to Australia from the Greek island of Ikaria in 1952, at the age of four, Maras explained that his upbringing was simple and not without challenges.
"My grandfather Menelaos, had migrated to Australia in 1928 and he settled in Mildura. He didn't know how to read or write in Greek or English. When we came to Australia, he made a statement to the family that they should move to Adelaide in order to be educated. He saw education as the only way for someone to get out of poverty.
"I went to Walkerville primary school and it was really interesting because I couldn't speak one word of English. Six months later I was able to speak the language and the rest is history," Mr Maras said and went on to talk about the creation of Mancorp Group.
From Mancorp Co-founder to Maras Group Chairman
In the early 80s Theo Maras and Bill Manos, founded Mancorp group. A group that was instrumental in shaping development in South Australia for the decades to follow.
"We never looked at the figures. It was about the next goal, the next deal and what we would build for everybody's benefit," Mr Maras said.
In July 2006, following a separation from the Mancorp Group, Theo founded the Maras Group but said his relationship with former business partner Bill Manos is ongoing and one that he values.
East End, Rundle Mall and the Central Market as key projects
Asked about the projects he's most proud of, Theo Maras does not hesitate to answer that his three major projects have been the East End development, the Rundle Mall rejuvenation and currently the $400 million Adelaide Central Market Arcade redevelopment, due to start by June 2021.
"The East End for me was a key project. I used to go to East End as a kid on the back of the horse cart to take vegetables there with my family…. when the opportunity came up, I knew I wanted to do this.
"The East End was more than just a development. For me it was something that Adelaide didn't have and still doesn't have. Open, free planning," said the prominent developer.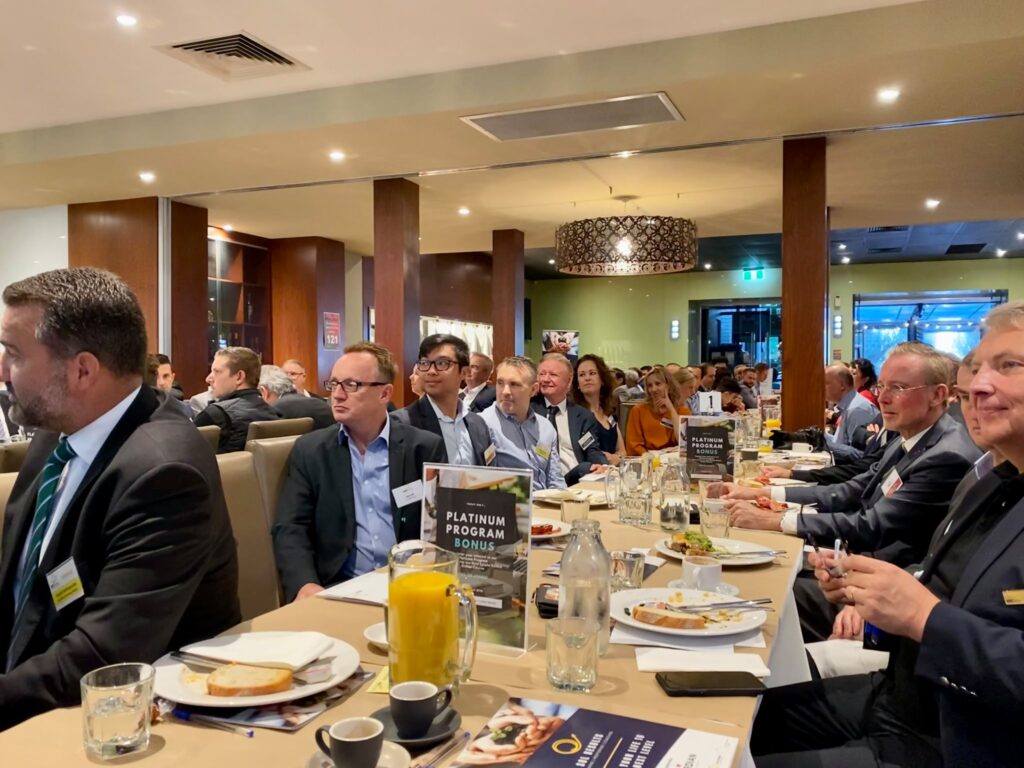 Since the early 1990s the Maras family has been considered the dominant force behind the transformation of Rundle Street and the surrounding laneways, helping to retain its position as a pre-eminent hub for fashion, restaurants, bars and major events.
"It's time that Adelaide became more cosmopolitan and we change things," Mr Maras said, referring to the recent exhibition tennis matches as an example of what South Australia has to offer.
Almost six months ago, Mr Maras was appointed as the Adelaide Central Market Authority (ACMA) Chairperson and is now focusing on transforming the Market into one of the biggest and best in the world.
"We are going to showcase some of the specialty stuff SA has to offer. We want to make it a one stop shop with many conveniences," Mr Maras said.
The business breakfast concluded with the Ikarian giving his advice to other professionals.
"Give selflessly, be passionate with drive and tenacity and don't take 'no' for an answer. Ignore those who want to take you down and go on with your vision".
*All photos: FB/SOL Results