By Mary Sinanidis.
In a tribute to the Cretan diaspora in Australia, Socrates Tsourdalakis launched his book Cretan Pioneers of Australia at St John's College, Preston, Victoria, on Sunday, June 25.
The event was well attended by some of the Melbourne-based descendants of Cretans featured in the book, who generously shared their family stories, photographs and historical records that form the backbone of this meticulously researched publication.
Mr Tsourdalakis, a migrant who arrived in Australia from the Cretan village of Melambes in 1965, took on the formidable task of tracing the footsteps of his predecessors. He pointed out how some of the early migrants Anglicised or entirely changed their names, making it arduous to identify their origins accurately.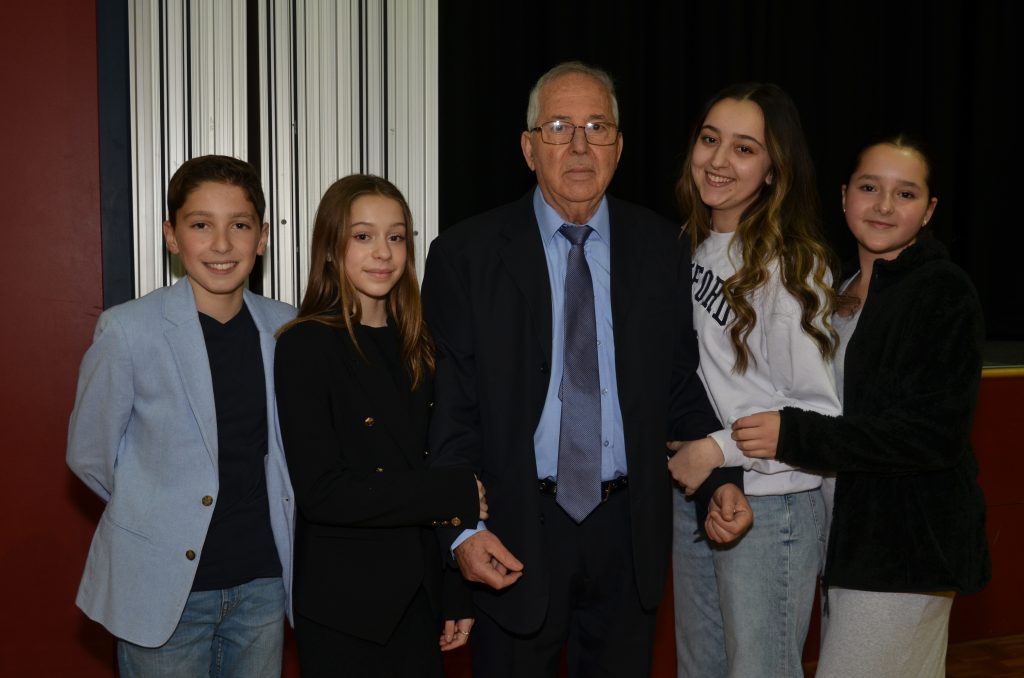 "They needed to Anglicise their names in those days so they could simply survive professionally, avoid racism, and even avoid deportation," he said.
He told The Greek Herald that women were even harder to track down once they married non-Cretan men, often disappearing from the radar of the Cretan community.
The book challenges findings from Mr Tsourdalakis' first publication on Cretan immigrants, revealing that George Koukos was not the first Cretan in Australia in 1848, as initially thought. Further research uncovered that two of the five Greek sailors accused of piracy by the British in 1827 were of Cretan descent. After a trial in Malta, John Vasilakis and George Lavitsos, along with 200 other convicts, arrived at Port Jackson, NSW, becoming the first Cretans (and Greeks) to set foot on Australian soil.
The book's significance lies not only its historical documentation but also in preserving the stories of the pioneers' descendants who served in the army during World War I, World War II, right through to the present day. Mr Tsourdalakis also delves into the lives of the clergy of Cretan descent.
Archbishop Makarios of Australia, himself a Cretan migrant, said the research documented a vital part of history and hoped it would encourage other communities to follow the example and document their own histories.
It's not every day that the Sydney-based church leader heads to Melbourne to attend a book launch. His presence at Mr Tsourdalakis' event was due to the pride he feels for his own Cretan heritage, but also the author's own closeness with the church.
"I graduated from the Ecclesiastical College of Crete and came here [Melbourne] to become a priest," Mr Tsourdalakis told The Greek Herald.
"On the way, I changed my mind. I saw the division between the Community and the Archdiocese and I did not want to be involved in this war. I decided not to become a priest."
Instead, he became a part-time teacher at St Basil's Community in Brunswick for 35 years, and was a church psalter for many years. His main job was with the SCC State Electricity Commission of Victoria, but his eyes light up when remembering his students.
"I taught hundreds of 2nd generation Greek Australians and I am proud that they all speak Greek today," he said, lamenting Greek language loss in Australia.
Antonis Tsamis, the keynote speaker at the event, commended Mr Tsourdalakis for his dedication to preserving Greek language and culture, emphasising the "importance of cultural heritage as a timeless aqueduct."
Christos Notsis, the grandchild of Theodore Manousakis, spoke of the hardships faced by the pioneering ancestors from Crete, who left behind agricultural lands under the fading Ottoman Empire.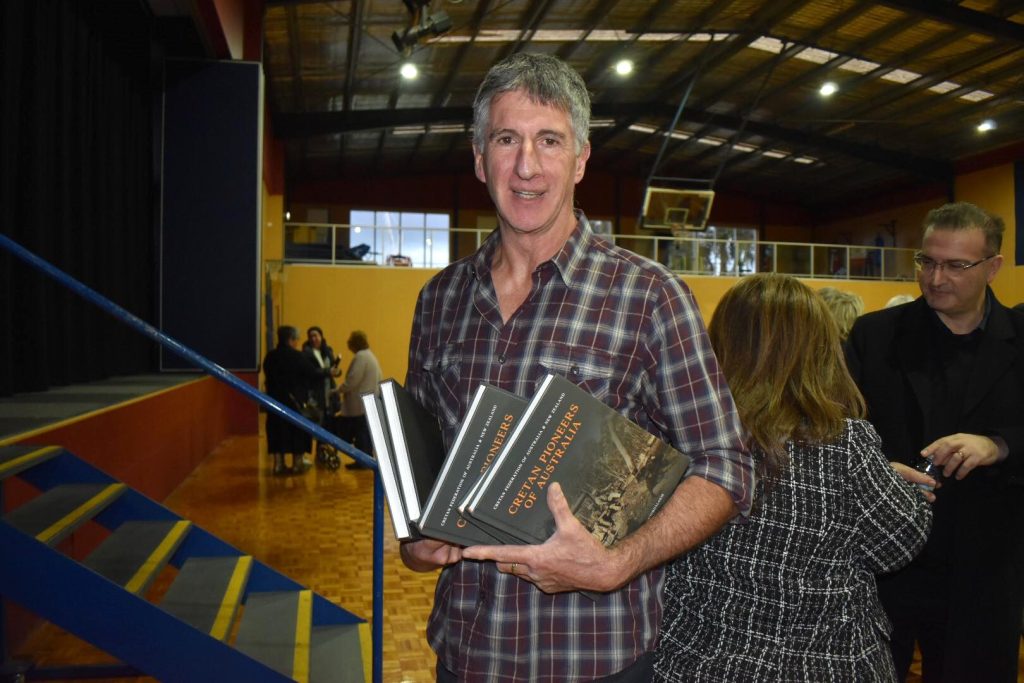 He said: "These pioneers held onto their roots but also embraced Australia as their new home. It warms my heart to sit here today as the offspring of those who were fearful and fearless pioneers."
A video featured Ioanna Argyri, granddaughter of Konstandinos Chatzantonakis, a confectioner with a café in Roma, Queensland. Ioanna's mother, Helen, aged 96, listened as her daughter spoke of the grandfather she lost to lung cancer when she was 13 and shared anecdotes from his life as a migrant.
It was one of three videos featured on the day, including a slide show of photographs of Cretan migrants and an address by John Chrysoulakis, General Secretary of Greeks Abroad and Public Diplomacy of the Greek Ministry of Foreign Affairs.
Pelagia Markogiannakis is one of the Cretans featured in the book due to her formidable career as an engineering officer and aide-de-camp in waiting for the Governor of New South Wales and distribution analyst for Shell Oil amongst other appointments.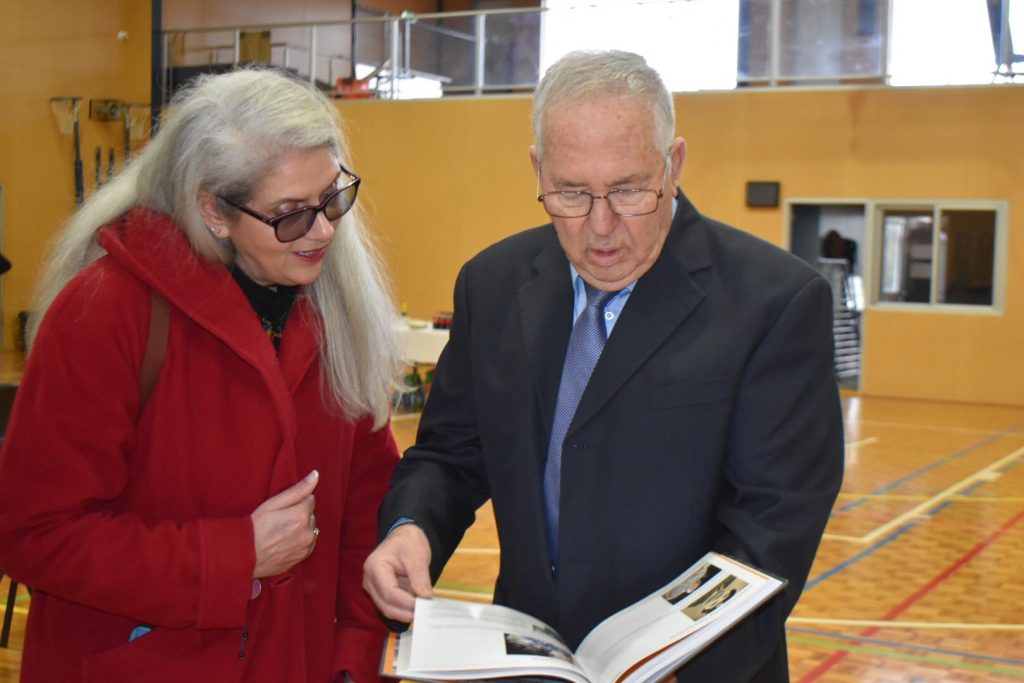 She told The Greek Herald the book is important in showing our "persistence and tenacity for success."
Having known Mr Tsourdalakis since birth she feels gratitude for her inclusion in the book.
"It's a legacy. He's leaving me a legacy. A legacy for me and a legacy for my children," she said.
A legacy indeed, bearing in mind the announcement made by the Cretan Federation of Australia and New Zealand's President Tony Tsourdalakis, who said that all proceeds from the sale of his father's book would go back to the Federation to fund programs for Cretan youth. It's a way to ensure that more books will be written as the Cretan community continues to thrive in Australia.
The presence of Terry, Parissa, Siena and Ana – Mr Tsourdalakis' grandchildren – carefully listening to the story of their heritage lays testament to that!
To order a copy of the book, contact president@cretan.com.au
*All photos copyright The Greek Herald / Mary Sinanidis.