The Macquarie University Greek Association (MUGA) was formed by an enthusiastic group of young Greek individuals, in 1984. Vasilis Georgiou led the MUGA initiative, which then established the Macquarie University Greek Studies Foundation. The foundation began as a celebration, promotion and enhancement of Hellenic culture, history, values and language.
Despite the threats facing the longevity of the Greek language, founding trustee Mr Theophilus Premetis believes MUGA, the Macquarie University Greek Studies Foundation and Greek students across NSW, remain enthusiastic about the Greek language.
"They university's got a future because the people like the course. There were a lot of students, they were good at the time…Vasilis was very enthusiastic, he forced you to do Greek," said Mr Premetis.
In 2016, Macquarie University became the only university outside Greece to offer a full-time Bachelor of Hellenic Studies. In 2020, it is now being offered as a Major of Hellenic Studies. In addition, the faculty works with the medical school to offer courses in Medical Terminology and has the support of the Faculty of Arts in promoting exchange programs to Greece.
While the foundation has supporters ranging from the Dean of Macquarie University's Faculty of Arts – "philhellene" Ms Martina Möllering, the Greek authorities in Greece and the Greek government, they are constantly in negotiations to keep Greek studies alive at Macquarie University.
"It's not just money that we need help with…We'd love some students to study in Cyprus or Greece for a year. We think that will be good for the Greek community, good for the language, good for everyone," said Mr Premetis. "The important thing is to teach Greek not just to Greeks, but to non-Greeks as well."
MUGA's 35th Anniversary Ball
As per their agreement with Macquarie University, MUGA hosts an annual fundraiser to raise money for the Macquarie University Greek Studies Foundation. Each year, this money is put forward to the university to support the continuation of the Greek language.
This year, MUGA's 35th Anniversary Ball will be held on Friday 7th February at Aqua Luna Waterfront Dining.
Mr Premetis notes that all fundraising events, big and small, reflect the 'filotimo' and spirit of giving in the Greek community.
"Everyone helps, but the little people help. Not the big communities, not the very rich people…the normal people help, and I believe the normal people are better to ask for help because they understand what need is," said Mr Premetis.
While tickets to the event have sold out, the Macquarie University Greek Studies Foundation encourages any form of donation, including cash, cheque or direct deposit.
Bank Details: Delphi Bank, BSB: 941 201, Account Number: 201 422 001
P.O Box 4, Canterbury NSW 2193
Contact: Theophilus Premetis 0419 718 159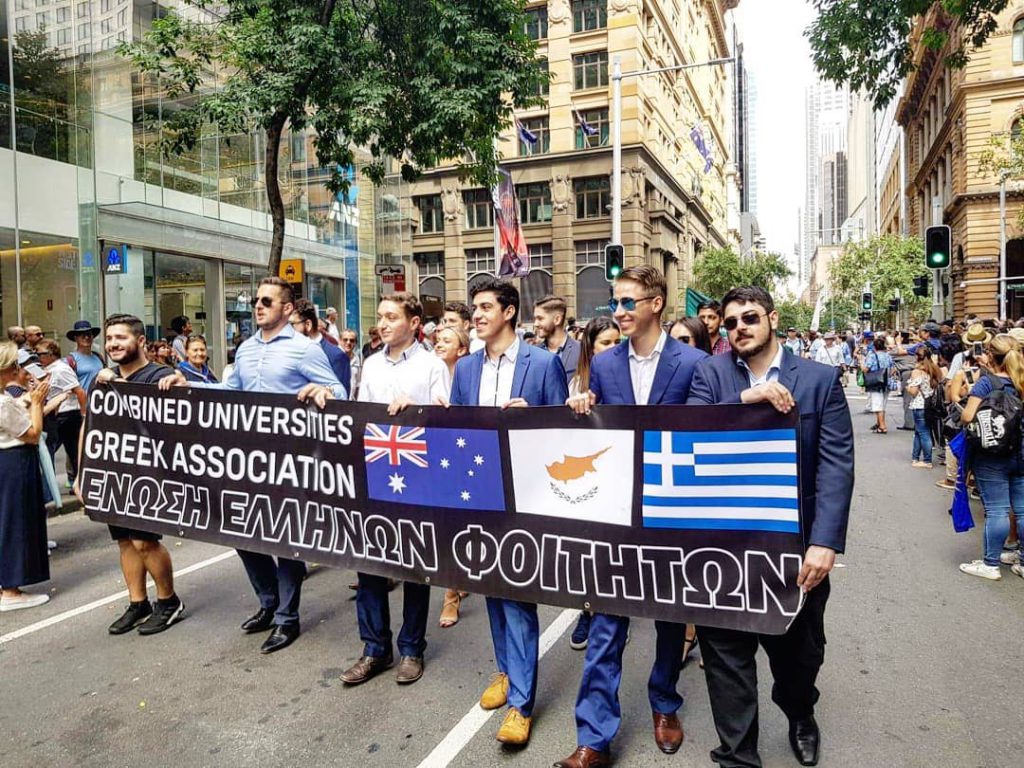 Combined Universities Greek Association
Mr Premetis also believes that creating a combined Greek association for the University of Sydney, the University of New South Wales and Macquarie University would ignite a more effective response for supporting Greek studies among students.
"We would like to [work together]. We've never had any problems, we'd like to form a combined committee. It would be ideal for the 3 universities to form one committee. If we had that it would be easier to raise funds, because it would be for Greek collectively. I think we would get a better response," said Mr Premetis.
The motivation behind the Macquarie University Greek Studies Foundation
A few years after the Macquarie University Greek Studies Foundation was established, its founder Vasilis Georgiou, sadly passed away in 1996, leaving behind a wife and two young children.
Not only does the heart behind continuing Macquarie's Greek program come from a love of Hellenism, but the bloodline of brotherhood that has streamed from its establishment.
"Vasilis was my friend. He died and left his two children, 5 and 2. The 5-year-old might remember his father. The 2-year-old, I don't think so…so when he died I had to go back to help with the course," said Mr Premetis of his late friend. "He was very enthusiastic and very hard-working,"
Macquarie's Greek Studies Foundation holds a poem from Cavafy very close to its values, driving a motivation that has lasted throughout generations.
"And out of the remarkable pan-Hellenic campaign,
Victorious, brilliant in every way,
Celebrated far and wide, glorious
As no other had ever been glorified, the incomparable: we were born;
A New Greek world, a Great Greek world."
C.P Cavafy "In the year 200 B.C."