By Giorgos Psomiadis.
'The Tipping Point' (TTP) is an educational tool that can connect mentors from all over the world with students on the most remote Greek island. From Australia to the island of Kastellorizo, the program aims "to contribute towards the creation of informed and conscientious young people in terms of their academic choices and future careers."
The Greek Herald talked with the program's creators, The Hellenic Initiative Australia (THI Australia), mentors in Australia as well as Greek students in Kastellorizo, who shared their experience.
The co-founder of TTP, Amalia Konstantakopoulou, explains how the global connection is achieved. 
"With the assistance of technology, via live group sessions and/or asynchronous question-and-answer online training, students, regardless of geographic region, economic and social status, broaden their horizons and explore their options, all while having their questions answered by 2,000+ mentors around the world, from farmers and breeders on Aegean islands to researchers at CERN, scientists in Australia, and artists in Spain," she says.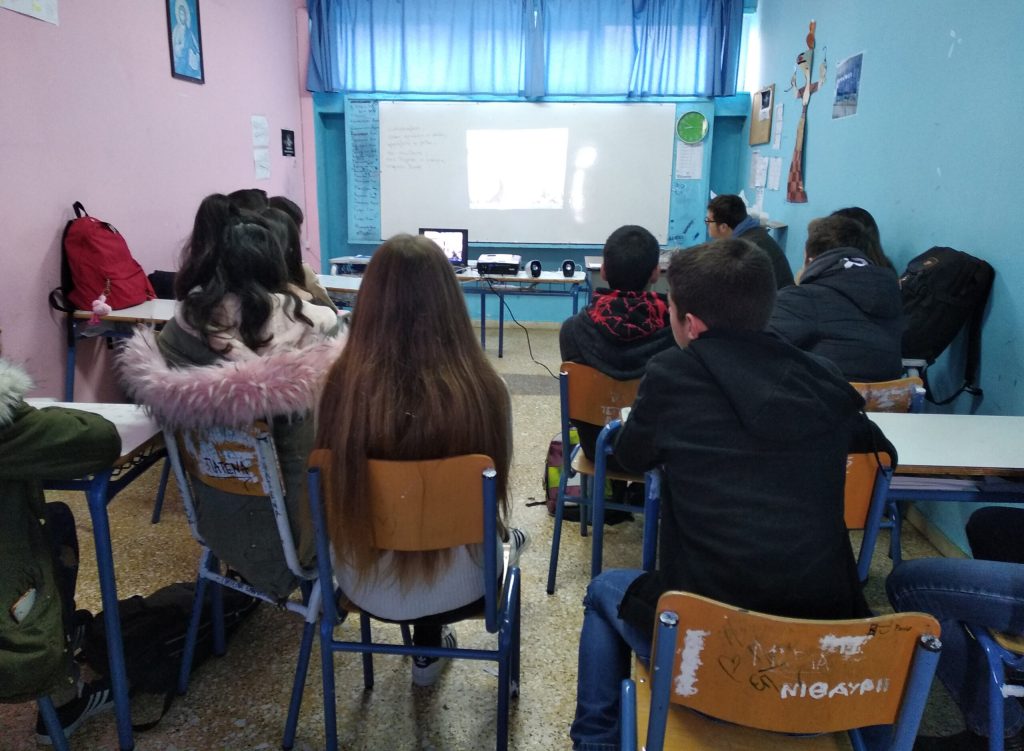 To date, over 700 schools and communities, from Fourfouras in Crete and Halki, to Arta, Kalamata and Evros, have joined the TTP program, with the support of over 1,800 teachers and their valuable input, enabling more than 40,000 students to be inspired and connected to the modern labour market from the comfort of their classroom.
Amalia says that TTP "contributes to bridging the digital gap by training young children to use new AI technologies, such as ChatGPT, in which technical knowledge or a programming language is not a prerequisite, as communication with the digital medium takes place in spoken language, as with a human being."
"This process trains students to ask more targeted questions, all while developing three soft skills – Critical Thinking, Problem-Solving, and Creativity," she adds.
"So, not only do they have access to a network of people they would never meet otherwise, which consequently increases the stimuli schools in areas like Kastellorizo, Evros, Leros, villages of Epirus, etc., are exposed to, but also, before that, they have ensured the conditions for training themselves to ask better questions with a machine, so that when connecting with the mentor, their time is more effectively and constructively used."
According to her, the lack of appropriate information and new performances is particularly acute in schools in remote areas, as their geographical location limits access to both people and stimuli even more.
"TTP is adding experiential learning and personal experience to the educational process, offering students the opportunity to learn about their interests and career prospects, as well as develop their skills regardless of geographical barriers," she says.
Role of THI Australia:
Grants by THI Australia to charities in Greece fall under four program streams – health, social services, education, and employment pathways.
"When TTP Project first reached out to THI Australia in 2019, it knew that this was a valuable tool for school students, particularly in regional parts of Greece with limited opportunities to gain insights into career options beyond the traditional employment paths," Stergitsa Zamagias-Hill, Chief Executive Officer of THI Australia, says.
"The program also provides Greek Australians with an important opportunity to support the program as mentors."
In 2019, THI Australia commenced with three pilot schools and built on the number of participating schools in subsequent years by tailoring its approach to Greek Australian associations and individuals who were interested in supporting schools in certain parts of Greece.
Schools in Crete, Kalamata and Kos have been supported by associations and individuals.
As Ms Zamagias-Hill explains, Freda Miriklis, THI Australia Director and past Committee member of the Kastellorizian Association of Victoria (KAV), brought TTP Project to the attention of the KAV. Valuing the importance of education and career counselling, KAV made a commitment to support the High School on Kastellorizo for three years.
"Freda Mirklis and Phillippa Adgemis (KAV Committee member) visited the school in July 2022 and met with a number of the students and the Principal of the school, Betty Mouzak. They were pleased that there was significant engagement with the program and THI Australia looks forward to sharing feedback from students participating in the program in the 2022 – 2023 academic year," she says.
The mentors:
Dr Dimitrios Salampasis, Director MFinTech, Senior Lecturer FinTech Innovation, Swinburne University of Technology, has been a mentor and shares his experience from the program.
"I immediately became fascinated with the idea and the potential of connecting with schools from Greece and other parts of the world, discuss and share my thoughts, ideas, and experience with students," he says.
"I am passionate about curating the next generation of talent and contributing to the shaping of future leaders. I have been a mentor for a few years now and I must admit that the experience has been exceeding my expectations.
"I enjoy every single session and I am positively surprised by the thirst and interest students at such young age have, taking also into account the complicated and contemporary themes they choose for discussion."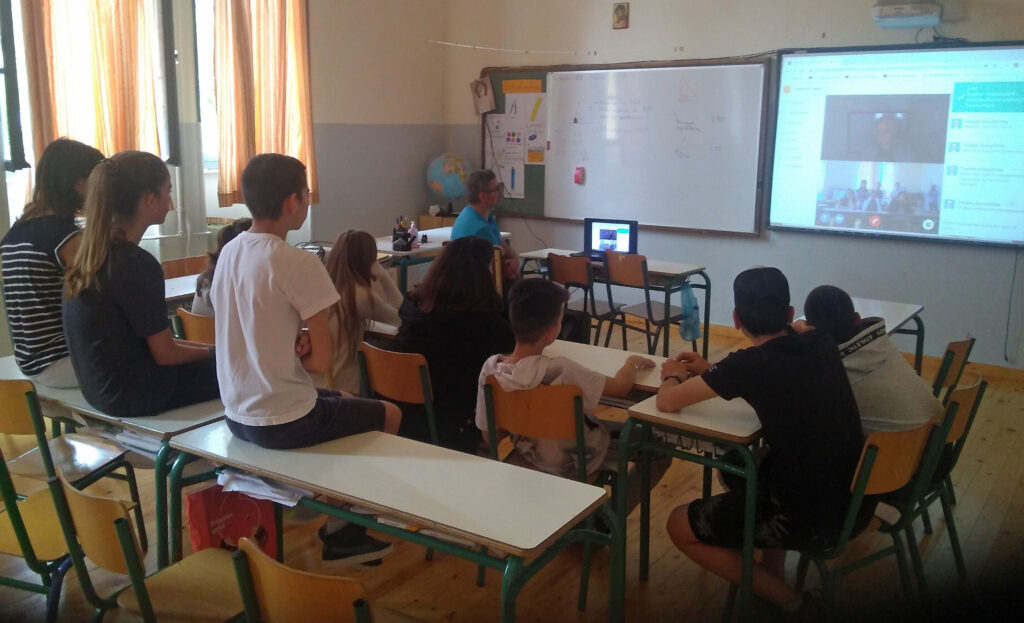 Dr Salampasis believes that COVID-19 has redefined and reshaped the way education and learning are conceptualised, contextualised, and delivered.
"The pandemic has been pushing the boundaries of transformational and evolutionary innovation in education has been repurposing the way learning is developed. I believe that having students being exposed to mentors from different parts of the world utilising digital technologies is a priceless and unique opportunity and experience. Digital technologies enable delivery and curation of novel teaching and learning experiences in a location-agnostic manner," he said.
Apart from personally benefiting from the whole "mentoring through sessions" experience, he says that "it's amazing to connect and give back to my home country and there is no better reward to help curate the next generation of leaders and responsible citizens of Greece and the world."
Students:
A 17-year-old student from Lemnos describes his experience with the TTP program as inspirational.
"The vocational rehabilitation school program seems helpless and outdated in the face of such techniques. Truly, the meeting with mentors from this program is a source of inspiration but also of reflection for us students, as it conveys to them experientially the professional experience," the student says.
"I hope that in the future other such programs will 'bloom' in the school environment and provide real solutions to chronic school issues."
Other students between the age of 13 and 15, based on the island of Kastellorizo, share the way they benefited from the program.
"Because I am in one of the most remote islands of Greece, I had the opportunity to meet through "live video" people (professional mentors) that I would not otherwise have had the opportunity to meet," one student says.
"This allows me to get to know and think about my future and other professions besides those of my closed social environment.
Another student says: "I got informed about different professions and thanks to that I realised which professions I like. With the help of the mentors, I am now starting to think about what I want to do in the future. Because I am on one of the most remote islands of Greece, I had the opportunity to meet people through live video that I would not otherwise have had the opportunity to meet."
From music, to singing and photographing, the fields a student can be mentored in are plenty. And students feel gratitude for learning about them from the experts.
"I really hope that this program continues in the coming years so that other children can have this experience, learn new things to help themselves for their future and dreams," one student concludes.