Everyone has a story.
Helen's story is one of resilience, perseverance and commitment even at the most difficult circumstances. A story of giving back to the community and a proof that hard work gets recognised and rewarded.
A proud Mytilenian from the village of Thermi on the island of Lesvos, Helen Patsikatheodorou is one of the 14 Greeks who were recently honoured in the Queen's Birthday Honours list with a Medal of the Order of Australia (OAM) for her service to the community of Hume.
"I came to Australia when I was 5, 61 years ago. Who would have thought! Nothing is impossible," Helen tells The Greek Herald.
"This is a consolidation for me that all the volunteer hours that I have committed over my 45 years of service have actually meant something not only to me but my community."
'Pay it forward, make a difference'
Like many Greek migrants Helen's family came to Australia in the 1960s with a suitcase and an undetermined motive to succeed and secure a better future for their children.
"My father came to Australia with no education and no money, but he had a lot of pride and determination. He came on the 'Patris' and landed in Melbourne. He saved enough money for my mother, sister and brother to come to Australia a year later," Helen says.
"He knew no one, but some stranger took him under his wing, found him a place to stay and provided him with the opportunity to work. To say he worked hard is an understatement."
The assistance offered to her dad in his early beginnings in the new home country, sparked Helen's motivation to help others.
"He [her dad] not only established his own wealth, but he also educated his children and provided a better life for his family, one that he was proud of. That in itself deserves paying it forward and making a difference to someone else.
"There is always a need in every community and there are many different ways you can be involved; you just have to find your passion."
The City of Hume's 'Pink Mayor'
In 2013, Helen was diagnosed with breast cancer but instead of slowing down she became fiercer while fighting her own battle.
"Both my mother and my maternal grandmother died of Breast Cancer. As a leader in the community, I am always looking at ways to make a difference. When I became Mayor for the second time in 2016, I wanted my second term to make a bigger difference.
"Realising that breast screening uptake for CALD (Culturally & Linguistically Diverse) communities was very low, I decided to use my mayoral year as an opportunity to advocate and promote breast screening to improve the health of our women. What better way to do this as a survivor of Breast Cancer? I made it my mantra to be known as the "Pink Mayor," says Helen.
"In all my speeches I advocated that I would wear something pink every day of my Mayoral year so that all the men in Hume would encourage the women in their lives to get screened as no woman in Hume should die from Breast Cancer."
The 'Pink Mayor' soon became an advocate for men's health and has vowed to keep helping her community for as long as "her body will allow her to."
"We are all vulnerable. We need one another"
Helen often expresses her pride for the legacy she will leave behind and wishes for the new generation to pick it up one day in order to change their communities for the better.
"We live in a community and we all need one another to survive. We don't realise this until something bad happens to us. We are all vulnerable both rich and poor, educated and uneducated, newly arrived or settled.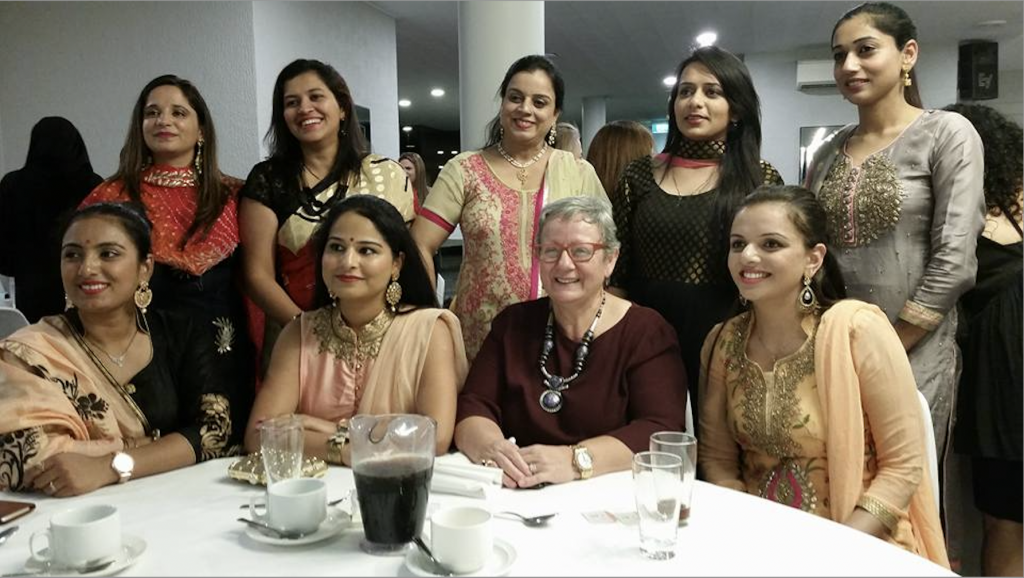 "I hope that the new generation recognizes that they have benefited from my hard work and the hard work of others like me, to continue to pay it forward," Helen says.
"I know my children are proud and I hope that when my grandchildren are old enough to understand, they would be just as proud of not only "Yiayia but Papou" as well and give back to the community."
The joy of helping others
Asked her what her future plans are, Helen doesn't hesitate to reply.
"I will continue to do what I do for as long as my community still wants me. I will continue to work full time for Maria Vamvakinou MP, the Federal Member for Calwell and continue my involvement for as long as I can."
In a recent speech, Maria Vamvakinou said that "the strength of Helen's contributions can't be captured in a speech, nor can her impact on the many people whose lives and circumstances she has touched and continues to touch."
Concluding our interview, Helen sets aside herself and her recognition to acknowledge her late husband, John Patsikatheodorou, who died unexpectedly three years ago.
"Without him, I may not have been able to do the things I did. He was my support and my rock and was known lovingly as the "Mayoress".
"He was by my side at all my events, encouraging and supporting me. On many occasions, he was mistaken to be the Mayor, because he was the man. He shocked many men when he would say "my wife is the Mayor and I am the Mayoress". My husband was a bigger community advocate and on many more committees," Helen concludes.
Passion for social good, compassion, pride and courage. Community Heroes do exist. Thank you Helen!
READ MORE: Greek Australians recognised in the Queen's Birthday Honours for 2021