Guests, sponsors and donors raised just over $20,000 at the 2021 Breakfast for Brain Cancer event, which was hosted by the White Pearl Foundation on March 19 at the Estate Vaucluse House.
The White Pearl Foundation was founded by Suzane Peponis-Brisimis in honour of her mother who passed away from a brain tumour in late 2013.
READ MORE: Suzane Peponis-Brisimis: Leading philanthropist shining a spotlight on brain cancer research.
"An enormous thank you to our guests, sponsors and donors who helped us raise just over $20,000 at the 2021 Breakfast for Brain Cancer," Suzane Peponis-Brisimis tells The Greek Herald.
"The event sold out in 72 hours and many missed out. We are currently looking at holding a second event in June, COVID permitting, and of course the White Pearl Ball on November 27, 2021. We will keep you posted."
On the day, Cassandra Bennett, patient and author of the soon-to-be released Survivorship Diary for patients and carers, flew in from Canberra to speak at the event and had the attendees captivated when she spoke of her journey with brain cancer and her motivation for creating the diary.
Guests also enjoyed a very informative address by Associate Professor Michael Back, Radiation Oncologist and Director of The Brain Cancer Group,Care2Cure, who is curating and leading The Brain Cancer Group's latest initiative, a Brain Cancer Databank.
"The comprehensive DataBank will comprise data from three linked projects under TBCG. Conceptually, once established, every patient will be entered into the TBCG Brain Cancer DataBank through a linked pathway in which their initial brain tumour specimen is stored, alongside their actual brain cancer images and their information data," Associate Professor Michael Back said.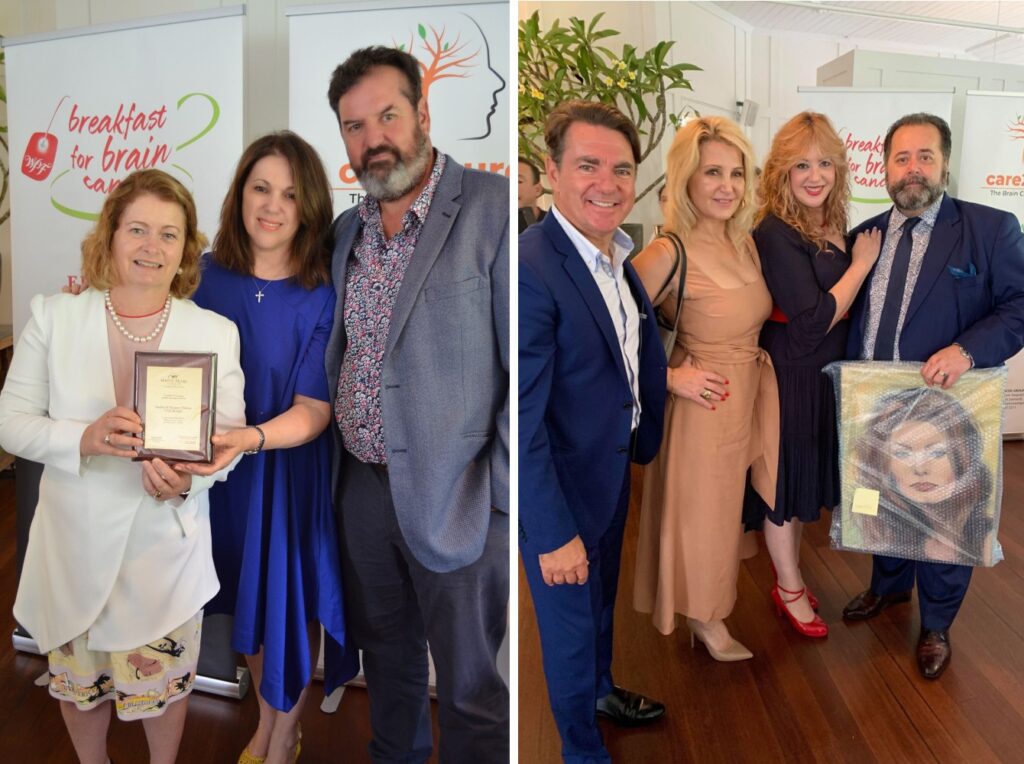 "A scientist asking a question can then access the actual brain tumour specimen, and see how that influences the MRI appearance and treatment outcomes. It will be a powerful future resource for the Brain Cancer community."
The Associate Professor then went on to discuss the three new initiatives being launched by The Brain Cancer Group, including:
Brain Tumour BioBank and Laboratory: This is the Laboratory situated in the Kolling Institute of Medical Research on the Royal North Shore Hospital campus and contains the biological samples of patients brain tumours, as well as the biological research laboratory studying the tumour specimens. Funding for this laboratory has been from previous fundraising campaigns and is now an established unit.
Clinical Outcomes Database: This is the detailed database that gathers baseline tumour and treatment information from our patients and assesses the outcomes of treatment. This is being funded by a donation from the family of Tim Cohen. Information from the BioBank and Imaging Laboratory will feed into this database.
Brain Cancer Imaging Laboratory: This is new imaging databank under development paralleling the principles of the Brain Tumour BioBank and Laboratory gathering the actual images from patients for future study and assessment. It will be the only Imaging Laboratory in Australia and be a great resource for local and international researchers.
Donations to help the Databank become a reality are always welcome and appreciated and can be made at https://www.whitepearlfoundation.org/how-to-help/donate-to-the-brain-cancer-group or please contact Suzane on 0418 238723 or suzane@whitepearlfoundation.org for any enquiries.