The New South Wales branch of the Organisation of Hellene and Hellene-Cypriot Women of Australia (OEEGA NSW) is a not for profit organisation consisting of Greek and Cypriot Australian women and mothers who have dedicated themselves to supporting medical researchers in eliminating childhood cancer.
Since 2007 alone, OEEGA NSW has raised over $414,000 for the Children's Cancer Institute in Sydney, which has gone towards purchasing vital equipment for specialised scientific research.
This year, the organisation hopes to raise even more money for the Institute through its annual radio fundraiser on Wednesday, November 10, 2021 from 10am to 8pm AEST.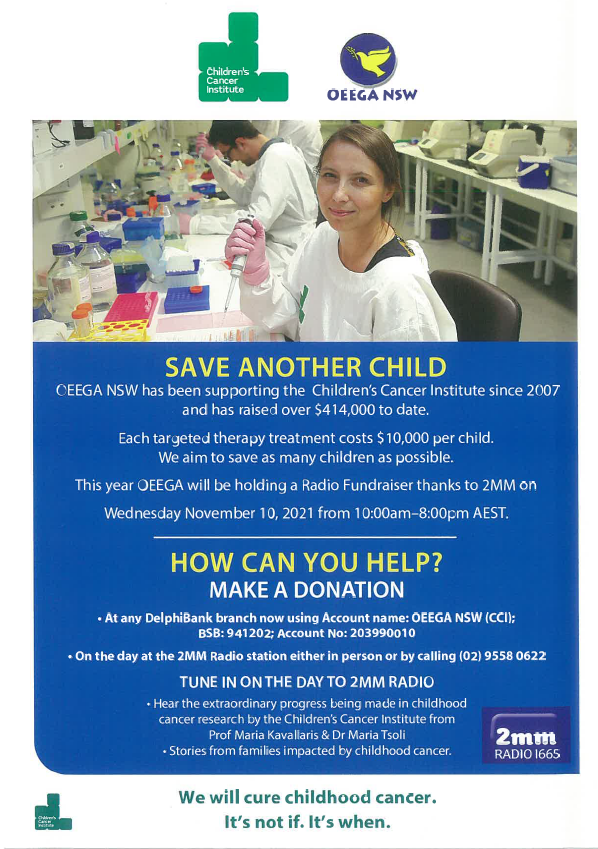 People tuning into 2MM Radio on the day will have the opportunity to hear the extraordinary progress being made in childhood cancer research at the Institute by Professor Maria Kavallaris and Dr Maria Tsoli.
They will also hear personal stories from families who have been impacted by childhood cancer.
If you would like to make a donation, you can do so in two main ways:
At any DelphiBank branch using the Account name: OEEGA NSW (CCI); BSB: 941 202; Account No: 203990010.
On the day at the 2MM Radio station either in person or by calling (02) 9558 0622.
READ MORE: Professor Maria Kavallaris' cancer battle at age 21 has inspired her childhood cancer research.