There was plenty of Greek food, dancing and music at the National Museum of Australia in Canberra on Saturday as 'The Agora: Greek Cultural Festival' returned with a bang.
About 10,000 people streamed through the gates of the museum and happily browsed the numerous Greek stalls which were set up indoors. They were selling hand-made clothing and jewellery, as well as perfume and beauty products, textiles and homewares.
One stall holder, Anastasia Poniris from Mini Mati, told The Greek Herald on the day that she really enjoyed the festival as it gave her a chance to share her local products with visitors.
"Today has been great!" Anastasia said.
"The music and dancing is really nice. Everyone is just having fun… I came here last time as well and it was really good."
As Anastasia, and other stallholders, were holding down the fort inside, a number of small Greek businesses and local Greek associations were also keeping people well-fed outdoors.
The food ranged from the Greek Orthodox Community and Church of Canberra's (GOCCC) famous souvlakia and calamari, to loukoumades from MrPuff's, and halloumi chips from Halloumi-Me.
Throughout the day, people were even treated to a show from Agapi, music from the Australian Hellenic Choir, Canberra's Kefi Band and DJ Stavros, as well as dancing performances from the Canberra Hellenic Dancers.
After their performance, the dancers encouraged the public to get involved in a group Zorba dance, which left everyone with huge smiles on their faces.
READ MORE: The Agora: Thousands enjoy Canberra's new festival celebrating all things Greek.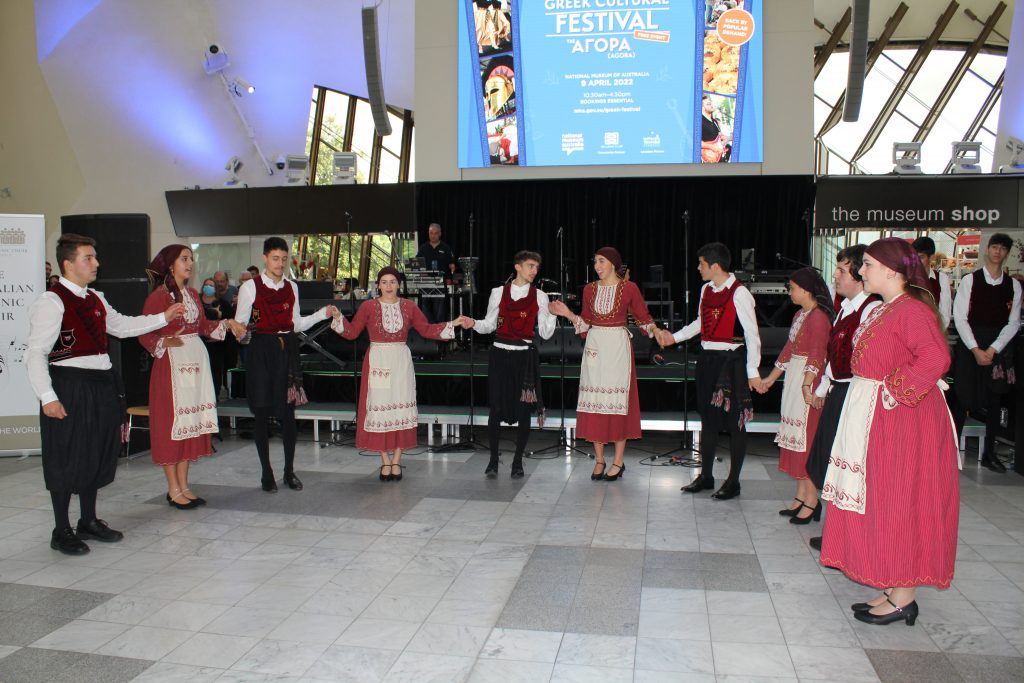 Some people were also lucky enough to visit the NMA's current Ancient Greeks: Athletes, Warriors and Heroes exhibition, which explores competition through sport, politics, drama, music and warfare, with the help of more than 170 objects from the British Museum.
"It's been such a fun day," festival attendee, Melissa Delfino, told The Greek Herald.
"I love the fact that I can bring my six-year-old here and he's part-Greek and it's really good to involve him in the culture of his dad."
The President of the GOCCC, John Loukadellis, added that it was great to see people enjoying "so many great vendor stalls," as well as the kids workshops organised by the Greek School of Canberra teachers.
"The hard work we put into promoting our faith, language, heritage, history and culture through events such as the AGORA this weekend makes me a proud Greek Australian," Mr Loukadellis said.
"A huge thank you to everyone who played a part in making the weekend such a huge success. Hellenism is alive and well in the greatest country in the world."
*All photos copyright: The Greek Herald / Andriana Simos.