Thousands of people streamed through the gates of the National Museum of Australia (NMA) in Canberra on Saturday to attend the first-ever 'Greek cultural festival: The Agora.'
Attendees had huge smiles on their faces as they relaxed to the sounds of Iho Nyx band from Sydney and Canberra's Kefi Band, while enjoying traditional Greek food prepared by a number of local Greek associations.
The food ranged from the Greek Orthodox Community and Church of Canberra's famous souvlakia, to the Samian Association of Canberra's spanakopites and tiropites, loukoumades from MrPuff's, halloumi spring rolls and halloumi chips from Halloumi-Me and other various Greek sweets from BroadBean Catering.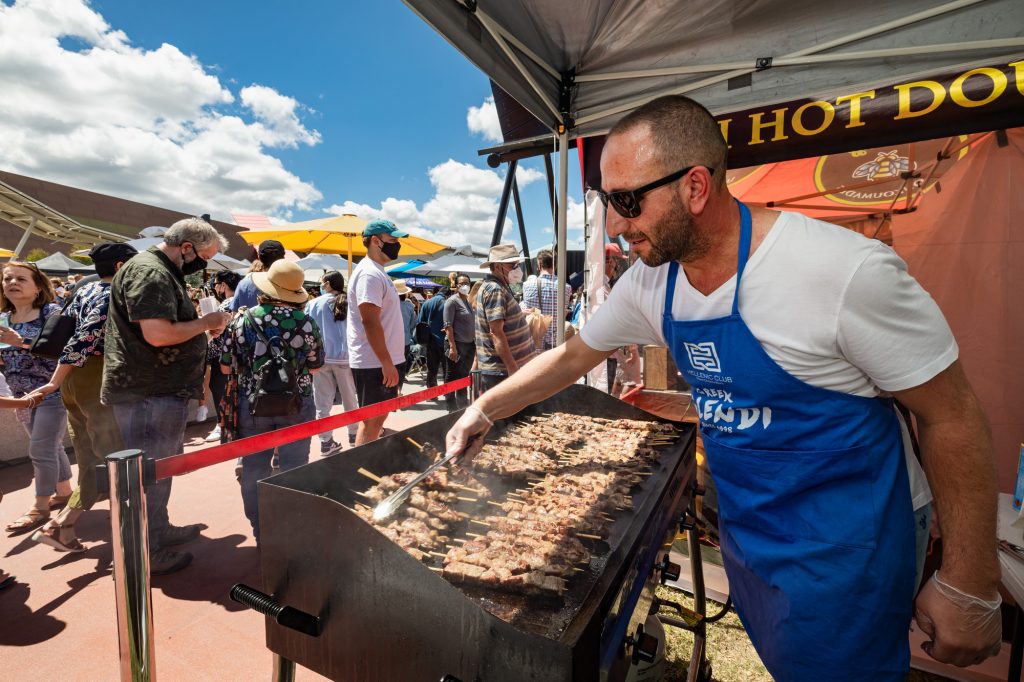 Throughout the day, people were also encouraged to visit stalls by local artists and importers who were selling hand-made clothing and jewellery, as well as perfume and beauty products, textiles and homewares. There was even face painting available for the youngsters.
Some of the stall holders included: Replica's R Us, Jewels of the Aegean, Greek fashion designer Angie Xylas, Sweet Ama'lia, Saint Amari, Demi Mintzas, Mimi Mati, Vasiiliko, Evoke Events, and the Hellenic Museum of Melbourne, among many others.
Whilst these stalls were being enjoyed, other attendees were also treated to performances from the Canberra Hellenic Dancers, the Orana Steiner School and a children's theatre from the Greek Orthodox Community of NSW.
Some people were even lucky enough to visit the NMA's current Ancient Greeks: Athletes, Warriors and Heroes exhibition, which explores competition through sport, politics, drama, music and warfare, with the help of more than 170 objects from the British Museum.
One attendee, Chrisoula Karatzas, told The Greek Herald the event was spectacular and really showcased Greek culture through the dancers, children's theatre and Greek music.
"Canberra brought on some spectacular weather! There was a great turn out as well from people from all different places, not just Canberrans and not just Greeks either," Chrisoula said.
Another attendee, Irene Tzavaras, agreed and said "it was fantastic to see people from all cultures enjoying the festivities at the Museum."
"The museum put on a great event, it was really fun and engaging for all ages. I had as much fun as my kids did!" Irene concluded.