If you take one look at Detective Superintendent Mick Calatzis' police hat, you can instantly tell he has over 38 years' experience in policing. Over time, the white wreath emblazoned on his hat has turned golden, earning him the nickname 'The Golden Greek' for his dedication and distinguished police service to the Australian community.
But of course, this recognition didn't come easy for Supt. Calatzis.
Born in Melbourne to Greek migrants, Supt. Calatzis' family moved to Greece when he was five years old before returning to Perth in Western Australia a year later. Once there, he helped his parents in their fish and chip shop, while also going to school with limited English and dealing with 'a lot of racism and indifference.'
Eventually, he made the decision to apply to join the WA Police.
"It was pure accident. You know how most people go 'I always wanted to be a cop'? For me it was the opposite. I was very devoted to my family's business prospects… but the bottom line is that the succession plan was too dramatic so I just had to revise my life again," Supt. Calatzis tells The Greek Herald exclusively.
"So I applied for the WA Police, I just made a decision. I suppose I had a romantic notion about it because I thought policing is about dealing with injustice, helping people, protecting life and property.
"Plus, it appealed to me because 'police' is a Greek word meaning 'city' so I thought, 'well that's just a natural fit.' A Greek Australian fitting into a word and a concept that's thousands of years old."
In the end, Supt. Calatzis was accepted into the WA Police, but he never joined. Instead, a friend of his encouraged him to join the Australian Federal Police (AFP) and he became the first Greek Australian commissioned officer in the force.
'It's going to be a tough journey for you':
Supt. Calatzis says holding this title was an honour but as a young 19-year-old who just wanted to fit in at the AFP at the time, it also came with extreme challenges.
"If I'm honest, I was just completely naïve about what the police and its culture was all about. It was bloody hard. Automatically, I hit this wall of indifference and people telling me that even if I passed my course, I would have secondary opportunities," he explains.
"There was nobody like me that I could relate to… My culture was rigged and I just had to roll with the punches. I knew you couldn't fight everybody off."
This indifference was something Supt. Calatzis' parents warned him about as well.
"My father was wise enough to actually tell me in his own words… 'my son, these jobs are just for the Australians. You will not be accepted in the Australian police. This will be a tough journey for you'," he says.
But despite these warnings and challenges, Supt. Calatzis never gave up.
Standing up for what's right:
He is currently the North District Superintendent of ACT Policing, the Chairperson of the AFP Culturally and Linguistically Diverse (CALD) Network and the most Senior CALD police officer in ACT Policing.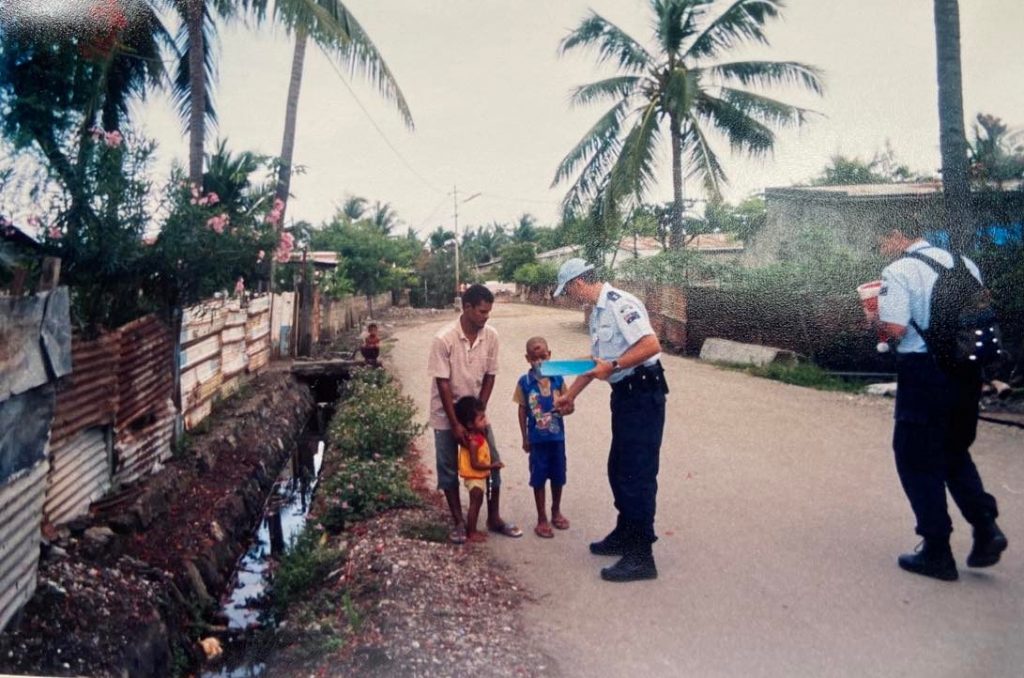 He has also been seconded to four regions in Australia – a Royal Commission, Mozambique, East Timor and AFP Commander Christchurch Earthquake.
More recently, he also received the Cross of St Andrew from Archbishop Makarios of the Greek Orthodox Archdiocese of Australia. This award is the highest accolade in the Greek Orthodox Church and Supt. Calatzis says he is 'honoured' to be the first Greek Australian police officer to receive it.
"I've had a very credible operational career and I've always been drawn to operations and I remain true to myself and be my own man," Supt. Calatzis, who stresses that he is also a proud Australian, says.
"I've challenged bullies in my career, I've challenged injustice. I know I'm a mentor of many people. I get great pleasure in seeing people succeed in their careers.
"I haven't gone with the grain, but I'm not apologetic for that. It's easy to go as a pack but it takes courage to actually stand up for what's right."
And right now, what's right for Supt. Calatzis is to continue breaking barriers for future generations and ensuring the AFP becomes more multicultural and inclusive for all.
"It's wise for us to reflect multicultural Australia within the AFP, not just talk and just do another 'Harmony Day.' There's more to every culture…" he explains.
"So [the AFP] has changed but there's still a long way to go."
Does Supt. Calatzis encourage other young Greeks to become involved then?
"Yes," he answers confidently, while stressing that his own son and daughter-in-law are in the police force as well.
"Policing, not matter what you do or what you say, is an occupation that requires resilience. It's not glamorous… You're no better than anybody else in the community. In fact, you should be humbled that you're there as the right person to protect and serve them."
Wise words from a Greek Australian who continues to challenge indifference in the police force.