There were two weeks of magic at the Australian Open this year with many highlights from our favourite sport stars.
Rafael Nadal made history in the men's final, claiming a record 21st major after fighting back from two sets to love down to defeat Daniil Medvedev.
Elsewhere, Ash Barty became the first local player to claim the Australian Open women's singles championship in 44 years after defeating American Danielle Collins 6-3, 7-6 (7-2).
But what about the top Greek moments from the tournament? The Greek Herald takes a look back at its top five.
1. The Special Ks become Australian Open doubles champions:
Nick Kyrgios and Thanasi Kokkinakis became grand slam champions on Saturday after claiming the Australian Open doubles title by beating fellow Aussies Matt Ebden and Max Purcell.
The best mates brought their typical spark to proceedings in front of a Rod Laver Arena crowd that was clearly on their side.
They weren't broken a single time while one break of Ebden's serve in each set was enough to win them the title, 7-5 6-4.
READ MORE: Thanasi Kokkinakis' father shares feelings ahead of Adelaide International quarterfinals.
It means Kyrgios and Kokkinakis have both a junior doubles Slam (Wimbledon) and senior doubles Slam (Australian Open) on their resume.
The Special Ks now have their sights set on more grand slam and ATP Finals glory.
To celebrate their win Kokkinakis was spotted at Philhellene Provincial Greek Cuisine restaurant in Melbourne with his family, whilst Kyrgios was seen at Mr Wong in Sydney with his girlfriend.
2. Stefanos Tsitsipas makes his second Australian Open semi-final:
Stefanos Tsitsipas made it into his second semi-final at the Australian Open and played against the Russian Daniil Medvedev.
Ultimately, Tsitsipas lost the match 7-6 (7/5), 4-6, 6-4, 6-1 but not before he made the local Greek community proud with his tennis skills and determination.
The match itself wasn't without controversy as well, with Medvedev fined just over $17,000 following his outburst at the chair umpire. He accused Tsitsipas of receiving illegal coaching from his father in the stands.
While Medvedev's blow-up was confronting to watch, it seemed to do the trick as the umpires proceeded to launch a crackdown on the Tsitsipas team.
Fellow umpire, Eva Asderaki-Moore, who can speak Greek, was placed in a strategic position in the tunnel directly below Tsitsipas' box in a bid to detect any coaching going on.
The 'sting operation' paid off and Tsitsipas was hit with a code violation, as well as a fine worth around $7,000.
Despite this, it was still an enjoyable tournament for Tsitsipas in Australia. His iconic Tsitsipas souvlaki at Stalactites Restaurant in Melbourne was again for sale with all proceeds going towards Beyond Blue Australia.
This year, Tsitsipas is also matching the amount made in sales to double the donation.
3. Michaela Laki books her first-ever Grand Slam quarter-final:
Michaela Laki had a fantastic week at the Australian Open Juniors tournament, qualifying for the first time in the quarter-finals of a Grand Slam tournament.
This came after the 16-year-old achieved victory against the Czech Dominika Salkova, with 6-3, 6-7 (5), 7-6 (8).
Laki, who is world No.11 in the juniors world rankings, won the match after 2 hours and 27 minutes of fighting in Court 6 of Melbourne Park.
Laki faced the American Liv Hovde, No. 13 on the board and No. 20 in the world junior ranking, in the quarter-finals but was defeated in straight sets.
4. Jaimee Fourlis reaches the Australian Open mixed doubles final:
Local wildcards, Jaimee Fourlis and Jason Kubler, finished as runners-up in the Australian Open mixed doubles tournament following a straight-sets defeat to Kristina Mladenovic and Ivan Dodig in the final.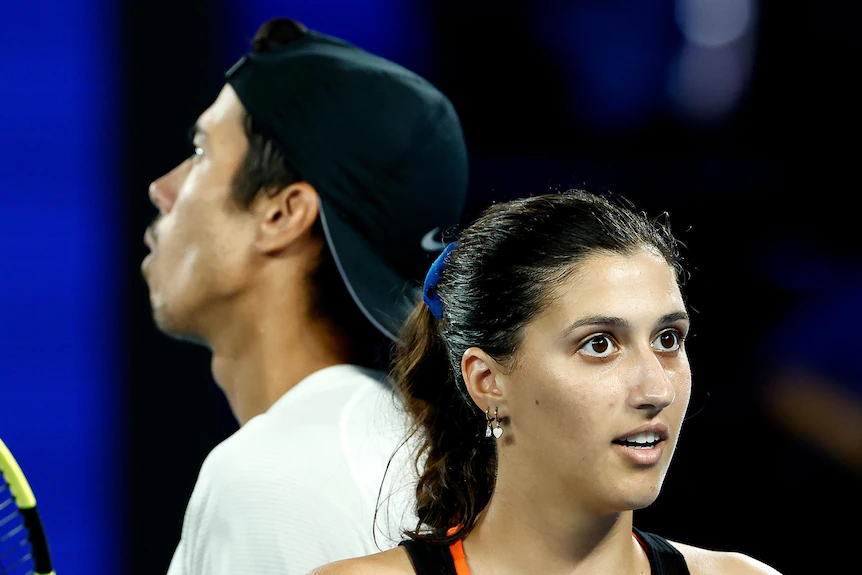 France's Mladenovic and Croatian Dodig swept to a 6-3, 6-4 victory in 1 hour and 17 minutes.
Fourlis and Kubler were bidding the become the first all-Australian duo to win the mixed doubles championship since 2013.
5. Maria Sakkari almost reaches the Australian Open quarter-final:
Fifth-seed Maria Sakkari crashed out of the Australian Open in the fourth round after losing in straight sets, 6-7 (0-7), 3-6 to Jessica Pegula of the United States.
Sakkari was trying to reach her first Australian Open Quarterfinal but could not overcome Pegula, losing to her for the first time in their three encounters.
Despite this, Sakkari still made the local Greek community proud and she vowed to come back stronger next year.
"It feels like I'm at home back here. We all know that Melbourne has a very large Greek community and I'm very pleased and grateful to have them behind me," she said in a post-match interview.
READ MORE: Australian Open: Sakkari eliminated whilst Kyrgios, Kokkinakis and Tsitsipas impress.