It was a night of celebration, laughs and, most importantly, Greek food as Sydney Olympic FC held their official launch for the 2021 NPL NSW season at Belmore Sports Ground.
Hosted by football commentator Simon Hill, the season launch provided an opportunity for Sydney Olympic directors, coaches and players to speak about the upcoming season, where expectations will be high to bring home an NPL NSW title.
Attendees were graced with the presence of Sydney Olympic FC and Australian football legends, including players such as Peter 'The Kat' Katholos.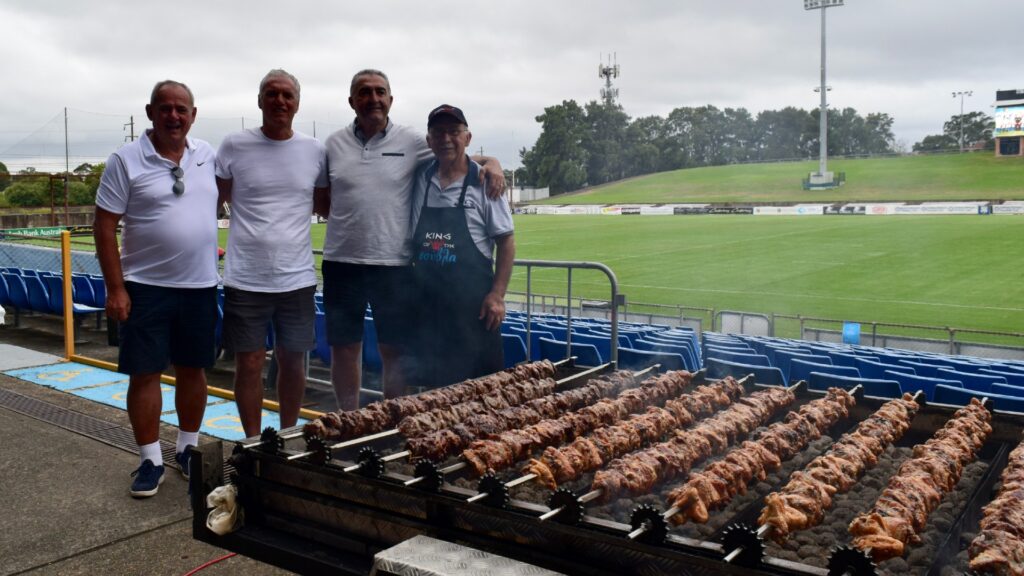 Club CEO John Boulous gave the opening welcome to the players and guests, along with new and returning sponsors of Sydney Olympic FC.
"Our clubs can't exist without our partners," Boulous said.
"The Greek Herald continue to be our media partner… thank you Dimitra along with Peter (Takis Triadafillou) and Peter (Oglos). The reports you give to our fans and the comfort we have that you can promote our club through the Greek community is very good."
Tough pre-season sees new unity among Sydney Olympic players
Sydney Olympic player Hagi Gligor spoke briefly about pre-season preparations as they look to face rivals Sydney United 58 FC this Saturday night at 5:30pm at Belmore Sports Ground.
The team is lead by 1st Grade Men's coach Ante Juric, who joined midway through last season after the departure of Terry Palapanis. Juric has brought on multiple new signings, including Manly United's Brendan Cholakian and experienced footballer Yu Hasegawa.
"Mixed emotions during pre-season, it's been gruelling and tough, but there's definitely been a method to the madness. We've been running pretty hard, pretty tough, Ante's got us working pretty hard same as Bozza, and we're really looking forward to this Saturday against United," Gligor said.
"It's a good time for us boys to bond and get a bit of cohesion, it's something that we've really lacked in this past couple of seasons so it's nice to see some positive signs."
These views were echoed by Juric, who on Monday night spoke about how important it was for his players to build their on-field relationships and develop a cohesive structure.
"There's a lot of youngsters in there but we've filled it with a lot of experienced players to top that off. In terms of balance I think it's great, what we're missing at the moment probably is cohesion, but that will come with the new team," Ante Juric said.
"Definitely want to win but the focus for me is every match putting everything you have into it. When you do that, you get your success and your rewards."
As mentioned by Simon Hill, the heritage of Sydney Olympic FC and it's history "demands success", and Ante Juric said his players are prepared to play their hardest under the blue badge.
"I've been here nine years as a player, and I love this ground so to be here on the weekend… there's a lot of passion in the club and it won't change," Juric added.
"The players know that as well; They play for the badge."
A full report on the upcoming NPL-W season, including an interview with Sydney Olympic and Sydney FC captain Teresa Polias, will be featured in an additional article this week.
Sydney Olympic's support of the national second division and connection with Xanthi FC
Xanthi FC and Sydney Olympic FC board members Bill Papas and Damon Hanlin gave a dual-interview with Simon Hill regarding the clubs involvement in establishing the national second division and their connection with Greek club Xanthi FC.
Damon Hanlin vocalised Sydney Olympic's constant support of the national second division, saying that much of it comes down to a time and the "politics" that surrounds it.
"It's definitely where we want to be, we want to be in the top flight of football eventually. I think the pathway for football needs to improve. Sydney Olympic is pushing pretty hard, John Boulous has been a strong force in that area, but we're backing it all the way," Hanlin said.
"(2023) is definitely feasible, there's clubs like ours that exist that are financially able to compete at that level. Where it's at, politics is always a problem, FFA always a problem."
Xanthi FC was taken over last year by Sydney Olympic President Bill Papas, who spoke of a desire to turn the club into an outpost for Australian exports seeking a doorway into the crucible that is European football.
"It is super exciting. The fact we've established a clear pathway for young prospective players with goals of playing professional football and doing it in a European environment were we know it is the home of professional and high quality leagues," Bill Papas said on Monday night.
"We now have the gateway through Sydney Olympic into the European competition."
Bill Papas concluded saying they are fourth on the ladder, with a game at hand, and are looking for "more positive signs."
It must be noted that this interview took place only hours before the Greek club announced their decision to sack head coach Tony Popovic.