Greek hospital doctors went on a day-long strike on Tuesday and dozens marched in Athens to protest "suffocating" conditions at hospitals on the frontline of the coronavirus pandemic.
With around 6,000 deaths, Greece has fared better than much of Europe in containing the pandemic and prevented its health service, battered by years of financial crisis, from collapsing.
But intensive care units at state hospitals are operating at roughly 80% capacity and doctors want the government to create new units for COVID-19 patients instead of using already existing ones, as well as to hire more staff and to use resources from the private sector.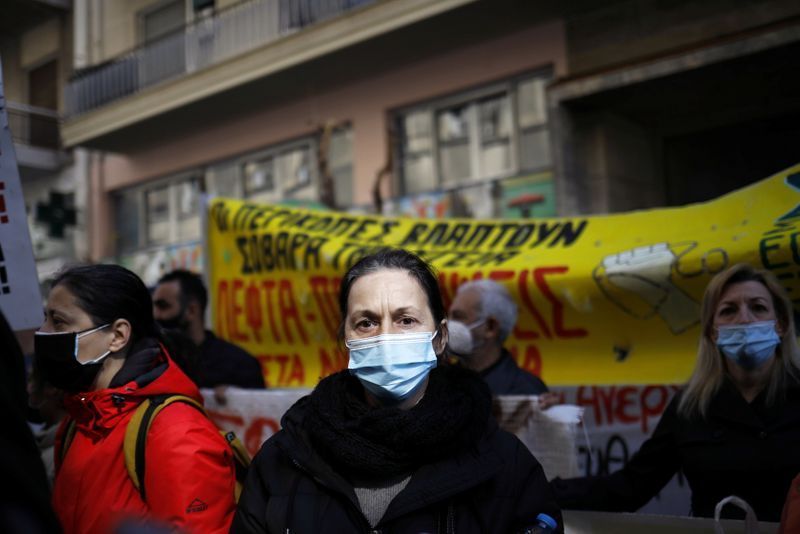 "There is a serious risk both for critically ill COVID-19 patients and critically ill patients with other diseases," the union of hospital doctors, OENGE, said in a statement. It described the situation at hospitals as "suffocating."
Wearing surgical masks, doctors demonstrated in Athens holding banners reading "Support health workers," and an image of a healthcare worker with a fist raised in protest.
"Any negative impact on the public's health will be the sole responsibility of the government, despite its efforts to pass on the responsibly to hospital doctors and other health professionals," OEGNE said.
More than 1,200 COVID patients have been through intensive care in Greece since the pandemic began.
On Tuesday, transmission of COVID-19 skyrocketed once again in Greece, as the country recorded 2,147 cases and 22 deaths.
The figure represents an increase of 1,267 individuals from the 880 cases that had been newly diagnosed and recorded in Greece just one day before on Monday.
The jump in cases comes as the country has been under a strict national lockdown for two months to stem the spread of COVID-19 infections.
Nearly half of Tuesday's cases were diagnosed in Attica, a region where the anti-virus measures are particularly severe, with all schools and non-essential businesses closed.
Source: Reuters.