By Takis Triadafillou
Peter-Panagiotis Katholos, also known as 'The Kat', is a footballer unique for his talent, but also for his love of Greece. He has written history and filled stadiums during his time as a player, with the power of both feet having the potential to change the entire course of a game.
Born in Myrsini, Greece, Peter moved to Australia in 1970 at the age of 9, residing in Bexley and later at Campsie. While his parent's weren't big football fans, Peter's love for the game carried from Greece to Australia where he eventually began his career.
TGH: How did you get started playing football?
PK: At the age of 7-8, I would kicked the soccer ball at the fields in Greece and on the ground in Zografou, also listening to the games of the first Division on the radio. When I came to Australia, I went to the Canterbury Association U14-15 and U16.
Peter Katholos' playing career:
1979–1980 St. George Saints FC
1981–1986 Sydney Olympic FC
1987 – APIΑ
1988 A.E. Larisa
1988–1991 Marconi Stallions
1991–1993 Sydney Olympic FC
1993–1994 Parramatta Eagles Melita
1995 St George Player and Coach
TGH: How was your experience abroad? Why did you not go to Olympiakos and Panathinaikos?
PK: Although Yiorgos Vardinogiannis, president of Panathinaikos FC at the time, preferred I play for them in Greece, the decision was mine to return to Australia. The only moment in my football career where I made a decision that still follows me. I had signed with Sydney Olympic and so it was difficult to go play.
TGH: You also played for the national team?
PK: I played in Australian colours from 1981–1984 against New Zealand, in the Asian Cup, and against England, participating in 25 games. I also represented Australia at a Youth and Student level.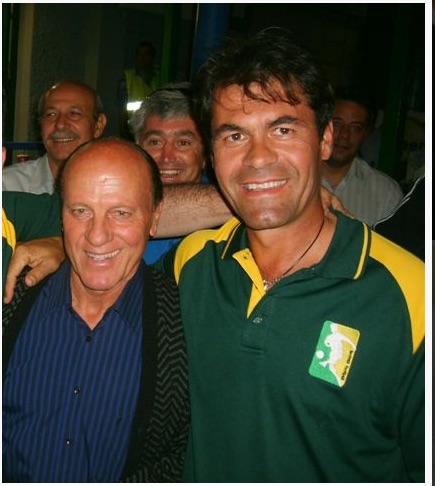 TGH: You are still close with the sport?
PK: Yes, I am an individual trainer. I continue to train talented players with what they lack in-game for improvisation.
TGH: How has Australian football changed?
PK: I closely follow the whole evolution of Australian football. Football has changed since 1983 and after Frank Arok put forward the philosophy that I run, and I only run it by letting the players improvise and show their talent.
He went through this both at national level and at a championship level. Catastrophic when passed on to other coaches. If this changes, I believe the level of quality in football will also change. There is a lot of talent. That is, having real coaches and not 'textbook coaches'.
TGH: Who influenced you most in your career?
PK: The coach who made his footballing identity was Tommy Docherty at Sydney Olympic FC. I characteristically remember him telling me to improvise and just go ahead. This, of course, gave me the opportunity to always show my talent and the ability to help my team. This is what today's players need to go up in football.