Western leaders showcased their unity against Russia's war in Ukraine on Thursday, with Washington seeking more military aid for Kyiv, NATO assigning more troops to its eastern flank and London imposing fresh sanctions against Moscow.
Ukrainian President, Volodymyr Zelenskyy, called on NATO, EU and G7 countries all meeting in Brussels on Thursday to help Kyiv fight the invasion, which has killed thousands and driven a quarter of Ukraine's 44 million people from their homes.
"We agreed to strengthen our deterrence and defence for the longer-term. We also agreed to give further support to Ukraine and to continue to impose costs on Russia," NATO Secretary General, Jens Stoltenberg, said after the leaders gathered at the Western military alliance's headquarters.
READ MORE: Ukraine's President thanks Greek FM for offering to lead humanitarian aid mission.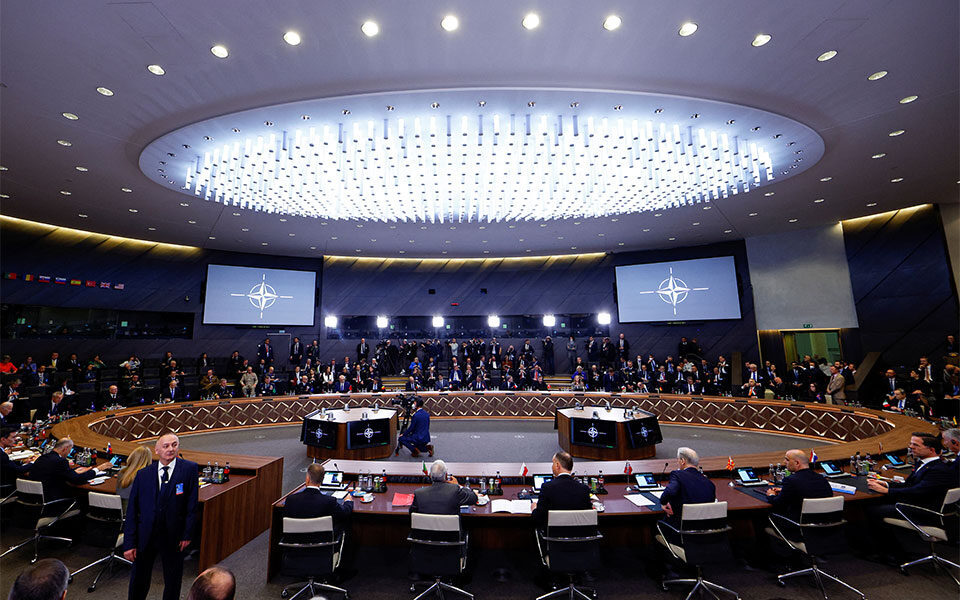 According to Ekathimerini, NATO agreed on Thursday to set up four new combat units in Bulgaria, Romania, Hungary and Slovakia. More jets will be deployed.
This announcement comes as leaders from the 27-nations of the European Union also attend a European Council meeting in Brussels today.
Greek Prime Minister, Kyriakos Mitsotakis, is at the meeting and spoke to reporters outside about Ukraine and the need for a common EU strategy on natural gas procurement.
"It is very clear that the crisis in Ukraine has a very significant impact on world energy prices, natural gas prices and, of course, electricity prices, and this applies to all European citizens and all European businesses," Mitsotakis said.
"All member states, to the best of their ability, support businesses and households through the national budgets. But that will not be enough. We need a coordinated European response."
The Greek Prime Minister said he will bring to the attention of EU leaders the Greek government's proposal "regarding the imposition of a ceiling on gas prices in the wholesale market so that both electricity prices and the wholesale gas market can be cut and the market not be a hostage to speculators but meet real supply and demand."
READ MORE: Greek PM proposes six-point plan to stabilise Europe's energy market.
"At the same time, we support the need for the EU to be able to buy gas as a supranational entity and to negotiate with gas suppliers as one, both for gas coming through pipelines or liquefied natural gas, in order to further reduce prices," Mitsotakis added.
"We will support this position because we believe that this way we will be able to leverage our purchasing power and further de-escalate gas prices."
EU leaders are expected to agree at their summit to jointly buy gas, and Brussels also hopes for a deal with Biden to secure additional US liquefied natural gas supplies.
READ MORE: EU leaders meet in Versailles to discuss Ukraine war and energy independence.
Source: Ekathimerini.