Greek Prime Minister Kyriakos Mitsotakis was joined by Australian PM Scott Morrison and the world leaders of five other 'first mover' nations to discuss the vaccine rollout progression and how it can be accelerated.
The leaders of the exclusive COVID-19 discussion group agreed that the vaccination process is a technically difficult task, yet the Greek PM argued the procedure "must proceed faster".
READ MORE: Scott Morrison and Kyriakos Mitsotakis join world leaders in discussing vaccine distribution
Kryriakos Mitsotakis added that the European Union must approve the vaccine of Astra Zeneca and other companies as soon as possible.
The prime minister's proposal for a European vaccination certificate was also discussed during the teleconference, which will also be discussed at the 27th teleconference on Thursday.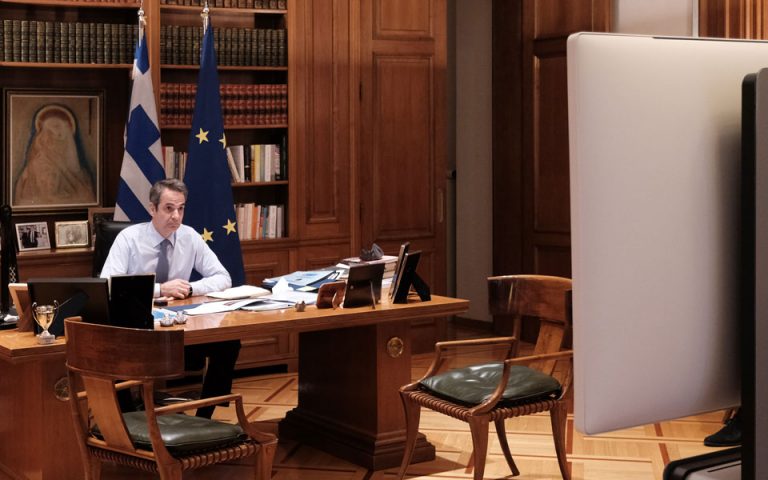 "One way or another, those who travel will be asked for some type of certificate, whether it is a certificate, or a negative coronavirus test," Mitsotakis said.
Mr Morrison meanwhile said the meeting was an important opportunity to exchange notes on the challenges of responding to COVID-19 and, "how we can work together to beat it and prepare for the next pandemic".
"Thank you Austrian Chancellor Sebastian Kurz for hosting what was another invaluable meeting," the PM concluded.
The Greek and Australian leaders were joined in the meeting by Austrian Chancellor Sebastian Kurz, Danish Prime Minister Mette Frederiksen, Norwegian Prime Minister Erna Solberg, Czech Prime Minister Andrej Babis and Israeli Prime Minister Netanyahu.
The world leaders first convened via teleconference in May, 2020, discussing the most effective ways to "reopen our economies" and considering strategies to manage potential localised outbreaks.